NEET 2017: Open to Urdu language inclusion but only from 2018, Centre tells SC
The Centre has informed the Supreme Court that it is open to including Urdu as one of the languages in which the National Eligibility cum Entrance Examination (NEET) is held, but its introduction will only be possible from next year onwards and not for NEET 2017. The Centre's response was issued with regard to Writ Petition Number 122/2017 filed by the Students Islamic Organisation of India (SIO) demanding for the inclusion of Urdu in NEET 2017. The Centre also said that no timely requests had been made by any of the states to include Urdu in NEET 2017. Only recently did they receive requests from the Maharashtra and Telangana Governments to include Urdu and they are willing to consider this request for next year's NEET. The Supreme Court Bench, comprising Justices Kurian Joseph and R Banumathi, granted permission to the Centre to submit its full response in the matter by March 22. The next hearing will now take place on March 24.

Related Post -
NEET 2019
NEET Eligibility Criteria 2019
NEET Application Form 2019
NEET Admit Card 2019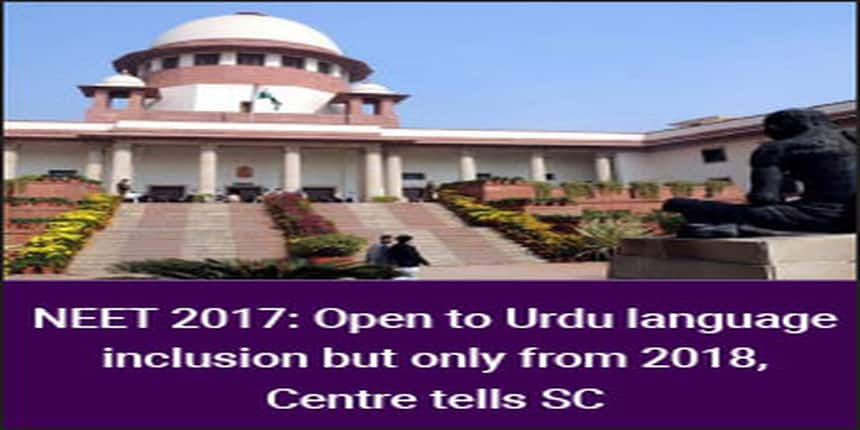 Earlier on Friday, March 3, the two member Bench had issued notices to the Centre, the Medical Council of India (MCI), the Dental Council of India (DCI) and the Central Board of Secondary Education (CBSE) to submit their responses on why Urdu has not been included as a language in which NEET 2017 would be conducted. The other three bodies have also now been granted permission till March 22 to file their responses along with the Centre.
As per the CBSE notification on NEET 2017, Hindi and English along with the regional languages of Tamil, Telugu, Gujarati, Marathi, Assamese, Bengali, Oriya and Kannada were finalised as the official mediums of examination.
SIO had filed its petition with the Supreme Court on the basis that the non-inclusion of Urdu in the list of NEET languages was in violation of Articles 14 and 21 of the Constitution. It argued that including only 8 regional languages apart from Hindi and English was extremely unfair on numerous students completing their school education in the Urdu language. "Urdu has been arbitrarily and unreasonably left out as a medium (for NEET 2017)...Leaving out Urdu...not only deprives a large number of students studying science in Urdu Medium of equal opportunity, but is also a violation of right to life, being denied the opportunity to pursue a career in Health Sciences and shape their lives as per their choice and interest," the petition read. The SIO also contended that if Kannada and Oriya could be introduced for NEET 2017, despite only being the seventh and eighth most spoken languages in India, then Urdu, being the sixth most spoken language, should also be introduced.
With the NEET application process closing on March 1, the SIO had earlier filed a plea of urgency motion on February 24 seeking for an advancement on the date of the Urdu inclusion hearing. The reason behind seeking advancement was that once the NEET registrations would  close, then students who wished to apply for NEET 2017 in Urdu would be left disadvantaged. The urgency plea had been rejected by a three member Bench comprising Chief Justice of India, JS Khehar, and Justices DY Chandrachud and SK Kaul, who listed the petition for hearing on March 3.
NEET is scheduled to be held on May 7, 2017. Apart from the Urdu inclusion controversy, various rules of the exam have already been subject to legal battles. Following protests by students across India, the criteria on the maximum number of NEET attempts was rolled back by the MCI. Another petition challenging the age limit will be heard on Monday, March 20 by the Supreme Court and the Lucknow Bench of the Allahabad High Court. 
Check out www.medicine.careers360.com for all the news and information on NEET!
Questions related to NEET
Showing 102086 out of 102086 Questions