NEET 2017: SC refuses to hear request on cancelling medical entrance exam for now
The Supreme Court has refused to hear any advance request on cancellation of National Eligibility-cum-Entrance Test (NEET), which was held on May 7, 2017. Various media channels quoting the apex court have said that for now the SC will not be entertaining any request for cancellation of the CBSE administered undergraduate medical entrance examination. The two member Bench comprising Justices L Nageshwara Rao and Navin Sinha said there was no urgency to hear the plea given that the Madras High Court had already granted an interim stay on the results declaration until June 7. They also clarified that they were not rejecting the plea, rather they felt it wasn't necessary to hear it in advance in lieu of the Madras HC's order. Earlier, a large number of candidates had demanded a re-test of NEET in the light of allegations of paper leaks and language bias in regional question papers.

Related Post -
NEET 2019
NEET Eligibility Criteria 2019
NEET Application Form 2019
NEET Admit Card 2019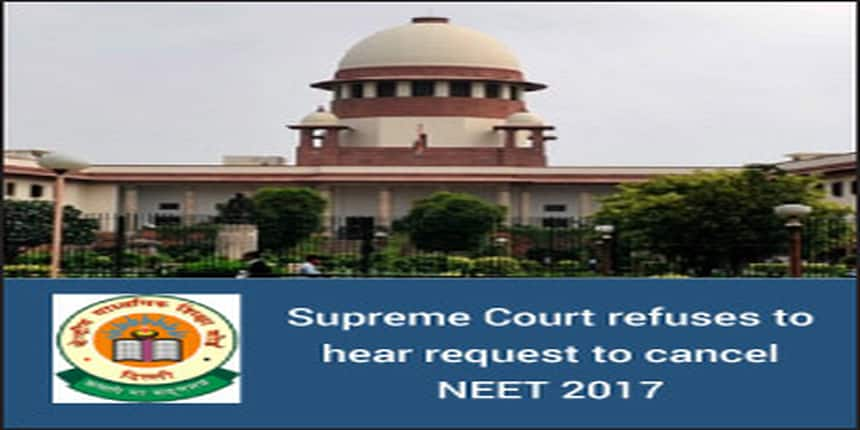 NEET 2017: Madras HC stays NEET result declaration
Meanwhile, the Madurai Bench of the Madras High Court has passed an interim order to stay the results of the NEET 2017. The Court made the decision with regard to a Writ Petition filed last by nine NEET aspirants from Madurai who demanded that the all India medical entrance be cancelled due to anomalies in the regional language papers.
As per the Court order, Central Board of Secondary Education (CBSE), the exam conducting body against whom the petition was filed, has now been prevented from releasing the results of NEET 2017 until June 7.
NEET 2017 Controversies: What happened till now
As per an increasingly vocal number of students and education activists across the country, recent arrests made by the Bihar and Rajasthan police with regard to certain gangs attempting to leak the NEET 2017 Question Paper are not reasons for relief but only indicative of a larger rot in the system.
A memorandum was also published by a group of candidates protesting in Delhi against the controversies associated with NEET 2017 makes the prevalent sentiments against the exam quite clear. Describing NEET 2017 as one of 'history's most felonious affairs', it reads,"Medical students and their parents are immensely outraged at the recent anomalies surfacing throughout the country…The latest reports underline the fact that the entire process has been tainted and sanctity of NEET has been breached. If such irregularities continue to prevail in such (a) prestigious examination, it will generate a sense of frustration among genuine students, with aversion to the concept of entrance exam..."
Not only this, the social media was also abuzz with demands for a retest as thousands of candidates are crying foul over the paper leak issue and the CBSE's denial of these incidents. As commented by a candidate on Twitter, "NEET was a massive scam. And it is impossible to catch all the cheaters. The exam should be held again in a proper fair way."
NEET 2017: Next course of actions
The NEET result 2017 are to be declared on the scheduled date of June 8, what can be said for certain is that very few of the 11 lakh candidates who appeared for the medical entrance exam will currently be in agreement with the CBSE claim of the exam being conducted 'peacefully and smoothly across the country'.
Stay tuned to www.medicine.careers360.com for latest news and updates on NEET
Get real-time alerts on exam & colleges at your fingertips with Careers360 App! Click Here to Install or Give a missed call on 08080944727 to get app link.
Questions related to NEET
Showing 84296 out of 84296 Questions