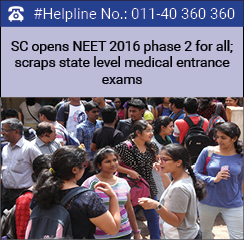 Supreme Court today ruled that NEET 2016 Phase 2 exam scheduled to be conducted on July 24 can be taken by all candidates irrespective of their appearance in AIPMT/NEET Phase 1 held on May 1. However, NEET phase 1 examinees who appear for NEET Phase 2  will lose the NEET Phase 1 Score. The apex court also cancelled state level medical entrance exams, observing that there was no infirmity in the National Eligibility Entrance Test (NEET) regulation on the ground that it affects rights of states or the private institutions observing that  observed. 
The three-judge SC bench headed by Justice AR Dave ordered the implementation of NEET 2016 after hearing pleas from all affected parties on May 9, 2016.
"States can't conduct their own exams since Centre's regulation on NEET overrides states' law on separate exams," the SC bench said. Further, the court also observed that "Common all India test can't be held bad only because it affects the rights of states & private colleges and NEET doesn't affect rights of minority nor does it impact provisions for reservation."
With this SC ruling all state level undergraduate medical entrance exams including MH CET, KEAM, KCET, BCECE, WBJEE etc. stand cancelled.
In the judgement, the SC bench said that the National Eligibility cum Entrance Test (NEET) can be taken up by all candidates irrespective of their appearance in NEET 2016 Phase1/AIPMT 2016.  
The Supreme Court has passed this judgement after hearing a report by the Medical Council of India (MCI) regarding challenges that the state governments are facing in implementing NEET 2016 from the current academic year. MCI had submitted the report to the apex court on May 6, 2016.
List of cancelled medical entrance exams after SC order - Click Here
Know NEET Cut off Analysis - Click Here 
Read all about NEET 2016 - Click Here
While pronouncing the decision regarding NEET 2016, SC declined the request made by MCI that only those candidates can take NEET 2016 phase 2 exam on July 24 who did not apply for AIPMT 2016.
The court also asked to advertise information in newspapers regarding clarification on NEET 2016 as it was creating confusion among students and parents.
Earlier, on Friday, May 6, the SC bench had cancelled medical entrance exams for private medical colleges. Following the order, many exams including COMEDK, BVP CET, KIMS UG Medical, Manipal Medical, SAAT and CMC Ludhiana scheduled to be conducted in the month of May were cancelled. Read the full story here.
Also Read:
An open letter to Justice Anil R Dave: On NEET 2016 you made a good order Sir! Just make it better
Why NEET 2016 is a great move and why it may not last long?
CBSE announces dates for NEET 2016; May 1 AIPMT is now NEET phase 1
NEET to be implemented for 2016-17; AIPMT renamed as NEET 2016- phase 1
Stay tuned to medicine.careers360.com for more news and feature related to NEET 2016
NEET Sample Paper
Download Free Sample Paper for NEET
Download Now
Questions related to NEET