Will NTA cancel NEET exam 2020 due to Coronavirus (COVID-19)?
NEET 2020 may cancel due to Coronavirus - Medical students who will be appearing for National Eligibility cum Entrance Test - NEET entrance exam have bombarded questions on NEET 2020 postponed due to Coronavirus (COVID-19). Is NEET 2020 going to cancel due to Coronavirus? and similar questions are being asked by the aspirants and their parents/guardians on QnA, Facebook, Twitter, Quora and other social media platforms. Download NEET Admit Card 2020.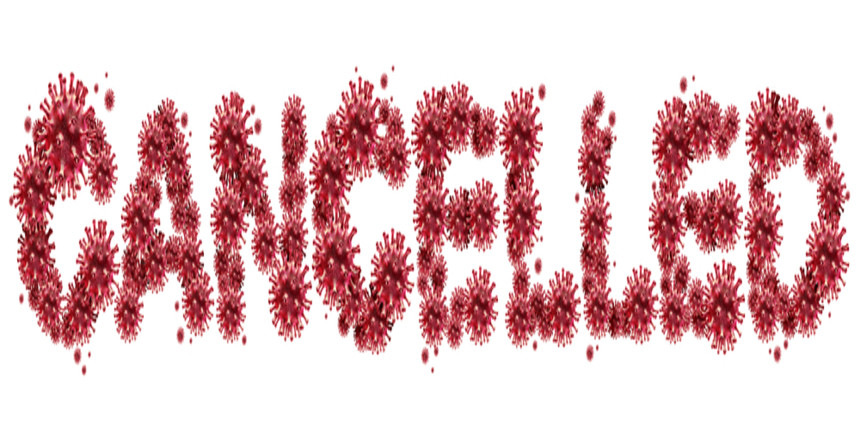 Will NEET exam postpone due to Coronavirus outbreak?
Due to the severe effect of COVID-19, the government has ordered to shut down all the schools and colleges across the nation till March 31, 2020. The Ministry of Health and Family Welfare (MoHFW) had also released a pamphlet along with a notice for prevention from Corona. With this impact of the virus of Corona, it is expected that NTA seems likely to cancel the NEET exam date. But, this should also be noted that last year, due to the major effect of Cyclone Fani in Odisha, NTA had postponed NEET 2020 exam, which is also probability for the year 2020.
Several reputed universities/colleges/institutes like Aligarh Muslim University (AMU), Indian Institute of Management, Bangalore (IIM-B), classes at Delhi University (DU) and all schools across India has been asked to be closed till the further orders.
Read latest updates on Coronavirus outbreak - Click here
Chances of the latest news on NEET exam cancelled 2020
With all these references, it is being strongly believed that NTA NEET 2020 may get postponed due to the COVID-19. However, students and parents should also keep a note that no official announcement has been made by the authority. There are chances of exam not getting cancelled, as NEET UG will be held on May 3, 2020, and it is being reportedly said that the virus is highly sensitive to high temperatures. (Precaution should be taken)
Social media influencers on NEET 2020 cancelled
NEET registered aspirants and guardians are being anxious to get the quick response on NEET cancellation 2020. Expressing their curiosity through questions on social media platforms and Question n' Answer (QnA) sites, are being flooded with the similar kind of questions like - Is NEET 2020 going to be cancelled due to Coronavirus (COVID-19)? Some more are mentioned below with several answers.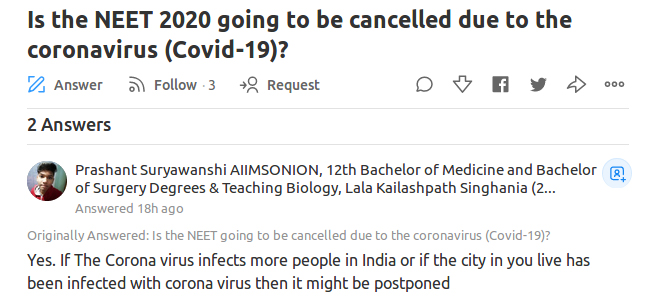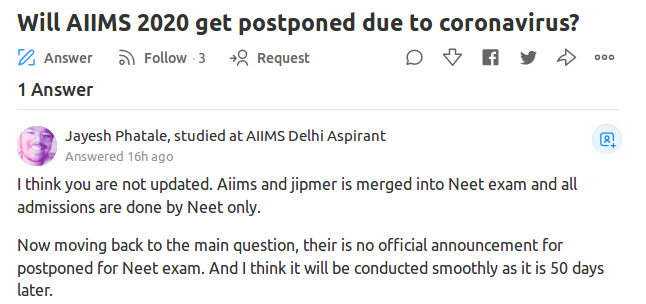 Official announcement on NEET 2020 postponed
It should clearly be noted by the future medicos that no official notification has been released by National Testing Agency on cancellation of National Eligibility cum Entrance Test. In case of any further notices regarding the same will be notified on the official NEET websites of ntaneet.nic.in or nta.ac.in. Candidates can also stay updated to medicine.careers360.com for latest NEET updates and news.
Questions related to NEET
Showing 84228 out of 84228 Questions