The National Exit Test (NEXT) is likely to replace the existing PG medical entrance examination-NEET PG for admission to MD, MS and PG Diploma courses across medical institutions in India, according to a draft bill proposed by the union health ministry. The bill-Indian Medical Council (Amendment) 2016-further provides for NEXT to be an exit exam for MBBS students to practice medicine in India.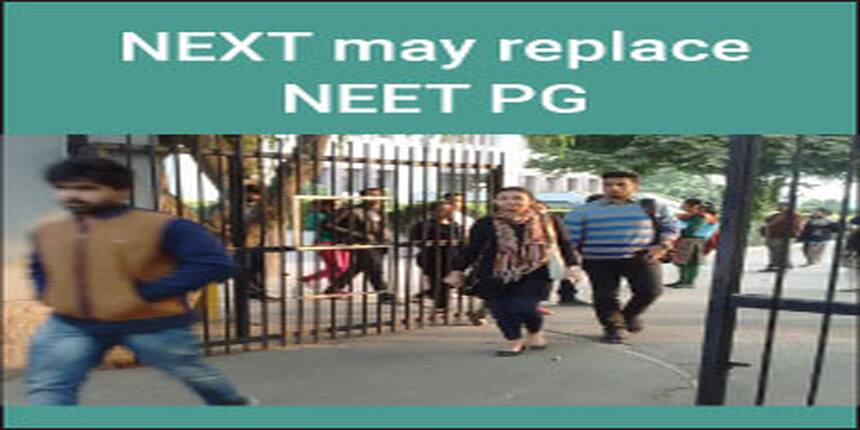 Latest Post -
NEET PG 2018
NEET PG Important Dates 2018
NEET PG Application Form 2018
NEET PG Admit Card 2018

If the draft bill is passed by the parliament, NEXT would replace the Foreign Medical Graduate Examination (FMGE). Besides that DNB CET, which is currently under NEET PG will come within the purview of NEXT. While DNB CET was held for super speciality medical programmes, FMGE is the screening test for students with foreign medical degrees.
The proposed amendment to the Indian Medical Council Act aims to bring uniformity in postgraduate level admission and NEXT's score will be used for determining a candidate's suitability to practice medicine or pursue higher academic medical programmes. The draft of Indian Medical Council (Amendment) states that NEXT would substitute the uniform entrance examination at the postgraduate level as provided in section 10D of the Principal Act. 10 D emphasises on uniform entrance examinations both at the undergraduate and postgraduate levels separately. 
The implementation of NEXT is expected to ensure quality in medical education as well as transparency in the admission process. According to Dr. Sneh Bhargava, Medical Director, Sitaram Bhartia Institute of Science and Research (former Director AIIMS New Delhi), the exit exam is in the line of global standards of quality check for candidates aspiring to practice medicine.  "US already has this system and those who are good get into the profession while the rest are barred from practising," she adds.
The draft bill also proposes for reservation up to 50% in postgraduate programmes across State medical colleges for medical officers who have served at least three years in remote and difficult areas after MBBS. Admissions would, however, be on the basis of NEXT merit list.
Also Read:
Exit exam likely after MBBS, BDS to practice medicine in India
Stay tuned to www.medicine.careers360.com for more news and feature related to NEET PG