How to become a doctor - All medical students after Class 12 always live for a dream to become a doctor. Either through MBBS, BHMS, BSMS, BAMS from India or abroad, candidates wish to pursue studies for being a doctor. Becoming a doctor is a prestigious profession as well as a challenging path. Doctors are those who treat and counsel people's illnesses, diseases, or injuries. Pursuing medicine as a career and becoming a doctor is a great reward in being able to save people's lives and treat their illness. This is right, that the qualification required to become a doctor is vast, long and very expensive. Taking up medicine as a career is not just good ethically but also reaps financial benefits at large scale, this is because it is a well earning job. But before deciding to become a doctor and serve people in India. It is necessary for aspirants to know every single step on how to become a doctor. Therefore, to give a better approach to candidates, here is an article on how to become a doctor providing information about minimum qualification, courses for becoming a doctor, job opportunities, salary and other details.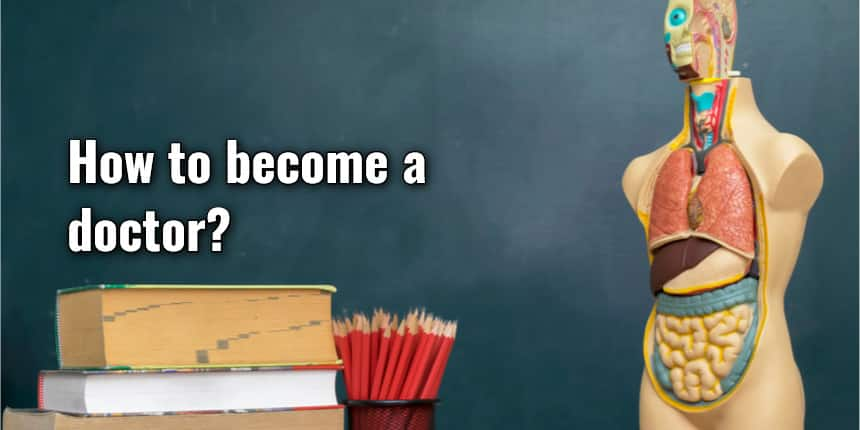 Steps to become a doctor
Applicants who want to become a doctor must have to follow the given steps.
Steps requirements to become a doctor
| | |
| --- | --- |
| Steps | Details |
| Step 1 | Science as a compulsory stream in class 11th and 12th |
| Step 2 | Prepare for the medical entrance exam (NEET) |
| Step 3 | Score well and participate in NEET counselling |
| Step 4 | Complete your medical degree and compulsory rotatory internship |
| Step 5 | Registered yourself under Medical Council of India (MCI) |
| Step 6 | Congratulation you have become doctor |
What is the minimum qualification required to become a doctor?
Students who want an answer on how to become a doctor in India after Class 12 must have to focus on their prime studies during higher studies. The qualification requirements to become a doctor is that the aspirants must have to qualify their class 11 and 12 with compulsory science subjects like Physics, Chemistry, Biology/Biotechnology.
What is NEET?
As NEET is a single common entrance exam, it is mandatory for applicants to Know all about NEET. National Testing Agency (NTA) conducts NEET which is conducted once a year in offline mode. With the commencement of NEET UG 2020, admission to a total of 79,248 MBBS, 26,949 BDS, 52,720 AYUSH and 525 BVSc & AH seats will be granted among various colleges of India. A total of 15,93,452 candidates have applied for the NEET 2020 theses year for granting admission to aforementioned seats which is describing the competition level in becoming a doctor in India.
How to prepare for medical entrance test (NEET) for becoming a doctor
From now onwards, under the ambit of National Eligibility cum Entrance Test (NEET) all UG medical admission for All India Institute of Medical Sciences (AIIMS) and Jawaharlal Institute of Postgraduate Medical Education and Research (JIPMER) will be granted.To pursue any of the medical degrees and become a doctor in India candidates will have to pass a common medical entrance test i.e. NEET exam.
What is the pattern of exam in NEET?
Medicos who wish to pursue undergraduate medical degrees like MBBS, BDS or other medical courses must be familiar with NEET 2020 exam pattern along with their preparation efforts. The exam pattern of NEET 2020 gives details of the type of exam, mode of paper, language, duration, question type, marking scheme and more.
NEET 2020 exam pattern
Factors in Exam Pattern

Details

Exam Mode

Pen and Paper-based. Primarily offline, candidates are given an OMR sheet to mark the answers with a black or blue ballpoint pen

Duration

3 hours

Language/Medium

English, Hindi, Assamese, Bengali, Gujarati, Marathi, Tamil, Telugu, Oriya, Kannada and Urdu

Question Type

Multiple Choice Questions

Total Number of Questions

180 Questions

Exam Sections

Physics

45 questions

180 marks

Chemistry

45 questions

180 marks

Biology (Botany and Zoology)

90 questions

360 marks

Total Marks

720 Marks

Marking Scheme

4 marks for each correct answer

Minus 1 mark will be deducted for a wrong answer
Score well and participate in NEET counselling to become a doctor
It is known to all that the better colleges you study the more you experience. To become a doctor you need to score well in the NTA NEET medical exam and grab a seat in the best medical colleges. However, it does not matter from which college you are studying what matters is, how much medical knowledge you are gathering to become a doctor. Admission in all medical colleges will be granted on the basis of NEET scores only. So, it is mandatory for future medicos to score well and participate in the counselling for admission.
In the process of becoming a doctor, participating in counselling of NEET is one of the most important steps. It is important because only by going through this counselling process, applicants will be granted admission to MBBS, BAMS, BSMS, BUMS, BHMS courses to further become a doctor. NEET counseling process is conducted at two levels i.e. All India Quota (AIQ) and State wise. NEET All India Quota counseling will be conducted for 15% seats in all government colleges in the country, as well as in deemed and central universities. State wise NEET counseling will be held for the remaining 85% of government seats as well as all seats in private colleges located in the respective state. NEET Counseling for 15% AIQ, deemed/central university, ESIC/AFMS institutes will be conducted in online mode and students who have obtained the minimum NEET cutoff 2020 percentile will be able to apply. Achieving allotment in medical college by participating in NEET counseling is the sequel to the 'How to become a doctor' process. After each round of counseling, the seats will be allotted and then admission will be granted.
What are the courses that can be opted to become a doctor after 12th?
Candidates can go through the list of the following courses which they can opt to research more and gather vast knowledge in that particular course that help them to become a doctor in that particular speciality.
MBBS (Bachelor of Medicine, Bachelor of Surgery)

BDS (Bachelor of Dental Surgery)

BAMS (Bachelor of Ayurvedic Medicine and Surgery)

BHMS (Bachelor of Homoeopathic Medicine and Surgery)

BUMS (Bachelor of Unani Medicine and Surgery)

BSMS (Bachelor of Siddha Medicine and Surgery)

BVSC & AH (Bachelor of Veterinary Sciences and Animal Husbandry)
Study hard and complete your rotary internship to become a doctor
Candidates are required to study hard and complete the medical degree in a minimum duration of five and half years. While completing the period of medical degree they will be able to get more theoretical and research based knowledge which will help them to become a good doctor and serve the society. As per the Medical Council of India (MCI) to become a doctor, candidates have to go through the Compulsory Rotatory Residential Internship (CRRI) which refers to one-year compulsory work in the hospital attached to the medical college or in any other approved hospital as allowed in some medical colleges.
How to become doctor - Get registered under MCI or State Medical Council (SMC)
Aspirants who want to become a doctor in India must have to get a registration certificate from MCI. Getting the registration certificate from the recognised board is the last step after which a candidate will be known as a doctor and you can practice your further medicine. After successfully getting a registration certificate, congratulations one has become a doctor and can give prescriptions.
What are the different jobs one can pursue after becoming a doctor?
While the process of becoming a doctor, aspirants must know about what job they will opt for after completing their medical courses. Candidates can go through the list of courses on which they can know which specialized doctors they can become and on the basis of which they practice their further medicine in that particular speciality.
Courses and their and their respective jobs
| | |
| --- | --- |
| Courses | Doctors specialization |
| MBBS | Medical doctor |
| BDS | Dentist |
| BAMS | Ayurvedic doctor |
| BHMS | Homeopathic doctor |
| BUMS | Unani doctor |
| BVSC & AH | Veterinary doctor |
| BSMS | Siddha doctor |
How to become a MBBS or Medical doctor?
Candidates who are thinking of becoming a medical doctor must have to complete their undergraduate degree with MBBS as the course. To be granted admission in MBBS course through NEET exam, applicants must have to try very hard and do lots of research and theoretical knowledge, to fill the 79,248 MBBS seats, 15,93,452 aspirants have applied which is describing the competition level. Candidates must have to qualify the NEET cutoff to get admission in medical colleges in the MBBS courses. On the basis of your marks, after getting admission in MBBS courses of any of the colleges of the nation, the path of becoming a medical doctor will become much easier. The total duration of MBBS course is five and a half years, apart from this, one year internship is also required. Internships involve students in many of the required activities. Apart from standard clinical care, students are taught intensively about ward management, staff management and counseling skills etc. While taking admission in MBBS courses, it is also very important to know the MBBS Course Fees.
How to become a BDS or Dental doctor?
There are lots of aspirants who want to become a dentist and take care of others' and their own oral hygiene. It must be noted that a BDS graduate is termed as a dental surgeon not the doctor but they can use doctor in front of their name. As dentists are not prevented from using a doctor entirely. Candidates who want to become a dental doctor should take a BDS (Bachelor of Dental Surgery) course in their undergraduation. BDS is the course that offers degrees in Dental Sciences. The total duration of the BDS course is four years, apart from this, one year internship is also required. Through this, students can read in depth and research more about Surgical Treatment, Dental Anatomy, Pedodontics, Oral Medicine and Community Dentistry etc. After completing your course, BDS graduates who want to study further can opt for MDS through NEET MDS exam. The Master of Dental Surgery is a postgraduate dentistry course.
How to become a BAMS or Ayurvedic doctor?
Aspirants who want to become a doctor in Ayurveda, can take admission in BAMS course through NEET-UG exam. This course is offered in many government, semi-government and private colleges. Its total duration is five and a half years, including a one-year internship. The BAMS course provides comprehensive knowledge about 'Ashtanga Ayurveda' with extensive practical training as well as scientific advancements in modern medicine. As per now many of the peoples are re-inclining towards the Ayurveda. As we can see the rapid growth of the major ayurveda companies in India, Ayurvedic medicines are having a huge market. Inclination of people towards Ayurveda, the BAMS course can help you become a well known doctor. After completion of the BAMS degree, the student will be given the title of 'Ayurvedacharya' and they can start prescribing people related to ayurveda things.
How to become a BHMS or Homeopathic doctor?
With increasing numbers of diseases homeopathy is one of the oldest and more trusted ways to cure that illness. BHMS is a bachelor's degree offered in homeopathic education in India. The process of admission to BHMS is regulated by the Central Council of Homeopathy (CCIH) under the Ministry of AYUSH, Government of India. The course duration of BHMS is five and a half years which includes one year internship. At BHMS, the student acquires knowledge on homeopathy medicine and surgery. Although allopathic medicine gets more importance globally, homeopathic medicine is considered a panacea to overcome many types of painful diseases. Therefore, becoming a homeopathic doctor can take your career to great heights.
Post-graduation after BHMS can open many doors of growth in this field. After completing post-graduation, one can go to teach in various medical colleges. As the minimum qualification to teach in a medical college is post-graduation. You can apply for a PhD and take a new position in the homeopathy field. "
How to become a BUMS or Unani doctor?
Medical aspirants wishing to pursue a career in the medical field other than medical or dental doctor can opt for becoming a Unani doctor. BUMS is an undergraduate medical degree offered in the field of Unani medicine and surgery. With 4.5 years of academic session and one year of compulsory rotatory internship, the duration of completing the BUMS course is five and a half years. Under this program, various subjects like Anatomy, Toxicology, Yoga, Physiology, Pathology etc. are taught which have gained popularity in recent times.
Students can also apply for post-graduation after completing their undergraduate degree of BUMS. Since they get the degree of Doctor (Hakim), they can be appointed as Medical Officers in State and Central Government Hospitals like CGHS, MCD, Primary Health Centers, Dispensaries. In addition, they can also become medical practitioners in their private clinics, polyclinics or nursing homes.
How to become a BVSC & AH or Veterinary doctor?
Aspirants who want to cure the illness of animals and treat them can opt for becoming a Veterinary doctor. BVSC & AH is a five-year undergraduate course regarding veterinary sciences and animal husbandry. While studying in this course, students also get practical experience in addition to in-depth theory and lecture-based classes, after completing which they get the title of veterinary doctor. The duration of this course is five and a half years, with the last 6 months reserved for internships. The Bachelor of Veterinary Science deals with medical diagnostics of animal diseases and their treatment. With increasing the people's love towards their pets or animals, the scope of BVSC & AH courses is quite high. After doing this course the chances of getting a government job are very high. After the degree of BVSC & AH, one can become a veterinary doctor and start his own veterinary clinic as well as work with research centers to develop new drugs.
How to become a BSMS or Siddha doctor?
For students who aspire to become doctors, but do not get MBBS or BDS seats, BSMS brings a good chance to 'become a doctor'. BSMS (Bachelor of Siddha Medicine and Surgery) is an undergraduate program of the Siddha System of Medicine, which is the oldest in AYUSH (Ayurveda, Yoga and Naturopathy, Unani, Siddha and Homeopathy). The duration of the BSMS course in India is 5.5 years, with 4 and a half years of classroom study while a final 1 year compulsory internship is done. Syllabus of BSMS course offers education in Bio-Chemistry, Medicinal Botany, Microbiology, Anatomy, Siddha Pathology, Forensic Medicine and Toxicology etc. In India where we have the oldest civilisation and many of the peoples believe in the Siddha, so it's a good opportunity for aspirants to become a Siddha doctor in India. After doing a BSMS course, students can use the respected title of 'Doctor' in front of their name and start prescribing.
Candidates following the aforementioned steps, course and procedure can become doctors in their respective choices of field in India and serve the nation. Careers360 wishes the best of luck for the future doctors of India.
Questions related to NEET
Showing 84373 out of 84373 Questions