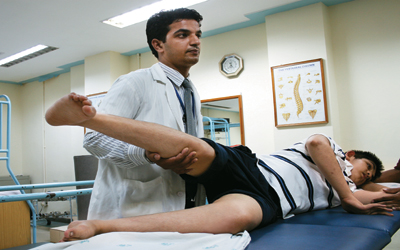 Physiotherapy is a science that helps improve movement dysfunction, and promote functions of the human body and optimal health. This involves assessment, diagnosis and treatment of disease and disability through physical means.


A physiotherapist's life
Physiotherapists help patients rehabilitate from a state of incapacity due to genetic defect or the result of an accident or illness. Hence, you must have thorough knowledge of the human anatomy and the intricacies of bones, muscles and nerves.

"You need to build up a rapport with patients and communicate with their relatives, too," says Dr Sukhwinder Singh, Consultant Physiotherapist, Aashlok Hospital, New Delhi.

Hence, excellent interpersonal skills including being empathetic, having patience and being able to understand people, is a must. Of course, manual dexterity and physical stamina to work for long hours is part of the terrain. You will also need to work closely with doctors and hence, being organised, working systematically and following the doctors' instructions, is a must.

FAST FACTS
Best schools: Institute for Physically Handicapped, New Delhi; PGMIR, Chandigarh; Government Medical College, Nagpur; KEM Hospital, Mumbai; and NIRTAR, Orissa
Eligibility: 10+2 in Science with Biology as a subject
Our advice: Be focused and choose a specialisation such as pediatrics, geriatrics, ICU or cardiology carefully


Do you know? Today there are only around 5,000 qualified physiotherapists in India? Yet, it is estimated that one physiotherapist is required for every 10,000 people, and the demand for trained professionals is only growing with time.


Conditions treated through physiotherapy
Spinal and joint conditions such as arthritis
 
Post accident treatment and rehabilitation
 
Back and neck pain
 
Problems affecting children including cerebral palsy and spina bifida
 
Cancer and palliative care
 
Pregnancy related problems such as back pain
 
Stress incontinence
 
Work-related injuries
 
Heart/lung conditions like asthma, obstructive airways diseases (COPD) and other breathing difficulties
 
Sports injuries
 
Brain injuries (example: strokes) and other neurological problems
"Have a positive attitude, instill confidence and courage in your patients and be sympathetic in your approach.  Remember, every individual is different, no problem is the same," says Dr  Ganesh K. Meena, Physiotherapist, AIIMS. Last but not the least, Dr Singh offers some words of wisdom for aspiring physiotherapists, "Always tell the truth and never promise your patients the impossible."


How to enter the field
There are three ways to enter the field. A diploma (DPT), a degree (BSc) or a professional course (BPT of four years with a 6-month internship). As a professional discipline, the course made an appearance in the early '60s and mostly was offered as a one year diploma which one can pursue after 10+2. 

As the profession grew and the demand for physiotherapists improved the degree attained its professional avatar as BPT. Over 300 colleges offer a Bachelor in Physiotherapy (BPT) The duration is usually four-and-a-half years. 
 
The diploma course increasingly is finding less favour with major hospitals. If you pursue a diploma course (one year), it would just make you eligible to work as a physiotherapist's assistant. 

Though Govt. rules still do not discriminate between diploma and degree in realty a degree finds much more acceptance. Though  aBSc course is an improvement many hospitals are  keen on hiring a candidate with a BPT, which includes an internship period of six months in the fourth year of study. So it would be advisable to go for a BPT.




BPT course profile:
Eligibility: 10+2 in Science with Biology as a subject and at least 50% of marks in each subject. The minimum age required for candidates is usually 17 years.  You must take the Common Entrance Test.

The course helps students develop a basic understanding of the human body, based on medical sciences. Training comprisesunderstanding procedures for therapy and related skill training. The curriculum includes anatomy, physiology, pathology, pharmacology, psychology, medical and surgical conditions, biomechanics, kineseology, disability prevention, rehabilitation and other subjects. "Course is a combination of theory and practicals. 

I found learning about the internal structure of the body confusing initially. You need to learn all about bones, muscles and nerves and treatment plans," shares SonamTiwari enthusiastically, a third year BPT student at Vikram University, Ujjain, Madhya Pradesh. Tiwari plans to do her internship at AIIMS in Delhi or at a medical college in Mumbai.

The teaching methodology is through classroom lectures, hands-on learning, practical classes and laboratory work. In some countries like the US and Canada, you must pass the national licensing examination before practicing physiotherapy. In addition, some countries require you to be a graduate before you can enrol in a physiotherapy programme.  Once in the profession, you need to upgrade your skills and knowledge through continuous learning.

Expert Speak 
Dr. Sanjeev Jha,
General Secretary (Former),
Indian Association of Physiotherapy

Q. What is the scope of Physiotherapy in India?
 Dr. Sanjeev Jha 
A. It is an upcoming profession in healthcare. Essentially, the syllabus is vast and teaches you to treat patients without drugs, and since there are no adverse effects on the body through this treatment, most patients are more than willing to opt for it.
Q. What changes are expected in physiotherapy education?
A. There are changes planned at the policy level. A Bill has been submitted and hopefully the field should experience new developments in the near future. The Ministry of Health plans to set up a Central Health Council which should ensure that the practice is regulated. The UGC norms ensure that students are better skilled and trained.


Q. What is your advice to students entering this field?
A.The physiotherapy course is one of the toughest in healthcare, so be prepared for rigorous study of theory along with equally rigorous practical applications. But, remember that struggle is still less since there are less qualified people in the field. The rise is much faster in this sector.


Q. What are some of the upcoming areas in physiotherapy?
A. I would say Orthopedics, Sports, Cardiopulmonary, ICU and pediatrics. But, you must remember that all the branches are growing. Technology advances so fast, there is a lot of scope no matter what specialisation you choose. Full of surprises, you will be left wondering what next!


Q. Government or private, which is better?
A. Physiotherapists in the private sector are better off according to me. Most students who pass out look for government jobs which are less in number. Instead, you should aim to be a good entrepreneur; the market is doing much better. You can set up your own practice or centre. Also, there are ample jobs available in private hospitals. Be active and grab opportunities.
Where to study
Where to work
Centres for physically and mentally challenged people
 
Community health centers
 
Industries
 
Government hospitals
 
Mental health centres
 
Nursing homes/ private care centres
 
Private and public hospitals
 
Private practice
 
Rehabilitation centres
 
Sports clinics and fitness centres
 
Universities and Colleges
Famous institutes include the All India Institute of Physical Medicine and Rehabilitation, Mumbai; Apollo College of Physiotherapy, Hyderabad;Government Institute of Rehabilitation Medicine, Chennai; Indian Institute of Health Education and Research, Patna; Institute for the Physically Handicapped, New Delhi; Institute of Health Sciences, Mangalore; Manipal Academy of Higher Education, Manipal; National Institute of Rehabilitation Training and Research, Cuttack; and Nizam's Institute of Medical Sciences, Hyderabad.
When choosing an institute
Look at the reputation of the institute, recognition of the institute, how old the institute is, faculty members at the institute and infrastructure. The apex body for Physiotherapy education in India is Indian Association of Physiotherapists (IAP). 

Make sure your desired institute is IAP recognised. It is advisable to go for higher studies like MPT for better employment opportunity and grasp of the field.
"Choose your college carefully; it must be recognised and have proper infrastructure otherwise you will not receive proper training to work in the field," Dr. Rajeev Mehta, HOD, Physiotherapy and Rehabilitation, Apollo Hospitals. All courses are not recognised by the government, and it is always preferable to choose a degree course over a diploma or a certificate.

Job opportunities
Physiotherapists are required in each department of a hospital, be it ICU or geriatrics (See Box for details), and they can also choose to work independently or be part of a multidisciplinary team. You can enjoy flexible working hours as a consultant, choosing the number of hours you work everyday.

"You are trained in maneuvers and techniques to aid in helping patients.  Physical stature does not decide your success, your skills do," explained Sunita, Physiotherapist, AIIMS.


Salary talk
Some hospitals choose to pay physiotherapists according to the number of patients he or she sees. Initial remuneration of physiotherapists varies from place to place. In India, the starting salary ranges from Rs. 5,000 to Rs.30,000 per month. Generally, private hospitals provide remuneration ranging between Rs. 5,000 to Rs.15,000 per month for a fresher.
In a government hospital like AIIMS, you begin as a Junior Physiotherapist and earn approximately Rs. 30,000 per month.  The progression in designations is Physiotherapist followed by Senior Physiotherapist earning about Rs. 45,000 per month, followed by Superintendent earning about Rs.60,000-70,000 per month and then Chief Physiotherapist earning about Rs.80,000 per month.  Jobs in a government hospital are difficult to get so you might have to explore other options before you land up here.
The average salary for teaching jobs in Physiotherapy varies from Rs. 10,000 to Rs.40,000 per month. The remuneration for established private practitioners can be nearly Rs. 20,000 to Rs.40,000 per month. Most physiotherapists with experience start their own private practice. They charge usually around Rs. 250 to 400 per sitting. Remuneration for Physiotherapists in countries such as the US, Canada, UAE and Australia varies from Rs. 50,000 to Rs.200,000 per month (since living expenses are higher evaluate that against this salary).


The complete picture
Being a physiotherapist can be a very rewarding profession, but you will have your share of frustrations as well. Sometimes your treatment plan will show the desired results.  Other times you will not even come close. But gratitude from patients and their families will always follow you. "New rehabilitation and robotic techniques keep getting developed, one cannot predict what is in store in the future"  opinesDr.Mehta. So always be willing to learn and be prepared. The field is just opening up and there is tremendous scope. 
Colleges offering Physiotherapy abroad
School
Department
Location
University of British Columbia
School of Rehabilitation Sciences
Vancouver, BC
Northern Arizona University
Department of Physical Therapy
Flagstaff, AZ
Arkansas State University
College of Nursing and Health Professions
State University, AR
California State University
Department of Physical Therapy
Long Beach, CA
University of Western Ontario
Department of Physical Therapy
London, ON
University of Connecticut
Department of Physical Therapy
Storrs, CT
University of Toronto
Department of Physical Therapy
Toronto, Ontario
George Washington University
School of Medicine and Health Sciences
Washigton, DC
University of Florida
Department of Physical Therapy
Gainesville, FL
McGill University
School of Physical and Occupational Therapy
Montreal, QC
Université de Montréal
École de réadaptation
Montréal, QC
Northwestern University
Physical Therapy and Human Movement Sciences
Chicago, IL
University of Kansas Medical Center
School of Allied Health
Kansas City, KS
Mayo School of Health Sciences
College of Medicine 
Rochester, MN