NTA NEET 2020 COVID-19 Advisory
NTA NEET 2020 COVID-19 Advisory: The National Testing Agency, (NTA) will conduct the National Eligibility Cum Entrance Test- NEET on September 13, 2020, in the offline mode for 16.84 medical aspirants. NTA, on August 21, 2020, has issued NEET advisory of COVID-19 for all functionaries associated with the smooth conduct of the medical examination. The link to check the NEET advisory 2020 PDF has been mentioned in the article along with the procedure. NEET 2020 COVID-19 advisory by NTA mentions the three major measures to be taken at the exam centres, which include pre-examination, during the exam and post-examination. NTA NEET 2020 COVID-19 advisory considers the social distancing measures right from the entry of the candidates to up to their exit. NEET 2020 advisory, also known as Standard Operating Procedure (SOP), has been drafted by the top medical experts of All India Institute Of Medical Science (AIIMS), in order to maintain a safe and secure environment for all the people - from candidates to staff involved in NEET 2020. Applicants must go through the article on NTA NEET 2020 COVID 19 advisory to know the guidelines set by the authority for the exam day.
UPCOMING: NEET 2020 admit card released; Download here
IMPORTANT: To read the entire NTA NEET 2020 COVID-19 advisory - Click here (Released)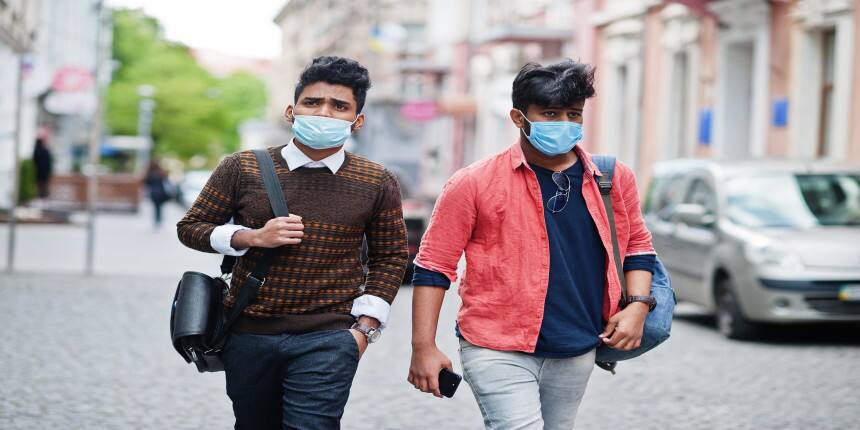 NEET UG 2020 will be conducted from 2:00 PM to 5:00 PM at 155 test cities for admission to 82,926 MBBS, 26,949 BDS, 52,720 AYUSH and 525 BVSc & AH offered in colleges of India.
Why NTA NEET 2020 COVID 19 Advisory Is Important?
Amidst the COVID-19 pandemic, conducting NEET 2020 exam is a big challenge for the authorities since it will be held in the offline mode with 16.84 lakh candidates. Considering this, it is the sole responsibility of the NTA to develop a system and processes such as NEET advisory for COVID-19, over a period of time in order to successfully conduct the examination. It is the major reason why the SOP has been issued.
As per the NTA NEET advisory for COVID-19, the major things covered in the SOP are the set of standards and the operating norms between the conducting authority and centres conducting the exam. With the pandemic threat, it is extremely crucial to stick to the SOP and follow the adequate precautions set by the health experts to ensure that NEET 2020 will be conducted safely.
Procedure of NTA NEET 2020 COVID-19 Advisory
With the help of AIIMS medical experts, NTA has carried out vital precautions to be followed by the candidates and the exam centres on the day of NEET 2020 exams. These precautions are divided into three stages which are as follows.
Pre-Examination Controls / Measures

Exam Conduct Controls / Measures at Examination centres

Post Examination Controls / Measures at Examination centres
NTA NEET COVID-19 advisory pre-examination controls
Here are some of the measures considered for pre-examination NTA NEET advisory.
Allocation of the candidate at examination centres
All candidates are required to follow social distancing norms and maintain a distance.

The seating arrangements will allow aspirants to sit at a safe distance from each other as per social distancing norms.
Changes in the NEET 2020 admit card
Candidates can check the following changes which have been made in the admit card of NEET 2020.
Special COVID-19 instructions will be mentioned in the NEET 2020 admit card.

Reporting time slots will also be mentioned in the NEET admit card 2020 (for example- 11.00 AM.to 11.30 AM)

Items that candidates can take inside the examination hall.

A hyperlink to the location of the centre so that Candidate may verify the location of the centre in advance by clicking on the link (when a candidate clicks the Centre details).

In case of a PwD candidate availing a scribe, both the candidate and scribe are required to wear the masks.
NEET advisory 2020 for COVID-19: Social distancing training for staff
The centre superintendent will be conducting training for Invigilators and all staff on the following points.
Social Distancing norms

Guidelines for the conduct of NEET 2020

Standard operating procedures for implementing safety precautions and for maintaining the required standard of hygiene.
Note: Examination functionaries will be able to perform their duty only if they have attended orientation. They may register themselves on the link shared by NTA for online orientation.
NEET 2020 advisory for inventory management
Every NEET 2020 exam centre are required to have the following additional inventory:
Gloves & masks for all staff on examination duty

Gloves & masks for candidates, in case they do not come with their own.

Hand sanitizer at entry and inside the examination centres as needed.

Spray bottles, Sponges/cloth for disinfecting items such as desk/table, door handles, etc.

Disinfectant liquid with 1% sodium hypochlorite for spraying in the examination centres

Disinfectant backpack spray machines for spraying floors, walls, etc

Additional cleaning material for washrooms to ensure increased hygiene

Liquid handwash/soap in washrooms for washing hands

Thermo guns for temperature check of candidates and all staff on duty

Additional notice boards

Separate water bottles for staff on duty and for candidates, in case any candidate misses bringing his/her own

Rope to make rope lines and material to make floor marks (circle with paint to manage queues outside the entrance gate)

Sanitizing the examination centres and equipping examination functionaries
Crowd Management Outside The Examination Centres
Notice boards to avoid crowing outside the exam centre by the candidates will be positioned at suitable locations within and near the examination centres

Queue manager/ropes to be placed in a way so as to funnel candidates within the roped area for a candidate to stand in the separate line of (up to 20 girls, up to 20 boys) at any point of time

Loud hailer will be used to call candidates as per their time slots
COVID-19 advisory for NEET 2020: managing candidate after entry into centre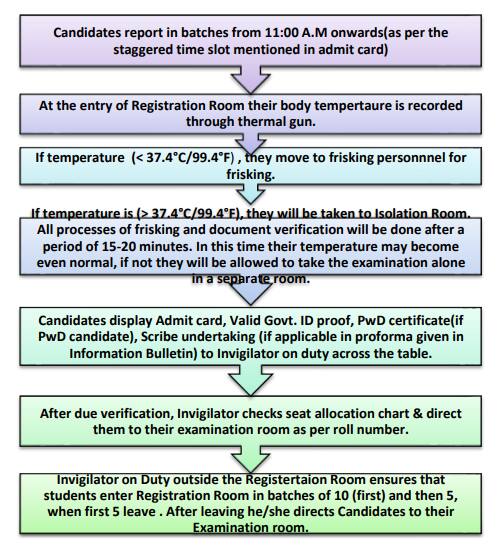 NEET 2020 admit card reporting time and entry of candidate
To avoid crowding at the examination centre entrance, candidates will be given staggered time slots for reporting.

A prior communication on this process of staggered entry will be shared with the candidates through admit card and through SMS.

Security guards at the gates must wear masks and gloves as they become the first point of contact for all candidates.
NEET exam day guidelines 2020 - Ushering candidate into separate registration rooms
Candidates will be escorted in batches of 15 girls and 15 boys in two different registration rooms, where thermal scanning will be carried out at the entry followed by frisking and document verification procedures inside the room

Post verification, the invigilator will locate the candidate's seat in the seating area and inform the NEET candidate about his/her room number
Things to carry at the NEET 2020 exam hall
The only items to be carried by every aspirant inside the examination hall of NEET are as follows:
Mask on face

Gloves on hand

Personal transparent water bottle

Personal small hand sanitizer (50 ml)

Original copy of NEET 2020 admit card

Identification Proof (Aadhaar card, Ration card, Passport, PAN card, Driving license, Voter ID or other government authorised document)
NEET COVID-19 advisory 2020: During examination controls/measures
Videography/CCTV live streaming will be conducted in each room

Manual Attendance and Handwriting sample at the candidate seat

Manual attendance with signature (while wearing gloves) will be taken.

The practice of physical movement of Invigilators inside the room

must be minimized to the extent possible.

Invigilators are required to use sanitizer while helping out any candidate.

Candidate must take permission from Invigilator before going for washroom

Housekeeping staff manning the washrooms must insist that the candidates wash their hands before leaving the washroom.
NTA NEET 2020 COVID-19 advisory: Post Examination Controls
On completion of the NEET 2020 exam, candidates must move out in an orderly manner (One candidate at a time).

The gloves and masks should be disposed of in a pedal push covered bin at the NEET 2020 examination Centre and outside the examination room/hall only

Required distance will be maintained without crowding anywhere.

Refreshments are allowed only in designated areas and at scheduled times.

Social Distancing norms must be maintained while having refreshments
Questions related to NEET
Showing 87567 out of 87567 Questions