NEET 2019 Topper Interview: "Study hard, but also have a life" says Arunangshu Bhattacharyya, AIR 19
NEET 2019 Topper Interview: After results of NEET 2019 was announced on June 5, an environment of festivity took over the household of Arunangshu Bhattacharyya who has clinched the NEET AIR 19. Arunangshu himself couldn't however partake in the celebrations, as he was away in Mumbai to participate in an Olympiad. When we got in touch with Arunangshu, we got an insight into his genius mind and what plans he has for his future. For example, he wishes to get admission into AIIMS New Delhi, but is ready to wait until AIIMS MBBS 2019 results are declared. A native of Surat, Gujarat, Arunangshu moved to Kota, Rajasthan, in Class 11 to give wings to his dreams of becoming a doctor, which was seeded in his mind while still in Class 6. He toiled hard, studying up to 10 hours a day, but always making sure to find time for his hobby: studying up on politics.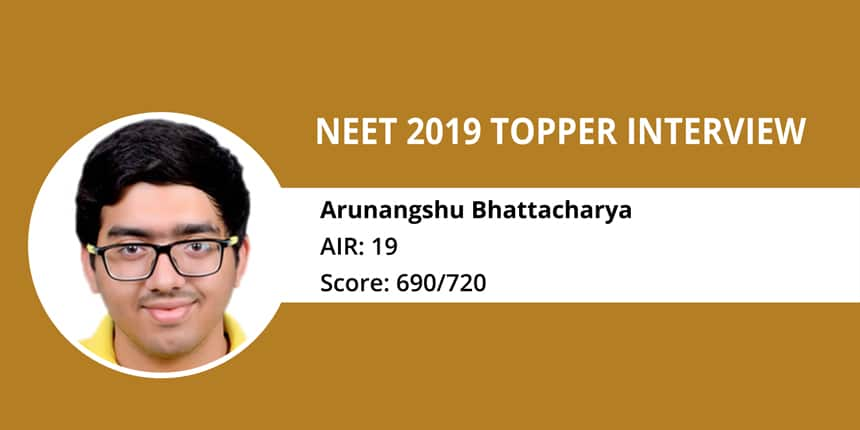 NEET Topper Interview 2019
Careers360: First of all, congratulations on emerging as a NEET 2019 topper! How are you feeling about your NEET results?
Arunangshu: I was expecting a good result in NEET 2019, and so felt very happy. I am actually in Mumbai for an international camp, so there was bi celebration. Instead I celebrated with other students in the camp by ordering pizza!
Careers360: Tell us something about your background.
Arunangshu: I am from Surat, Gujarat. I completed my 10th from J.H. Ambani Saraswati Vidya Mandir School, Surat. In the 11th standard, I shifted to Kota and took admission in Disha Delphi Public School. I simultaneously also took up coaching at Allen Kota.
Careers360: What motivated you to pursue medicine as a career?
Arunangshu: Since I was in class 8 and 9, I took a special liking for Biology. This love kept on increasing, and over time I became attracted to medicine.
Careers360: How did your family support you in your journey?
Arunangshu: Support can be at different levels, but according to me the most crucial is emotional support. When you are preparing for an exam like NEET 2019, there can be lots of ups and downs, and you need a solid support network to be around you, and I got it from my family. Study related support is also important, which I got from my coaching centre and teachers at my school.
Careers360: Could you share with us your overall and subject-wise score in NEET 2019?
Arunangshu: My overall score is 690 (99.9980861 percentile). Subject-wise breakdown is 180 marks in Physics, 165 in Chemistry and 345 in Biology.
Careers360: Which other medical entrances have you appeared for?
Arunangshu: I have appeared in both AIIMS MBBS 2019 and JIPMER 2019, apart from NEET 2019.
Careers360:How did you prepare for NEET 2019?
Arunangshu: I started my medical-oriented preparation when I was in class 11. I prepared mainly from NCERT books, and completed it by reading notes from my coaching institute. My suggestion is one should avoid two many different books, as it only creates confusion. Have a few good books for each subject, and just follow them.
Also, many students only focus on the problems section of NCERT books, while skipping the text. But the test, even though they might appear boring compared to other books, are essential to improve one's understanding of the basics and do well in the exam.
In between my coaching and classes, I got only around 4-5 hours of study a day. When there was a holiday, I could study up to 10 hours a day.
Careers360: Did you take any coaching or help? How beneficial did it prove?
Arunangshu: Yes, I did coaching from Allen Kota. The main motive of coaching is that you get competition. For example, in Gujarat, there are say more than 50,000 school, and each school will have a topper. But it is not necessary that each one of these toppers would top a national-level exam like NEET, because only a handful do.
When you come to a coaching centre like Allen, you immediately grasp the competition and what you are up against. Your peer group includes many school toppers.
Careers360: How much time did you devote in self-study vs. coaching?
Arunangshu: Coaching roughly was for 5- 5 ½ hours, while I did self-study for 4-5 hours.
Careers360: What was your exam day strategy for all three subjects, namely Physics, Chemistry and Biology?
Arunangshu: My strategy was to attempt Biology first. If the paper was easy, then I looked to complete it in 30 minutes if the paper is easy, and maximum 40 minutes if paper is difficult. For Chemistry I allotted 30 minutes, and finally 60 minutes for Physics. The time left is used to go over unattempted questions.
Careers360: Which according to you were the toughest and easiest sections?
Arunangshu: NEET 2019 question paper was very easy. Physics and Chemistry were my strong points. In Chemistry I focused more on Inorganic, which turned out to be helpful because there were more memory-based questions this year.
Careers360: What are your hobbies? Did you engage in them during the preparations?
Arunangshu: I am an avid reader and a keen follower of politics. So, whenever I had spare time I used to read up on the latest political events.
Careers360: What factors would you attribute this success to?
Arunangshu: Of course the first credit goes to the family. The teachers at Allen also deserve a big shout out, my friends at the hostel where I used to live in Kota, and my school where I did m 10th.
Careers360: Any particular college you have in mind for admission?
Arunangshu: My first preference is AIIMS New Delhi, but if I don't get AIIMS New Delhi then I may choose between Maulana Azad Medical College (MAMC) and JIPMER. In fact, based on NEET 2019 scores, I am already eligible for admission to MAMC.
Careers360: Where do you see yourself in the next 10 years?
Arunangshu: I am not thought so far ahead, but still if you ask then may be I would like to be a neurologist or a cardiologist.
Careers360: Any message or advice for future medical aspirants?
Arunangshu: It is important for candidates to realize that there is a world beyond medicine. So, one must not shut the door on other important things in life, which can be politics, sports, dance, drama, music.
Questions related to NEET
Showing 84259 out of 84259 Questions