How to prepare for NEET 2018 using mock tests - Learn from toppers
How to prepare for NEET 2018 using mock tests – India's biggest medical entrance examination, the National Eligibility cum Entrance Test (NEET), will be conducted this year on May 6, 2018. With barely a few weeks to go for the d-day, one proven strategy that should be followed without fail by all candidates is to practise NEET mock tests. The mock tests of NEET will not only help aspirants get familiar with the pattern of the question paper but also help them self-evaluate their performance and restructure their preparation strategy on the basis of the marks they obtain in the NEET mocks.
Related Post -
NEET 2019
NEET Eligibility Criteria 2019
NEET Application Form 2019
NEET Admit Card 2019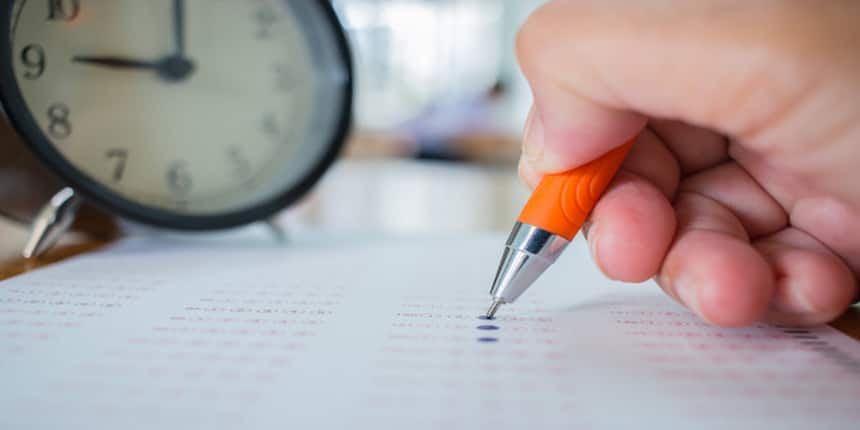 Time and again, experts and toppers alike have recommended solving NEET mock tests as it comprises a multi-pronged approach to prepare for NEET by helping candidates work on their weak areas, test their conceptual understanding and get into the necessary exam temperament. Careers360 presents here the important inputs shared by medical entrance experts and previous years medical entrance toppers on the strategies and reasons to practise on How to prepare for NEET 2018 using mock tests.
How to prepare for NEET 2018 - Why solve NEET mock tests?
NEET 2018 will consist of 180 questions to be completed in 180 minutes. Besides the time constraint, another factor that usually adds pressure on candidates is the presence of negative marking. Mock tests of NEET are designed keeping the actual exam pattern in mind and thus provide the perfect platform for aspirants to simulate the exam day conditions so that they can develop preparation strategies accordingly. Given below is a lowdown on the major benefits of solving mock tests as per the viewpoints of experts and previous years' medical entrance toppers.
Prepare for NEET 2019 with concept and topic wise videos by exam experts. Get the complete course videos direct to your inbox. Click to Subscribe
You May Also Be Interested In:
1. Get familiar with the exam pattern
Solving NEET mock tests will help aspirants get familiar with the exam pattern and get a clear picture of what type of questions can be asked from different chapters. According to Anand Nagarajan, the expert from T.I.M.E. Chennai, "Test series and mocks are very important to get into the exam mindset and to begin to thinking in the manner suitable for the exam."
2. Time Management
Given the strict time limit and varying difficulty levels of different sections of NEET 2018,  mock test practice will help candidates in developing an appropriate time management strategy for the three sections of NEET 2018 and more. Deric Joseph, the 2017 topper who bagged AIR 6, 16 and 17 in NEET, AIIMS and JIPMER respectively said, "Mock tests helped me in deciding my time management strategy for the exam day. There were weekly and monthly tests which were constantly analysed and suggestions were given based on that."
3. Increases Accuracy
Mr. Nagarajan suggests, "Taking a good number of mock tests and model exams based on NEET 2018 will give students the feel and the 'pinch' of negative marking." Practising mock tests will help candidates increase their accuracy and limit the detrimental impact of negative marking in the exam.
4. Boost Confidence
Doing well in mock tests and previous years' question paper practise gives a sense of confidence to medical entrance aspirants as it increases their familiarity with the exam pattern and tells them their preparation is on the right track.
How to prepare for NEET 2018 - How to practise NEET mock tests?
"Winners don't do different things, they do things differently" - The oft-quoted management mantra is quite relevant in the context of medical entrance preparations as well. Every year, lakhs of students appear in NEET and almost everyone practices solving the mock test. Only a few, however, manage to clear the exams with good marks. What is it that they do differently? If practising mock tests is so essential for NEET preparations, how exactly should aspirants go about it so that it yields the maximum benefits?
Let's check below the topper and expert-recommended strategies for solving mock tests of NEET 2018.
1.  Cover previous years' papers
It is recommended that students go back several years to solve all the question papers of similar medical entrances like NEET (and AIPMT before it), AIIMS MBBS and JIPMER MBBS as long as the exam pattern and syllabus are similar to what they are now.
"Take at least 15 mocks and previous 12 years' papers before the final exam and follow them up with performance analysis", suggests Mr. Nagarajan. In the same vein, Tamoghna Ghosh, one of the toppers of AIIMS MBBS 2017, advices, "I solved past 30 years' question papers to understand the pattern and question types. I used to take a lot of mock tests and got them thoroughly analysed by mentors".
2. Devote last few weeks completely to mock tests and revision
Experts and toppers recommend from their experience that the last few weeks should completely be devoted to practising mock tests and revision. It is further suggested that as the exam day comes near, the frequency of practising mock tests should be increased. As Vipul Garg, topper of AIPMT in 2015, says, "Regular practise of mock tests in the last month helped me to re-craft my preparation strategy as per my ability to solve questions. After each mock test, I used to analyse the time taken to solve the paper and see what changes I could bring in my paper-solving strategy to maximise accuracy while keeping the number of attempts high. I had done well in most of my mock tests and it fuelled my confidence in the actual examination".
3.  Practise different types of mock tests
Mock tests can be divided into to major segments, namely subject/topic specific mocks and full-length mocks. Students should target both the mocks as seems appropriate for their individual situations.
Practise topic or subject specific questions from question banks if one wishes to strengthen the grip or understanding of a particular topic or subject. Practising subject-wise mocks will help students ace every subject individually. This strategy will especially come handy while preparing for Physics, considered one of the more difficult subjects for NEET 2018.
Practising full-length mocks is equally if not more important for NEET 2018 preparation. Most of the benefits of practising mocks cannot be realized without focussing on full-length mock tests. Aspirants shouldn't wait until they complete the entire syllabus before beginning with full-length mock tests. Given that only last some weeks are left for NEET 2018, aspirants should begin with mock test practice and direct their preparations on the basis of that.
4. Evaluate Performance
Merely solving a mock test isn't enough. Evaluation of your performance after every mock test is a must. There is nothing better than having your errors identified and getting a chance to improve them.
Evaluate your performance on the aspects given below:
Negative marks being lost

Subject-wise performance

Pinpointing weak and strong areas

Time management
5.    Keep negative marking in mind
One can't engage in 'trial and error' on the exam day given that NEET, as also AIIMS MBBS and JIPMER MBBS, carry negative marking. For every wrong answer, NEET 2018 candidates will lose one mark. Therefore, while practising mock tests, keep evaluating the performance in this context and try to develop a strategy to limit the marks lost due to wrong answers.
6.  Clock your attempts
It is very important that aspirants attempt about 15-30 odd mock tests by simulating exact exam day environment, including clocking the time and choosing the exact time of the day as that of NEET day (if feasible) for attempting the mock test. This will entail attempting full-length NEET mock tests between 10.00 AM to 1.00 PM, the exact timing in which NEET 2018 will be held. Clocking mock test attempts in such a manner will sync candidate's body clocks and mindset to the exam day schedule.
How to prepare for NEET 2018 using mock tests mentioned in the article above can be equally followed by aspirants preparing for the AIIMS MBBS 2018 and JIPMER MBBS 2018 entrance exams as well.
Questions related to NEET
Showing 83667 out of 83667 Questions