Are NCERT books enough for cracking NEET 2022
Are NCERT books enough for cracking NEET 2022 - Candidates appearing for the NEET exam, must check relevant books other than NCERT to crack NEET 2022? With more than 16 lakh aspirants appearing for admission to MBBS, BDS, and AYUSH courses, NEET is the single largest medical entrance examination in India.
Stay up-to date with NEET News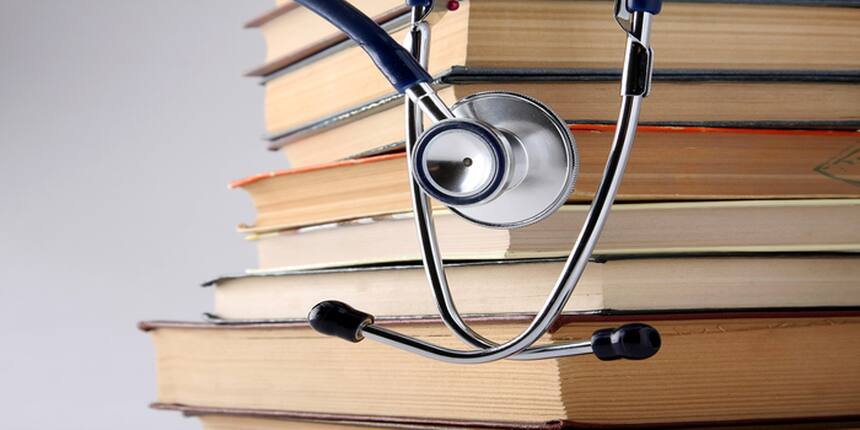 Candidates willing to appear for NEET 2022 should start their preparation using the best study materials. As per the subject experts and NEET 2022 toppers, NCERT books for Class 11 and 12 are considered the bible for each section. However, many students often struggle to find the best books to crack NEET 2022 with good marks. Such aspirants usually have doubts about whether NCERT books are enough to crack NEET. Thus, Careers360 brings an article on "Are NCERT books enough to crack NEET 2022 exam" to reduce chaos among the medical aspirants.
Are NCERT books enough for cracking NEET 2022 – Topper's view
As mentioned above, NCERT books are the best study materials for NEET 2022 preparations. And since NEET syllabus 2022 is based on the NCERT syllabus of Class 11 and 12 with Physics, Chemistry, and Biology as the main topics covered. Therefore, candidates preparing for NEET 2022 should revise the topics of NCERT books thoroughly. As per one of the NEET toppers, AIR 1 Soyeb Aftab, candidates must thoroughly go through NCERT books which form the base for every question. These textbooks actually create the foundation of topics on top of which building more important knowledge and facts will stand.
Undoubtedly, NCERT books give an excellent head start for NEET 2022. However, NEET is an objective type paper and students have to practice MCQs. Thus, aspirants can refer to the below-mentioned books for NEET 2022 other than NCERT for better preparations. With the help of other books for NEET preparations, students can also align their preparation with the difficulty level of the questions, which is expected to be in the NEET examination.
Is NCERT enough for cracking NEET Biology?
These are some of the objective books other than NCERT to crack NEET for Biology sections which students can prefer to crack NEET 2022. The biology subject in the examination contains questions from Botany and Zoology. Candidates preparing for NEET 2022 must check the important books for both Botany as well as Zoology.
Biology Volume 1 and 2 by Trueman

Objective Biology by Dinesh

Objective Botany by Ansari

Modern's ABC for Biology – Part 1 and 2

Exploring Biology – 2 Volumes by Sanjay Sharma and Sudhakar Banerjee

Medical Entrance Biology – 3 Volumes by Mamta R Solanki and Lalita Ghotik (Target Publications)

Pradeep Guide for Biology

GR Bathla Publications for Biology
Also Read:
Are NCERT books enough to crack NEET 2022 - Subject-wise analysis
Aspirants can go through the below-mentioned analysis, which is giving aspirants clear-cut guidance on using NCERT for every NEET subject.
Are NCERT books enough to crack NEET 2022 Physics?
The Physics section of NEET 2022 is the toughest section of all as stated by experts as well as toppers, it requires more conceptual knowledge. Physics is all about the numerical and based on concepts, therefore NCERT Physics books won't be enough for NEET preparations. Below are some of the books other than NCERT to crack NEET 2022.
Objective Physics by DC Pandey

Concepts of Physics by H.C. Verma

Fundamental Physics by Pradeep

Concepts of Competition Physics for CBSE PMT by Agarwal

Objective Physics by Prof. Satya Prakash Arya (MTG Publishers)

Fundamentals of Physics by Resnick, Halliday, and Walker

Problems in General Physics by IE Irodov
Is NCERT enough for cracking NEET Chemistry
NEET Chemistry carries 50 questions in the examination from three sections – Inorganic, Organic, and Physical Chemistry. As per the previous year's NEET exam analysis, there were 15 questions each from Inorganic, Organic, and Physical Chemistry. Thus we are providing the other books to crack NEET 2022 Chemistry.
Objective Chemistry (Volume 1 and 2) by Arihant Publications

Organic, Inorganic and Physical Chemistry by OP Tandon

ABC of Chemistry for Class 11 and 12 by Modern

Objective Chemistry for NEET by R.K. Gupta

Concise Inorganic Chemistry by JD Lee

Objective Chemistry – 3 Volumes by S. Dinesh & Co.

Practice Books by VK Jaiswal (Inorganic Chemistry), MS Chauhan (Organic Chemistry), and N Awasthi (Physical Chemistry)
Are NCERT books enough for cracking NEET 2022– Importance of Study Materials
Once a candidate completes the NCERT books for NEET preparation, they can follow the above listed best books for NEET 2022 to secure a good rank in the national entrance examination.
Since NCERT textbooks only create a foundation, students will definitely need other study material to crack NEET 2022, which will help in building their knowledge. There will be 200 questions in the exam, of which 50% will be based on the lines of NCERT. While the other books to crack NEET 2022 than NCERT will be the best study material to answer the remaining questions

NEET exam contains multiple-choice questions and using only NCERT books won't help aspirants to solve the MCQs in the correct manner. Practising the objective books other than NCERT books to crack the NEET exam will assist medical aspirants to enhance their preparation strategy, speed, and accuracy level

While practising through books other than NCERT for cracking NEET 2022, candidates must try to complete the question paper within the stipulated time period given during the examination.

Without these relevant study materials than NCERT, the future MBBS aspirants won't be able to understand the structure, difficulty level, NEET exam pattern 2022 such as marking scheme, the medium of paper, and other aspects of the examination.
Frequently Asked Question (FAQs) - Are NCERT books enough for cracking NEET 2022
Question: When will NTA conduct NEET 2022?
Answer:
The National Testing Agency (NTA) will conduct NEET 2022, the exam date has not been confirmed yet.
Question: Is NCERT book important for cracking NEET UG?
Answer:
Yes, NCERT is indeed essential for clearing NEET 2022 with the required qualifying percentile. All toppers and experts advice the same.
Question: How many questions does each subject carry in NEET 2022?
Answer:
As per NEET 2022 exam pattern, there will be 55 questions from Chemistry and Physics each and 100 questions from Biology in the examination.
Question: What other books apart from NCERT should be referred to by candidates?
Answer:
Candidates should study from the exa in order to clear the exam well.
Questions related to NEET
Showing 117183 out of 117183 Questions