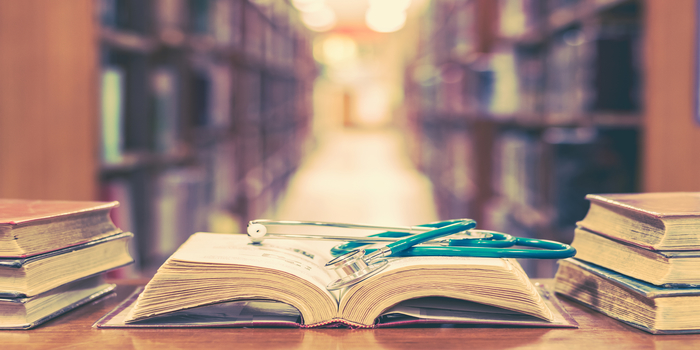 Best Books for NEET 2019 - "So much to study, so little time" must be the feeling of every NEET UG aspirant right now. If one is aiming to crack NEET 2019, choosing the best books for NEET 2019 is undoubtedly the most essential part of the preparation journey. NEET 2019 best books will assist aspirants in knowing the relevant resources to learn from when having to choose from the excess of study materials available in the market.
LATEST - NEET application form correction window 2019 is available - Click here to edit the form 
MBBS Companion 2019
Predict chances in 3000+ colleges, Know All India Counselling & Admission process etc.
Know More
IMPORTANT: NEET 2019 Knockout Online Course Available for NEET Aspirants

[A personalized course to clear NEET 2019 with the access of Mock Test Series (Subject & Topic Wise), 250 Hours Videos & E-Lectures, 50,000+ Concepts & Topics, 16 Years NEET Solved Papers, Most Asked Questions, Personalized Strength Sheet and more. Get Now]
With 5 months left for NEET 2019, it is just the right time to make a schedule with the right books in hand and prepare for the entrance exam. To help aspirants crack NEET UG, Careers360 has compiled a list of best books for NEET preparation.
NEET is quite naturally considered to be one of the country's largest and most competitive entrance exams. For a test like NEET, aspirants usually start preparing from a year or two in advance. At the preliminary step, there are multiple options for the students but the right guidance is of utmost importance.
There are a couple of factors which students should be cautious about while selecting the best books for NEET UG. Firstly, the selected material should clear the basic concepts and secondly, it provides you strategies to solve the question paper within the given time. Since the test paper offers 180 question which need to be completed in three hours, time management becomes a very essential part for NEET 2019 preparation. NEET UG best books recommended in this article are collated keeping in mind the syllabus for the entrance exam as recommended by the Medical Council of India (MCI). NEET 2019 syllabus has been decided after review of various state syllabi as well as those prepared by CBSE, NCERT and COBSE. 
Highlights of NEET 2019
Exam Name: National Eligibility cum Entrance Test (NEET)
Conducting Body: Central Board of Secondary Education (CBSE)
Mode of Exam: Offline
Subjects: Physics, Chemistry and Biology
Time Limit: 3 hours
Total Number of Questions: 180
Marks per question: 4 marks
Maximum Marks: 720 marks
Negative Marking: - 1 mark for wrong answer; 0 for unattempted answers
Courses Offered: MBBS, BDS, and AYUSH courses
Prepare for NEET 2019 with concept and topic wise videos by exam experts. Get the complete course videos direct to your inbox. Click to Subscribe
Best Books for NEET 2019
Aspirants preparing for NEET 2019 must keep in mind that NCERT books of Class 11 and 12 should be considered as the bible for each section. NCERT books will clear the basic concepts for each section. AIIMS MBBS AIR 6 Abdur Rehman who has also secured AIR 218 in NEET 2018 said, "NEET is mainly an overview of NCERT books and a very little comes outside of it".  He further added, "even the facts and formulae given between the lines in NCERT books (marked under the heading 'Points to Ponder') which many people tend to skip are also important as a lot of questions are asked from these tiny boxes." Apart from the NCERT books, the sources provided here will help candidates in solving the multiple choice questions.
Best Books for NEET 2019 – Physics
The physics section being the toughest of all the sections as stated by the experts and toppers, it requires extensive knowledge about each and every topic. The section comprises 45 questions which carry 180 marks wherein mostly questions from Electrostatics, Mechanics and Electronics dominate. The numerical based questions in NCERT Physics book will help the candidates in solving numerical during the exam. Concepts of Physics by H.C. Verma should also be in the list of best books for NEET 2019 as it provides solved and unsolved problems for practice which also serves as the sample paper for NEET preparation. DC  Pandey, on the other hand, prepares aspirants for objective questions. The remaining books that we have added to the list of NEET UG 2019 best books are also helpful to clear your concepts.
NCERT Physics Class XI & Class XII

Concepts of Physics by H. C. Verma

Objective Physics By DC Pandey

Fundamentals of Physics by Halliday, Resnick and Walker

Fundamental Physics by Pradeep

Problems in General Physics by IE Irodov
Best Books for NEET 2019 – Chemistry
Chemistry includes 45 questions which carry 180 marks wherein the aspirants will get three sections- Organic, Inorganic and Physical. As per the previous year trends, Physical and Organic section carry more weightage so we have included more books for these sections in the list of NEET 2019 best books. Physical section carries numerical based question, therefore, the books added will assist in practising and solving questions. Inorganic section is the easiest section when compared with the other two, it consists of memory based questions. J D Lee includes multiple-choice questions which are really good for students preparing for NEET. Organic section needs practice and revision as it depends on the interlinking of knowledge. The best books for NEET 2019 added here for the organic section will help candidates in understanding the concepts lucidly.
NCERT Chemistry textbooks for Class XI and XII

Physical Chemistry by OP Tandon

ABC of Chemistry for Classes 11 and 12 by Modern

Concise Inorganic Chemistry by JD Lee

Dinesh Chemistry Guide

Practise books by VK Jaiswal (Inorganic), MS Chauhan (Organic) and N Awasthi (Physical)
Best Books for NEET 2019 for Biology
Biology section includes 90 questions which carry 360 marks and it goes without saying that candidates should pay more attention to this section as it carries more weightage. In the list of NEET 2019 best books for Biology, we have included books which will help in retaining the concepts and will also prepare them for objective questions. The first book in the list of best books for NEET exam will be NCERT Class XI and XII Biology books. NCERT books will clear the basics of the aspirants and will also help them in understanding how to go about it. Although, candidates should not skip reading other books as well because Biology section carries 360 marks. The aspirants can check here the list of best books for NEET 2019 for Biology.
NCERT Biology Class XI and Class XII textbooks

Biology Vol 1 and Vol 2 by Trueman

Objective Biology by Dinesh

Objective Botany by Ansari

Pradeep Guide on Biology

GR Bathla publications for Biology
The medical aspirants can check here the syllabus of NEET 2018 which is likely to remain the same. It includes topics from each subject. The syllabus is prepared by CBSE, NCERT and COBSE taking into consideration the syllabi of all the States. It will help candidates to prepare for NEET thoroughly.
NEET Syllabus 2019 for Physics
| | | | |
| --- | --- | --- | --- |
| S. No. | Class XI | S. No. | Class XII |
| 1. | Physical world and measurement | 1. | Electrostatics |
| 2. | Kinematics | 2. | Current Electricity |
| 3. | Laws of Motion | 3. | Magnetic Effects of Current and Magnetism |
| 4. | Work, Energy and Power | 4. | Electromagnetic Induction and Alternating Currents |
| 5. | Motion of System of Particles and Rigid Body | 5. | Electromagnetic Waves |
| 6. | Gravitation | 6. | Optics |
| 7. | Properties of Bulk Matter | 7. | Dual Nature of Matter and Radiation |
| 8. | Thermodynamics | 8. | Atoms and Nuclei |
| 9. | Behaviour of Perfect Gas and Kinetic Theory | 9. | Electronic Devices |
| 10. | Oscillations and Waves |   |   |
NEET Syllabus 2019 for Chemistry
| | | | |
| --- | --- | --- | --- |
| S. No. | Class XI | S.No. | Class XII |
| 1. | Some Basic Concepts of Chemistry | 1. | Solid State |
| 2. | Structure of Atom | 2. | Solutions |
| 3. | Classification of Elements and Periodicity in Properties | 3. | Electrochemistry |
| 4. | Chemical Bonding and Molecular Structure | 4. | Chemical Kinetics |
| 5. | States of Matter: Gases and Liquids | 5. | Surface Chemistry |
| 6. | Thermodynamics | 6. | General Principles and Processes of Isolation of Elements |
| 7. | Equilibrium | 7. | p-Block Elements |
| 8. | Redox Reactions | 8. | d and f Block Elements |
| 9. | Hydrogen | 9. | Coordination Compounds |
| 10. | s-Block Element (Alkali and Alkaline earth metals) | 10. | Haloalkanes and Haloarenes |
| 11. | Some p-Block Elements | 11. | Alcohols, Phenols and Ethers |
| 12. | Organic Chemistry- Some Basic Principles and Techniques | 12. | Aldehydes, Ketones and Carboxylic Acids |
| 13. | Hydrocarbons | 13. | Organic Compounds Containing Nitrogen |
| 14. | Environmental Chemistry | 14. | Biomolecules |
|   |   | 15. | Polymers |
|   |   | 16. | Chemistry in Everyday Life |
NEET Syllabus 2019 for Biology
| | | | |
| --- | --- | --- | --- |
| S. No. | Class XI | S. No. | Class XII |
| 1. | Diversity in Living World | 1. | Reproduction |
| 2. | Structural Organization in Animals and Plants | 2. | Genetics and Evolution |
| 3. | Cell Structure and Function | 3. | Biology and Human Welfare |
| 4. | Plant Physiology | 4. | Biotechnology and Its Applications |
| 5. | Human Physiology | 5. | Ecology and Environment |