How to prepare for NEET 2019: Expert tips by Shailendra Maheshwari, Director, Career Point
How to prepare for NEET 2019 - National Eligibility cum Entrance Test (NEET) will be conducted on May 5, 2019, in pen and paper mode. Recently, it has been announced that National Testing Agency (NTA) will be responsible for conducting NEET. More than 13 lakh candidates are expected to take offline entrance test. With just 6 months left for the exam to be conducted, a certain amount of edginess regarding the preparations and exam is evident from the medical students. Thus, Careers360, brings an exclusive interview of Shailendra Maheshwari, Director of Career Point for NEET preparations 2019. In the interview, Mr. Maheshwari outlines the plan to prepare NEET UG strategy, topics to be covered in each section and other details for students in this NEET preparation tips 2019 by expert.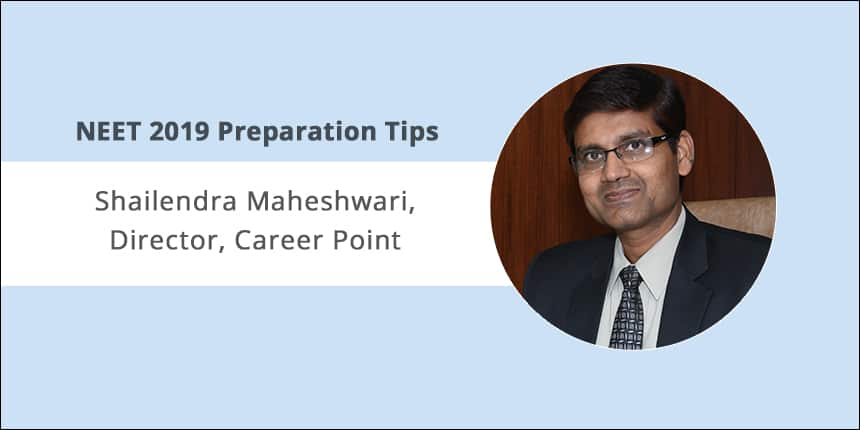 When asked about the NEET preparations in 6 months, Mr. Shailendra said, "It is important to cover all the topics left from NEET syllabus. Also candidates can refer good books, but try not to refer many books for one topic. Use sample papers and mock tests to understand the theory questions."


Read the NEET 2019 preparation tips by Shailendra Maheshwari below.
Careers360: With few months left for NEET, what should be the preparation strategy of students if one is appearing for Class 12 Board as well?
Shailendra Maheshwari: First of all, the subjects for entrance exam and board exams will be the same - Physics, Chemistry and Biology (Botany and Zoology) and the only difference is in the exam pattern. If candidates have clarity of the concepts, then they can write the exam as per the pattern. The best medium to clear the concepts and understand the pattern is by solving previous year papers, NEET sample papers and taking mock tests. Candidates must read the theory and then move forward to solve the questions to understand the applications of theory.
The basic strategy to be followed by aspirants should be completing their Class 12 syllabus by December. They must practice the topic-wise questions to strengthen the theory part and then focus on boards preparations from January. Meanwhile, candidates can use the sample papers for both board exams and competitive exams.
Careers360: Any subject-wise NEET preparation tips? What are the must know topics in Physics, Chemistry and Biology that should be covered by students?
Shailendra Maheshwari: The subject-wise suggestive plan for NEET preparations is as follows:
For Physics: It is considered a moderate section by all MBBS aspirants. Below are some of the topics to be prepared and tips to answer the questions based on Physics concepts:
First solve direct formula based questions of any topic to learn the formulas and strengthen the topic.

Understand the theory by solving questions based on that theory. 

Theoretical Questions related to Modern Physics are too easy and having very less calculations, therefore students of biology must emphasize on that.

In Heat and thermodynamics majority of questions are of P-Y graph or principles of thermodynamics which are easy to solve.

In case if any question is of lengthy calculation, then first try to solve through approximation or as per options.
For Chemistry: This section will contain questions from Physical, Inorganic and Organic Chemistry. The basic strategies and important topics to be covered in the Chemistry section are:
Physical Chemistry:
Try to practice more numerical based questions 

Check NCERT Examples and exemplar questions

Focus more on Class 12 topics
Inorganic Chemistry:
More questions are expected from Chemical bonding and Coordination compounds

Solve NCERT exemplar questions 

Use Previous year NEET papers to practice for Inorganic Chemistry
Organic Chemistry:
It is advised to name reactions while answering

Stereo-chemistry topic should be revised thoroughly 

Bio-molecules, Polymer and Chemistry in everyday life are also the important topics
In Chemistry sub-option based question, graph based questions and match the column based question may also be asked.

One can solve books by CP Publication – Practice test papers or  Full syllabus test papers. 
For Biology: Biology is the easiest section for all aspirants. The medical aspirants must start preparing from Biology subjects. Check the important topics of NEET Biology and tips to answer the questions below:
For Biology, students must prepare Diagrams, Charts and tables given in NCERT books.

Exemplar problems must be solved and should not be neglected.

Prepare flow chart for Mechanism of Physiology for quick revision.

Cover Practice test papers or full syllabus test papers which are precisely designed to cater the need of NEET.
Candidates can also focus on the following topics which will help them to score good marks in NEET 2019:
Physics: Heat and Thermodynamics, Waves, Optics, Modern Physics

Chemistry: Ionic Equilibrium, Electrochemistry, Chemical Kinetics, GOC (General Organic Chemistry), Carbohydrates, Proteins and Polymers, P Block, Chemical Bonding, Co-ordination Compound

Biology: Human Physiology, Plant Physiology, Ecology, Genetics, Plant Diversity, Animal Diversity
Note: Some questions in the competitive entrance examinations are framed and asked with the change of language and structure as per the discretion of the organizing body.  
Careers360: Are NCERT books enough for NEET preparation? Please recommend other good books to understand the concepts and tackle objective type questions?
Shailendra Maheshwari: Of course, NCERT Books are the base for NEET 2019 preparations, but the theoretical explanations given in NCERT are insufficient. Secondly, the numbers of questions are very less as compare to competitive exam preparation. Therefore, to elaborate the concept in depth and more questions for practice some add on books are required. The class notes, sheets or study material of coaching institutes or some renowned publishers here play a vital role. Students can arrange these materials through their own resources or can get through DLP programs of reputed institutes. Moreover, nowadays online material and test series are also available to students in nominal rates. 
Careers360:  How should the preparation strategy change as the exam draws closer? Should the strategy change when the exam is 6 months, 3 months and one month away?
Shailendra Maheshwari: The preparation strategy for all medical aspirants must change from time to time. The tips to prepare for NEET 2019 in 6 months, 3 months and 1 month is provided below. Candidates can plan their routine and strategy accordingly. 


How to prepare for NEET in 6 months: 
Aspirants must try to cover the left portion of NEET syllabus 2019 first.

They should understand theory of each section by referring good books but don't refer too many books for one topic.

By practicing from sample papers, mock tests and previous year papers, will help students in understanding the theory-based questions.
NEET preparations in 3 months: 
Synchronization of preparations between board and competitive exams is must for Class 12 students. 

One must clear all the concepts by experts and try not to leave any stone unturned by this time.

An aspirants can identify their strength and weakness. Focus on weak areas or plan strategy to cover such areas. 
1 month NEET preparation tips: At this time instead of preparation, candidates should focus on revision strategy. Below are some important points to revise the syllabus:
Just read the class notes which aspirants have prepared during classroom sessions

Read the important derivation carefully just to understand the concept

Remember different assumptions and conditions associated with different formula

Don't waste time in writing the theoretical statements on paper

Revise the entire syllabus with a vision. Don't read entire theory again and again.

Practice as much questions as one can and try to understand the solution of those that candidates have attempted wrong. 

This is a game of speed, accuracy and examination temperament so more practice leads to success.

See solved examples to understand the concept

Solve as many sample papers as possible to gain confidence

Try to find out the actual problem where it is in concept or anything else

Try to go upto the best of the knowledge and try to go to great lengths for direct questions

Take the help of any teacher, senior or peer to understand the concept or topic

Students may see the expert NEET video lectures in case if available for any particular topic if the weightage is more  
Careers360:  How important are test series, mock tests and previous year question papers? When should an aspirant start taking them?
Shailendra Maheshwari: The competitive test are relative exams where candidates have to perform well as compared to others. Therefore, practice plays a vital role here. The more one practice, more you can enhance the exam taking skills and temperament.
The mock tests, sample papers and previous year question papers do the same for a student. After solving these papers, one should analyze his/her performance critically or seek help from others, so as to overcome the weak arenas. Mock tests and sample papers should be taken in exam like conditions under the supervision to get the real experience.
Careers360:  Should students adopt a different preparation strategy for AIIMS and JIPMER? If yes, how can they differ?
Shailendra Maheshwari: Well, again the syllabus of three medical entrance exam is similar, but the difference is related to the pattern of examination in AIIMS and JIPMER. There are questions based on reason and assertion type, match the following, a bit of General Aptitude and awareness, which is not included in NEET syllabus. Therefore, one should have complete knowledge of AIIMS MBBS 2019 and JIPMER exam patterns and prepare accordingly. 
However, the questions asked in both AIIMS MBBS and JIPMER 2019 will be based on the similar format - conceptual questions. One must practice more questions to understand the exam pattern and use AIIMS/JIPMER/NEET sample papers and mock tests.  
Careers360:  What should be the last minute and last day preparation strategies for the exam?
Shailendra Maheshwari: Candidates can check the last minute preparation tips, strategies, do's and don'ts mentioned in the table below.
Last minute preparation tips for NEET
Do's before the exam

Dont's before the exam

Must check the allotted exam centre one day prior so as to avoid last moment rush

Don't be panic about the preparations and be confident

Just revise the major formulas and short notes

Don't see anything new which you have not seen before

Be Calm and confident

Sleep well and don't oversleep

During the exam

Carefully read the instructions given in the question paper

Don't be in hurry and read it carefully

Fill all the information correct, roll no, name etc

Don't use pen where pencil is required

Ideal sequence of subjects in the paper to answer is Biology, Chemistry and then Physics. 

Don't start with the difficult questions first

First solve all those questions in which you are confident and mark it with right (✔️), put a circle for tricky questions and cross on difficult one.

Don't jump here and there sequentially solve easy questions first

Fill the answer in case, if one has solved adequate number of questions. Normally it is advisable to fill NEET OMR sheet after two and half hours

Don't be in too much hurry while filing the answer as one mistake of your leads to one wrong answer 

Solve all those questions at the end which are marked cross.

Don't waste too much of time on one question. In case of lengthy calculations first use approx. method 
Careers360:  What should students do to tackle the pre-exam stress?
Shailendra Maheshwari: The fact is, there are some common problems which increases the stress level before the exam, which are as follows:
Unable to complete the course

Concepts are not clear due to learning gaps or basics are not clear

Exam anxiety or lack of confidence in some cases

Any personal issue that a student cannot reveal or share, and others
Now the biggest question is how to deal with the pre-exam stress. Dealing the stress before the exam is a normal tendency, but it is mandatory for candidates to get rid of it. As per the experts, due to over-stress, one can lose their confidence level, which will eventually affect them. In order to reduce the stress-level, candidates can check the solutions below and work accordingly:
One needs to understand the exact reason of the stress and accordingly take the remedial action. 

Candidates should share the problem with any mentor – teacher, senior, friend, parents or any expert to take the advice. 

They should try boost their confidence to do their best, if someone has given their best then no need to panic. 
"There is not secret to success. It is the result of hard work, preparation and learning from failure." All medical aspirants should understand this quote by Colin Powell and should always remember that if the efforts made by them were 100% then the result will be always be good.
Careers360:  What are the common mistakes made by the students on the exam day which can be eradicated?
Shailendra Maheshwari: On the D-day, aspirants must follow the rules and regulations mentioned in NEET exam day guidelines. Some of the basic mistakes which are common among all students are mentioned below. Also, aspirants can try to abolish these activities during the examination:
No ornaments, stationery, electronic and other items should be carried at the NEET exam centres 2019. There will be no arrangements made to keep the belongings of candidates.

The pen and rough sheet will also be made available by the conducting authority outside the examination hall.

Before starting the exam, it is important to be calm and read NEET question paper carefully.

It is advised to attempt the easy questions first. Candidates should avoid starting the paper with the difficult questions.

NEET exam pattern 2019 states that for every incorrect response, 1 mark will be deducted. Therefore, aspirants should not be in hurry while marking the answers in OMR sheet and try to finish the paper within 3 hours only. 

In case of any tricky or difficult questions, candidates should not waste a lot of time on it. Try to use alternative method to solve the questions instead of lengthy calculations.
Careers360:  Any strategies that students should keep in mind to deal with the negative marking system?
Shailendra Maheshwari: In order to avoid negative marking, candidates must ready the questions carefully and mark the sign of right, circle and cross as per the difficulty level of questions. First of all, it is advised to attempt all the questions in which they are confident and mark them with right sign. Put a circle for the bit tricky questions and cross sign for difficult ones. One should have the acumen to understand the level of the question and accordingly try to attempt.
Careers360:  Ideally how many marks should a student score to be able to think of a medical seat? 
Shailendra Maheshwari: As per the previous year trends, for admission to MBBS and BDS courses through NEET, a general category candidate must secure equal to or more than 520 marks.
Careers360:  NEET was to be a computer based test this year, but is now a pen and paper based one. What do you think caused this change of events suddenly? In your opinion, will NEET 2020 be a computer based test?
Shailendra Maheshwari: The reason may be a decision without any proper preparation. There are so many students of the rural areas who are deprived of this computer based tests and not synced with such practices. Lack of resources and implementation of the technology without pilot phase may be havoc to handle such a huge mass. Yes, later on it may be an online test with the advancement of technology and resources.
Questions related to NEET
Showing 102090 out of 102090 Questions