Medical Courses without NEET UG 2020 In India
Medical Courses without NEET - At some or the other point, medical aspirants across the country must have come across the available options of medical courses after Class 12 without NEET. This is because the competition level is ever increasing. Also, from the year 2020, since AIIMS and JIPMER have been merged in NEET exam medical aspirants must be finding the competition tough to fight and thus looking for alternate options for medicine courses without NEET. For this candidates must know what are the possible medical courses without NEET 2020.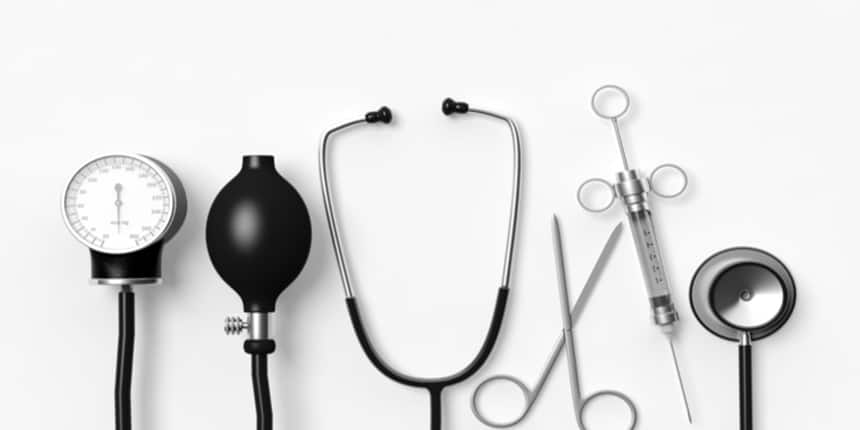 There is 'n' number of options available where medical aspirants can try their luck and earn a handsome salary for the same without getting a better NEET results 2020. Such candidates who want to pursue their careers in the field of medicine but do not want to appear for the NEET 2020 exam can try their hands on these. The career professions which can be pursued through medical courses without NEET 2020 mentions phlebotomists, medical lab technologists, nutritionist, physician assistants among others. Such candidates must note that under no circumstances will they be called MBBS doctors, however, this field also holds certain perks for them. Candidates not appearing for NEET 2020 can check this article titled 'Medical courses without NEET' to know more about the details of the aforementioned. Here, medical aspirants will find a list of various available options for them.
Eligibility for medical courses without NEET
Those medical aspirants who want to opt for medical courses after class 12th without NEET are required to fulfil certain conditions in order to be eligible for the same. These include:
Completion of class 12 with minimum qualifying percentile
Having Physics, Chemistry and Biology/Mathematics (PCB/PCM)
A zeal to excel
There might be entrance examination in certain universities
Career scope of a medical degree without NEET UG
The scope of work and remuneration in these professions increases steeply with increase in experience, expertise and qualifications. These professionals can work with doctors or as researchers or even run their independent practice.
Medical Courses after Class 12 without NEET
Alternative Medical Career Field

Course and Duration

Admission Requirement

Institutions Offering the Course


Occupational Therapist

Occupational therapists help people of all ages to live a better and more fulfilling life, by helping them overcome some physical or mental illness or injury. The reason of the patient's illness could vary from an injury, accident, long standing illness, paralysis, stroke, autism, old age or anything else.

Occupational therapists work on a one-on-one basis with clients in clinical settings, in NGOs and in schools among others. They use exercise, functional training, environmental restructuring, etc. as rehabilitation tools.

Bachelor of Occupational Therapy (4.5 years)

Diploma in Rehabilitation (Occupational Therapy) DR(OT) (1 year)

Class 12 with PCB

Christian Medical College, Vellore; Manipal University; Indraprastha University, New Delhi; Rajiv Gandhi Paramedical Institute, New Delhi; Jamia Hamdard, New Delhi; All India Institute of Physical Medicine and Rehabilitation, Mumbai

Biotechnologist

Biotechnologists synthesise the knowledge of Biology and technology to develop/invent products and processes aimed at improving the overall quality of life. It may involve study of genetic manipulation in microorganisms, etc.

Biotechnologists can work in a variety of research settings belonging to a wide range of fields like agriculture, pharma, food, genomics, chemistry, etc.

Bachelor of Science in Biotechnology (3 years)and

Class 12 with PCB/M

Christ University, Bangalore; Jamia Milia Islamia, New Delhi; Fergusson College, Pune; Loyola College, Chennai; VIT Vellore; SRM Institute of Science and Technology




Biomedical Engineer

While biotechnologists concern themselves with a broader scope of the interaction of natural science with technology, biomedical engineers study interaction of medicine with technology to understand the cause of diseases, invent/develop solutions, etc.

Biomedical engineering is a budding field. Biomedical engineers can join research labs or can liaise with doctors and scientists to use their expertise in building robust medical technology, bioinformatics systems, etc.

Bachelor of Technology in Biomedical Engineering (4 years)

Class 12 with PCB/M

Amity University; Karunya Institute of Technology and Sciences; VIT Vellore; Sathyabama Institute of Science and Technology

Microbiologist (Non-Clinical)

Microbiologists study microscopic organisms present in various materials around us like soil, water, food, humans and plants. They make sure that the food we eat and environment we live in are safe.

Microbiologists can work in research environments including labs, food industry, distilleries, agriculture, etc. They can also go for government jobs and work as safety officers for relevant departments.

Bachelor of Science in Microbiology (3 years)

Class 12 with PCB

University of Delhi; The Oxford College of Science, Bangalore; Madras Christian College, Chennai; Punjab University; Amity University; Delhi Institute of Technology and Paramedical Sciences

Cardiovascular Technologist

Cardiovascular Technologists assist physicians in timely and correct diagnosis and treatment of heart and blood vessel related ailments. They perform tests, ultrasounds and other cardiovascular procedures on patients, review their files and monitor them.

Cardiovascular technologists work in hospitals and clinics where physicians are present. They may also get employed in testing labs.

Bachelor of Science in Cardiac or Cardiovascular Technology (4 years)

Class 12 with PCB

Christian Medical College, Vellore; Manipal University; Amrita Vishwa Vidyapeetham; Hamdard Institute of Medical Science and Research

Perfusionist

Perfusionists are specialized healthcare professionals who know how to operate machines in the operating theatre and keep a patient alive during surgical procedures. For instance during open heart or lung surgery, while doctors operate on the organ, perfusionists ensure that blood keeps circulating in the body to keep other organs alive.

Perfusionists interact with surgeons and other healthcare professionals directly to help them in critical medical procedures. They can work in hospitals and clinical centres.

Bachelor of Perfusion Technology or Bachelor of Science in Cardio Pulmonary Perfusion Technology (3-4 years)

Class 12 with PCB

Manipal University; PGI Chandigarh; JIPMER Puducherry; Amrita Vishwa Vidyapeetham; CMC Vellore; JSS Academy of Higher Education, Mysore; NIMS University, Rajasthan

Respiratory Therapists

Respiratory Therapists take care of patients who have breathing issues or problems relating to the pulmonary system. Their patients come from diverse age groups, from infants to people in their old age. They provide life-saving care to these and trauma patients as well.

Respiratory therapists work in acute care hospital and clinical settings, such as in emergency care, ICU, newborn units, etc.

Bachelor of Respiratory Therapy (4 years)

Class 12 with PCB

CMC Vellore; Manipal University; Amrita Vishwa Vidyapeetham; JSS Academy of Higher Education, Mysore

Nutritionist (Public Health Nutritionist, Sports Nutritionist, etc.)

Nutritionists advise patients on health and food choices after understanding their underlying conditions, allergies, etc. While dieticians have the expertise to make food charts and manage the eating habits of patients, nutritionists mainly concern themselves with the promotion of a healthy lifestyle through healthy food. With advance degrees and expertise, nutritionists can also assume the role of dieticians.

Nutritionists can work independently or with a hospital or clinic. They can also specialize in a particular field like sports, public health, food technology, etc. and then join the relevant industry.

Bachelor of Science in Nutrition and Dietetics (3 years); Or

Bachelor of Sciences in Clinical Nutrition and Dietetics (3 years); Or

Bachelor of Science in Human Nutrition (3 years)

Class 12

Manav Rachna University, Haryana; Lovely Professional University, Punjab; Andhra University; Amity University; Manipal University; Mount Carmel College, Bangalore

Psychologist

Psychologists help people cope with life and mental health issues effectively through therapeutic methods, psychoanalysis and tests. Psychologists with clinical expertise may also suggest appropriate medicine to enhance a patient's quality of life.

Psychologists can work in hospitals, clinics, schools, etc. or work independently.

Bachelor's in Psychology (3 years)

Class 12

University of Delhi; Amity University; Christ University; NIMS University, Rajasthan

Cytogeneticists

Cytogeneticists study chromosomes to detect genetic disorders and diseases. They are responsible for detecting, analyzing and interpreting genetic diseases through blood, tissue and other bodily fluids. They use microscopy, photography, DNA techniques, etc. to detect genetic anomalies.

Cytogeneticists work at hospitals, clinics and research labs and the work involves testing on unborn babies and other patients. It is a budding field in India. The specialization in cytogenetics is introduced at Master's level and those desirous of pursuing this field can opt for genetics or biotechnology degree at undergraduate level.

Bachelor of Science in Genetics (3 years); Or

Bachelor of Science in Biotechnology (3 years)

Class 12 with PCB/M

Institute of Genetic Engineering, West Bengal; Bangalore City College; Bhavan's Vivekananda College; Amrita Vishwa Vidyapeetham; AIMS Institutes, Bangalore
Alternative medical careers without NEET
Besides the alternative medical careers listed above, there are plenty of other medical courses without NEET, which can be checked from the list below:-
Advance Care Paramedic

Anaesthesia Assistants and Technologist

Anatomy (Non-clinical)

Assistant Behaviour Analyst

Behaviour Analyst

Biochemistry

Burn Care Technologist

Cell Geneticist

Clinical Coder

Clinical Social Worker (other than Counsellors)

Critical Care or Intensive Care Unit (ICU) Technologist

Cytotechnologist

Diagnostic Medical Radiographer

Diagnostic Medical Sonographer

Dialysis Therapy Technologist

Dietician including Clinical Dietician, Food Service Dietician

Ecologist

Electrocardiogram (ECG) Technologist or Echocardiogram (ECHO) Technologist

Electroencephalogram (EEG) or Electroneurodiagnostic (END) or Electromyography (EMG) Technologist or Neuro Lab Technologist

Emergency Medical Technologist (Paramedic) or Emergency Medical Technician - Basic

Endoscopy and Laparoscopy Technologist

Environment Protection Officer

Forensic Science Technologist

Health Educator including Disease Counsellors, Diabetes Educators, Lactation Consultants

Health Information Management Assistant, Medical Secretary,

Transcription (Including Medical Record Technician or Medical Records Analyst)

Health Information Management Technologist

Hemato-technologist

Histo-technologist

Human Immunodeficiency Virus (HIV) Counsellors or Family Planning Counsellors

Integrated Behavioural Health Counsellors

Medical Equipment Technologist

Medical Laboratory Technologist

Mental Health Support Workers

Molecular Biologist (non-clinical)

Molecular Geneticist

Movement Therapist including Art, Dance and Movement Therapist or Recreational Therapist

Nuclear Medicine Technologist

Occupational Health and Safety Officer

Operation Theatre (OT) Technologist

Ophthalmic Assistant

Optometrist

Physician Associate and Assistant

Physiology (Non-clinical)

Physiotherapist including Geriatric Physical Therapist, Orthopaedic Physical Therapist, Pediatric Physical Therapist

Podiatrist

Radiology and Imaging Technologist or Assistants (Magnetic Resonance Imaging (MRI), Computed Tomography (CT), Mamography)

Radiotherapy Technologist

Sleep Lab Technologist and many more...
Frequently Asked Question (FAQs) - Medical Courses without NEET UG 2020 In India
Question: What is the eligibility criteria for taking any medical course without NEET?
Answer:
Candidates who wish to pursue course without NEET must have passed Class 12 qualifying examination with Physics, Chemistry and Biology/Mathematics (PCB/PCM) as the main subjects.
Question: Do I have to appear for any other entrance exams for courses without NEET?
Answer:
As per the officials, there is no entrance examination to pursue these medical courses without NEET. Aspirants just have to fulfil the basic eligibility conditions.
Question: What is the career scope of pursuing medical courses without NEET?
Answer:
Candidates opting for courses without NEET 2021 can either practice or teach the topics of the occupational therapist, perfusionist, Nutritionist, Psychologist among others with a good salary package.
Questions related to NEET
Showing 101994 out of 101994 Questions