NEET Sample Paper 2023 - Download NEET Practice Paper PDF
NEET Sample Paper 2023: To ace the National Eligibility cum Entrance Test (NEET) exam with ease, it is crucial to solve the previous year's NEET 2023 sample papers. The exam carries negative markings therefore, it becomes imperative for candidates to practice NEET sample paper 2023 so that negative marking does not adversely affect their grades. Candidates can download the year-wise NEET sample papers in PDF format from the article below.
Stay up-to date with NEET News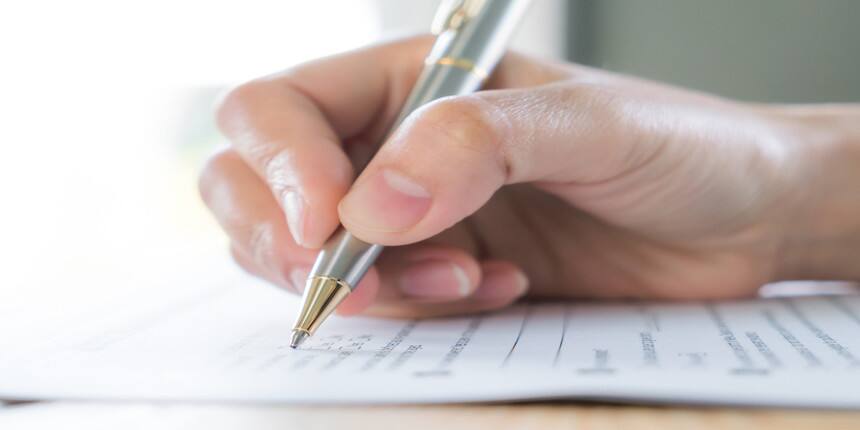 The sample paper by National Testing Agency (NTA) consists of the NEET previous year's question paper. To be familiar with the paper pattern of the NEET exam, it is essential to practice the sample paper 2023, which contains the exam duration, marking scheme, a number of questions, and other details.
Aspirants can gauge the difficulty level of NEET questions using sample papers with solutions. The PDF of sample papers for NTA NEET 2023 is another tool candidates can use to enhance their time management skills. In addition, candidates can get a feel for time management in NTA NEET 2023. For other previous years' papers and a sample paper pdf for NEET preparations 2023, candidates should view the article below for NEET sample paper 2023.
NEET 2023 Question Paper PDF: How to Download?
Following are the steps that aspirants can follow to download the NTA NEET model question paper 2023 PDF together with solutions for free:
Visit the Careers360 NEET Sample Paper Store

Log in with your Google account or create an account by providing your name, email address, phone number, course, and city.

Candidates who already have an account can sign in to download the NEET sample paper 2023.

NEET previous year's question paper PDFs will display on the screen.

Choose the appropriate year from the download option to download a specific NEET sample paper.

For better preparation, an NTA NEET sample paper with solutions will be downloaded.
NEET Previous Year Question Papers and Solutions
Candidates can review the NEET previous year's question papers to understand the exam structure. Following is a table that provides sample NEET-UG papers and solutions from previous years.
NEET 2022 Question Paper PDF - Download here
The NEET 2022 exam was conducted for the NEET question paper code Q, R, S and T codes. Aspirants can download the NEET UG 2022 question paper with the solution for each code separately from the table below.
NEET question papers PDF download


NEET 2021 question papers
Below are the NTA NEET previous year's question papers for Code M1 to M6, N1 to N6, O1 to O6, and P1 to P6 with solutions. Candidates can download the NEET sample paper 2021 for codes M, N, O, and P.
NEET paper 2021 all codes :(English &Hindi)
NEET 2020 question papers
The NTA conducted NEET for medical aspirants twice in 2020, on September 13 and then on October 4 for medical aspirants infected with Covid 19 back then. Check out the table below for code-wise NEET 2020 question papers from both phases.
NEET question paper 2020 all codes: (English & Hindi)
NEET question combined sets

English

Hindi

Answer key

E1+F1+G1+H1

E2+F2+G2+H2

E3+F3+G3+H3

E4+F4+G4+H4

E5+F5+G5+H5

--

E6+F6+G6+H6



Question papers for NEET 2020: All languages
NEET question paper language

Link

Answer key

Telugu

Gujarati

Marathi

Tamil

Bengali

Kannada

Odia

Urdu

-

Assamese
NEET 2020 Question Paper : Phase 2
| | | |
| --- | --- | --- |
| NEET 2020 phase 2 Question paper | Direct link | Answer key |
| Code X6 | | |
NEET 2019 Sample Paper and Solutions
In 2019, the NEET exam was conducted a second time on May 20, 2019, for Odisha, Siliguri, and Karnataka students. We have provided a NEET sample paper 2019 of the re-conducted exam here.
NEET question paper 2019 PDF
Question paper code

Links

Solutions

Answer key

NEET sample paper for Code P series

Code P1

Code P2

Code P5

Code Q series sample papers of NEET

Code Q1

Code Q2

Code Q3

Click here

Code Q4

Click here

Code Q5

Click here

Code Q6

Click here

Code R series NEET sample papers

Code R1

Code R3

Click here

Code R5

Code R6

Click here

Code S NEET sample papers PDF

Code S1

Code S2

Code S6

Question papers for exam re-conducted

Code G1

Code H1
Coaching institutes provide free solutions to NEET question papers
Download NEET sample papers in PDF format.
These year-wise sample papers with solutions will help you for practice.
NEET sample papers 2018 PDF Code-wise
The conducting authority released NEET sample paper with solutions for 20 code-wise questions. The following table provides the links for downloading 2018 NEET sample papers with solutions PDFs download for every code.
NEET 2018 sample papers PDF download
| | | | |
| --- | --- | --- | --- |
| Codes | Question Paper | Answer Key | Solutions |
| Code AA | | | |
| Code BB | | | |
| Code CC | | | |
| Code DD | | | |
| Code EE | | | |
| Code FF | | | |
| Code GG | | | |
| Code HH | | | |
| Code KK | | | |
| Code LL | | | |
| Code MM | | | |
| Code NN | | | |
| Code PP | | | |
| Code QQ | | | |
| Code RR | | | |
| Code SS | | | |
| Code WW | | | |
| Code XX | | | |
| Code YY | | | |
| Code ZZ | | | |
NEET 2018 Sample Papers in PDF (language-wise)
All 11 languages in which the NTANEET exam was conducted are included in these sample papers. Below is a link to the NEET question paper in PDF format.
The NEET sample papers for 2018 - Questions and Answer keys
With solutions, download the NEET 2017 sample papers
A PDF file for the NEET sample papers for Physics, Chemistry, and Biology is included in the table below. Here are the code-wise NEET exam model question paper with solutions to practice for the entrance exam.
NEET sample papers PDF 2017
Question Paper

Paper Code

Solutions

Question Paper - Code A/B/C/D

Question Paper - Code P/Q/R/S

Question Paper - Code W/X/Y/Z
NEET 2016 Sample Papers (PDF) (phase-wise)
A free download link for NEET sample papers is available below for phase-I and II. Students wishing to prepare for the NEET 2016 examination can download NEET sample papers.
NEET sample paper 2016 PDF download
Phase

Question Papers

Solutions

NEET 2016 Phase 1

-

-

NEET 2016 Phase 2

-

-
NEET/AIPMT sample papers by year
In 2013, the NEET was introduced, whereas the All India Pre-Medical Test (AIPMT) was conducted earlier. We have therefore provided links below that will allow you to download official NEET/AIMPT sample papers.
AIPMT/NEET sample papers
AIPMT/NEET Papers

Question Papers Links

AIPMT Sample Paper 2015 (Retest)

AIPMT Sample Paper 2015

AIPMT Sample Paper 2014

NEET UG Sample Paper 2013

AIPMT Sample Paper 2012

AIPMT Sample Paper 2011

AIPMT Sample Paper 2010

AIPMT Sample Paper 2009

AIPMT Sample Paper 2008

What is the significance of NEET Sample Papers?
Studying NEET previous year's question papers can aid candidates in gaining an understanding of the number of questions, the difficulty level of questions asked, the total time allotted, and the marking system.

Sample NEET papers with solutions provide them with an easy way to mark NEET important topics 2023, which can be used during the revision.

Aspirants can get a feel for the NEET UG 2023 entrance exam environment, which reduces anxiety and stress.

Mr Anand Nagrajan,, an expert at TIME, says that solving many sample papers based on the 2023 NEET exam gives students a taste of the sting of negative marking.

As students solve each NEET question paper 2023 with answers, they can evaluate their preparation level and mark their weaknesses.

It is good news for candidates to solve NEET sample paper 2023 with a good performance since it allows them to boost their confidence level. It also measures whether the aspirant is on the right track with their preparation; they can prepare with the best practices.
For NEET preparation, how can I use the NEET Sample Papers?
As NEET-UG 2023 sample papers are meant to benefit better preparation, here are the steps to follow after downloading NEET sample papers 2023. It should be noted that the NEET exam was conducted in offline mode, and answers were marked using Optical Mark Reading (OMR)
Purchase an OMR sheet and ballpoint pen from the stationery shop

Take a printout of the NEET sample paper, which you may find from the link above.

The NEET exam lasts three hours; therefore, schedule your alarm clock according to the exam timing.

To eliminate any distractions, it is recommended that you leave your cell phones in another room.

Examine the questions from the NEET sample papers you downloaded and fill out the OMR form with your answers.

Check the marked answers after 3 hours and revise the attempted questions.

Stop answering the questions once 3 hours and 20 minutes have passed.
How can I use the NEET 2023 Sample Paper to evaluate my performance?
The performance analysis should be checked after the practice test using NEET sample paper PDF has been completed to judge whether the preparation is on track and how well you have prepared
Check the marked answers with the solutions in the NEET sample papers to find out the results

Calculate the total number of successful and unsuccessful attempts.

Now follow the marking scheme outlined below.

Add 4 to the total number of correct responses and 1 to the number of erroneous responses.
NEET marking scheme 2023
| | |
| --- | --- |
| Particulars | Marking scheme |
| Each correct answer | + 4 marks awarded |
| Each wrong answer | - 1 marks deducted |
| Each unattempted question | 0 marks |
| Total marks | 720 |
Formula to calculate scores
The marks obtained out of 720 can be checked using this formula.
NEET scores = Total number of correct answers X 4 - Total number of incorrect answers X 1
NEET 2023 Preparation Tips
Students must know some important preparation tips when preparing for the NEET exam using PDF sample papers.
Throughout the 3-hour 20 minutes exam, 200 multiple-choice questions are presented in three sections of which 180 questions need to be attempted, with negative marking to ensure fairness. The exam tests three subjects: biology, chemistry, and physics, with biology being given the highest priority. It is not just the NEET Preparation that tests the students over such a vast syllabus but also how they tackle it. As with all entrance exams, it requires a good setup. There are materials, quizzes, test series, mock tests, revision guides, etc., to help solve any doubts.

The plan must include all levels of preparation, starting from NCERT to the higher levels. The first step is to Know NEET important topics 2023 well to carry out practice together. Many of the topics covered in NEET are similar to those in board exams.

The next step after determining a NEET 2023 syllabus. is marking a weightage chart which means comparing the number of questions that appear every year to decide how much time to devote to that particular chapter. Every chapter has several important questions and should not be ignored.

Keeping the weightage as per the preparation time helps you manage your time efficiently. It would be best to make a NEET Timetable before you start preparing. Prepare a daily and weekly schedule and check it monthly to see that you don't miss any essential items. Try to begin your day with the most challenging task because it will help set the day's rest.

The importance of practice cannot be overstated. Information can only be retained if you solve the problems in more than one way. Take advantage of questions banks, chapter-by-chapter questions, and test series to prepare for individual chapters and entire units.
Questions related to NEET
Showing 116968 out of 116968 Questions