NEET Sample Papers 2021 - Download NEET Question Papers and Solutions Here
NEET Sample Papers 2021: The National Testing Agency (NTA) will conduct India's single largest medical entrance exam- the National Eligibility cum Entrance Test (NEET). In the dream of becoming a doctor, the sample paper of NEET UG 2021 will help candidates to crack this tough exam. NEET sample paper 2021 are the previous years' NEET question papers containing 180 multiple-choice questions. Out of the total number of questions, NEET sample paper PDF include 45 questions each from Physics and Chemistry, while 90 from Botany and Zoology.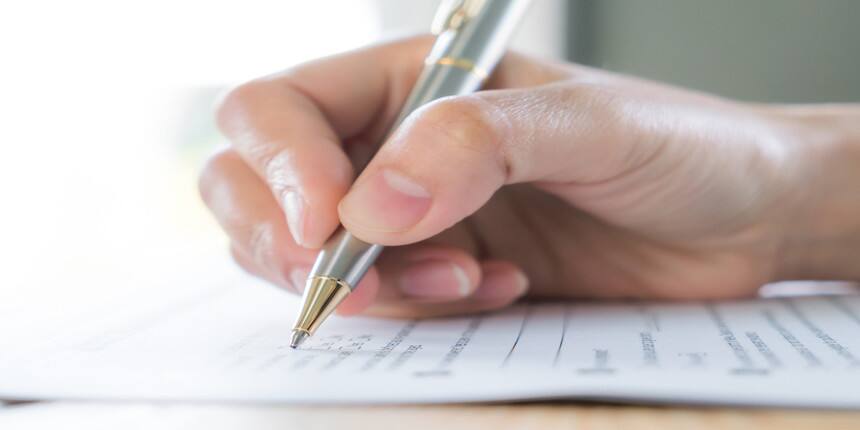 Through the regular practice of NEET sample paper 2021, aspirants will be aware of various aspects of the NEET exam pattern including total time, marking scheme, a number of questions, and other details. And not only that, but NEET sample paper 2021 PDF will also assist applicants to know the difficulty level of NEET questions. Candidates can also enhance their time management skills in NEET UG 2021 using a PDF of sample papers. Eligible candidates must read the article below for NEET sample paper 2021 PDF download and other previous years' papers for NEET preparations 2021.
How to download the NEET Model question Paper PDF for free?
In order to download the NTA NEET model question papers 2021 PDF along with solutions for free, aspirants can follow the steps mentioned below:
Go to the Careers360 NEET Sample Paper Store
Login either using Google account or sign up entering the name, email ID, mobile number, course, city
Aspirants who already have an account can sign in for the NEET sampler paper 2021 PDF download
NEET 2020, 2019, 2018, 2017 question paper PDF along with others will appear on the screen
Click on a particular NEET sample paper as per the choice of the year by clicking on the download option
NEET sample papers 2021 with solutions will be downloaded for better preparations
Also Read :
NEET Previous Year Question Papers with Solutions
The table below presents the previous year's NEET-UG sample papers along with solutions. The official question paper of NEET 2021 will be made available on this page when released. Till then for practising the NEET question papers, aspirants can check the previous year's question papers and understand the structure of the paper.
NEET 2020 Question Papers Released By NTA
In 2020, NTA conducted NEET, first on September 13 and then again on October 4 for COVID-19 aspirnats. The code-wise question papers for NEET 2020 for both phases can be checked from the table below.
NTA NEET Question Papers 2020- Phase 1


NEET 2020 Question Paper for Phase 2


NEET Sample Paper 2019 with Solutions
In 2019, NEET exam was re-conducted for Odisha, Siliguri, and Karnataka candidates on May 20, 2019. NEET sample paper 2019 PDF download of exam re-conducted has also been provided here.
NEET question paper 2019 PDF
Question paper code

Links

Solutions

Answer key

NEET sample paper for Code P series




Code P1

Code P2

Code P5

Code Q series sample papers of NEET


Code Q1

Code Q2

Code Q3

Click here

Code Q4

Click here

Code Q5

Click here

Code Q6

Click here

Code R series NEET sample papers


Code R1

Code R3

Click here

Code R5

Code R6

Click here

Code S NEET sample papers PDF


Code S1

Code S2

Code S6

Question papers for exam re-conducted

Code G1

Code H1
NEET question paper with free solution PDF by Coaching institutes


NEET sample papers PDF download
For better practice, below are the year-wise sample papers with solutions.
Code-wise NEET sample papers 2018 PDF
The NEET sample papers 2018 PDF download link for all codes is available in the table below. The conducting authority released 20 code-wise papers, which have been provided below as NEET UG sample papers.
NEET 2018 sample papers PDF download
| | | | |
| --- | --- | --- | --- |
| Codes | Question Paper | Answer Key | Solutions |
| Code AA | | | |
| Code BB | | | |
| Code CC | | | |
| Code DD | | | |
| Code EE | | | |
| Code FF | | | |
| Code GG | | | |
| Code HH | | | |
| Code KK | | | |
| Code LL | | | |
| Code MM | | | |
| Code NN | | | |
| Code PP | | | |
| Code QQ | | | |
| Code RR | | | |
| Code SS | | | |
| Code WW | | | |
| Code XX | | | |
| Code YY | | | |
| Code ZZ | | | |

NEET 2018 PDF sample papers (Language-wise)
These NEET sample paper chapter wise PDF contains questions for all the 11 languages in which exam was conducted. Check the NEET question paper PDF link below.
NEET sample papers 2018 - Questions Papers and Answer Key
Download NEET 2017 sample papers with solutions
NEET sample papers Physics, Chemistry and Biology PDF has been provided in the table below mentioned. Download the code-wise sample papers to practise for NEET entrance exam.
NEET sample papers PDF 2017
Question Paper

Paper Code

Solutions

Question Paper - Code A/B/C/D

Question Paper - Code P/Q/R/S

Question Paper - Code W/X/Y/Z
PDF of NEET 2016 Sample Papers (phase-wise)
NEET sample papers free download link is available below for phase-I and II. Medical aspirants can practice using NEET 2016 sample papers below.
NEET sample paper 2016 PDF download
Phase

Question Papers

Solutions

NEET 2016 Phase 1

-

-

NEET 2016 Phase 2

-

-


Year-wise NEET/AIPMT sample papers
NEET was introduced in 2013, while, All India Pre-Medical Test (AIPMT) was conducted before that. Therefore, we have provided the links for official sample papers for AIMPT/NEET, which can be downloaded below.
AIPMT/NEET sample papers
AIPMT/NEET Papers

Question Papers Links

AIPMT Sample Paper 2015 (Retest)

AIPMT Sample Paper 2015

AIPMT Sample Paper 2014

NEET UG Sample Paper 2013

AIPMT Sample Paper 2012

AIPMT Sample Paper 2011

AIPMT Sample Paper 2010

AIPMT Sample Paper 2009

AIPMT Sample Paper 2008
Why NEET Sample Papers 2021 is important?
As mentioned above, practising the previous year's question papers will assist candidates to understand the number of questions, the difficulty level of questions asked, the total time allotted, marking scheme and other details.

With the help of NEET sample papers with solutions, they can mark NEET important topics 2021, which can be used at the time of revision.

Aspirants will be familiar with the actual environment of the NEET UG 2021 entrance exam. Thus, it will reduce anxiety and stress level.

As per expert of TIME, Mr Anand Nagrajan, "Solving number of sample papers based on NEET 2021 exam will give students the feel and the pinch of negative marking'.

After solving every NEET question paper 2021 with answers, students can analyse their preparation level and make a note of weakness.

Solving NEET sample paper 2021 with positive performance provides satisfaction to candidates which boosts their confidence level. It also ensures that if the aspirant's efforts are on the right track, he/she can prepare with the best preparations.
How to use NEET Sample Papers for preparations?
Since the sample papers of NEET 2021 can be used for rigorous and better preparations, below are the steps mentioning how to prepare after downloading NEET sample papers 2021 PDF. It must be noted that the NEET exam will be conducted in offline mode and answers should be marked in Optical Mark Reading (OMR). Therefore, aspirants should also prepare themselves with an actual feel of the exam.
Buy an OMR sheet and ballpoint pen from the stationery shop
Now, take a printout of NEET sample paper, which can be downloaded from the links above
NEET exam will be of 3 hours, so set alarm clock as per the exam time
It is advised to keep your mobile phones aside to avoid any sort of distractions
Check the questions from downloaded NEET sample papers and mark the answers in OMR sheet
After 2 hours 30 minutes, check the answers marked and start revising the attempted questions
Once 3 hours is over, stop attempting the questions
How to analyze performance using NEET 2021 Sample Paper?
After the completion of the practice test using NEET sample paper PDF, it is important to check the performance analysis to know how good preparations are.
To know results, match the marked answers with the solutions provided with NEET sample papers
Calculate the total number of correct and wrong attempts
Now, use the marking scheme as mentioned in NEET exam pattern 2021
Multiply the total number of correct responses with 4 and total incorrect responses with 1
The marks obtained out of 720 can be checked using this formula, which can also be checked below
Formula to calculate scores:
NEET scores = Total number of correct answers X 4 - Total number of incorrect answers X 1
NEET Preparation Tips 2021
While preparing for the exam using NEET sample papers PDFs, it becomes crucial for aspirants to go through some important preparation tips.
Understand NEET 2021 syllabus - Before using previous years NEET sample papers, medical aspirants should be aware of syllabus of all three mandatory subjects - Physics, Chemistry and Biology (Botany and Zoology). This entire preparations using sample papers will be waste of time if aspirants have no idea of sections, chapters and concepts of NEET syllabus 2021. No questions from the NEET sample papers 2021 can be solved without knowing the chapter/section it will be asked from.
Best books for NEET 2021 to consider - After completion of understanding of the syllabus, one should work on their concepts. During the interview of NEET toppers, they also focused on the clarity of concepts. The best books for NEET 2021 will help to develop the concepts.
Know NEET important topics 2021 - One of the vital parts for NEET preparations is to know the chapter-wise weightage. With the less time left for the exam, focusing of the number of topics is a waste of time. NEET 2021 chapter-wise weightage is an evaluated analysis of section-wise important topics which was asked in the last year exam.
Frequently Asked Question (FAQs) - NEET Sample Papers 2021 - Download NEET Question Papers and Solutions Here
Question: Which year's model question papers should I solve to prepare for NEET 2021?
Answer:
Candidate's must solve at least past 5 years NEET question paper while preparing for the national level medical entrance examination.
Question: How will solving NEET 2021 sample paper help in my preparation?
Answer:
By solving the sample papers candidates can get tips for NEET preparation 2021 and also learn how to manage their time.
Question: Where can I get previous questions papers of NEET?
Answer:
Candidates can check the article above for previous year question papers and NEET answer key.
Question: How many questions are there in NEET question paper?
Answer:
The question paper of NEET comprises of total 180 multiple choice questions. This includes 90 from Biology and 45 each from Chemistry and Physics.
Question: What is the duration provided by the authorities to answer the question paper of NEET?
Answer:
Candidates will be provided 3 hours to answer the examination.
Question: What is the full form of NEET?
Question: Which type of questions are asked in NEET exam?
Answer:
Aspirants will have to answer the NEET question which is asked from the class 11 and 12 NCERT syllabus.
Questions related to NEET
Showing 102033 out of 102033 Questions