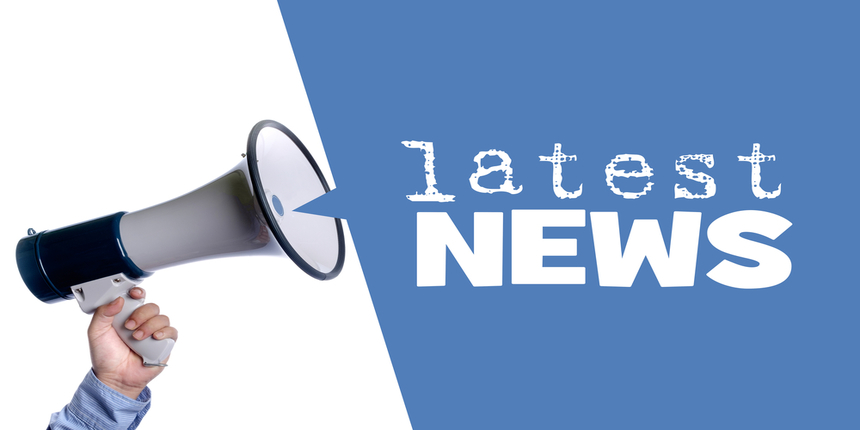 NEET 2019 Latest News and Updates: The medical aspirants appearing for National Eligibility cum Entrance Test (NEET) can check the latest news and updates of NEET 2019 to clear their doubts. From this year, the Ministry of Health and Family Welfare (MoHFW) has announced some major changes in NEET which led the students in confusions regarding the mode of exam, timings, registration, question papers, eligibility criteria and more. Thus, Careers360 brings NEET 2019 latest news and updates for appearing students and parents, right from the beginning of the academic session.  
NEET Sample Paper
Download Free Sample Paper for NEET
Download Now
LATEST - NEET Correction Window 2019 has started - Click here to edit the application form
Admissions Open Now
Manipal Academy of Higher Education
Admissions 2019 OPEN | MAHE #1 Private university in India QS world Ranking
As per the order of the Supreme Court of India in May 2016, NEET will be the only medical entrance examination for admission to around 90,000 MBBS, BDS and AYUSH courses offered by the government, private, deemed and central university/colleges in India. NEET 2019 will be conducted on May 5, in pen and paper mode. Being the Institute of National Importance, AIIMS, New Delhi and JIPMER, Puducherry can conduct their own entrance examination namely AIIMS MBBS and JIPMER MBBS, respectively. The application form of NEET 2019 has commenced from November 1, which is at least six months ahead of the exam. In 2018, the registration started from February.
NEET Latest News and Updates 2019
With NEET, being the most competitive entrance examination in the field of medicine, MoHFW is constantly making changes in NEET 2019 for producing best doctors in the country. From conducting authority to the medium of the exam, MoHFW has tried to updating NEET 2019 exam. Though some changes will not be implemented this year and some will remain unchanged. Check out the latest news and updates of NEET 2019 below. Also check the changes which are expected to happen in the near future.
November 29, 2018 - Last date for NEET application form extended 
The last date for NEET application form was extended till December 7, 2018. The Supreme Court of India in its decision asked NTA to extend the online registration last date to allow candidates above 25 years of age for general category (30 years for reserved category) to apply for the exam. Later on November 29, NTA released the official notification stating the removal of upper age limit and extending the deadline of NEET application form 2019. Accordingly the new eligibility criteria for age limit, candidates belonging to the unreserved category should be born on or between May 5, 1994 and December 31, 2002. While the SC/ST/OBC/PwD category aspirants must have born on or between May 5, 1989 and December 31, 2002.
November 1, 2018 – NEET Application Form has been released! 
The conducting authority, NTA has made the application form of NEET 2019 available on November 1, along with the information bulletin and dates. The last date to fill the application form is November 30, while the due date of submitting the prescribed fee is December 1, 2018. Only the eligible candidates can participate in online registrations of NEET 2019. A link to fill NEET 2019 application form has been provided above on this page.
November 1, 2018 - Increase in Exam cities
NTA has increased the number of exam cities in which the exam will be conducted. There are few NEET exam centres 2019 where the exam was conducted in the last session have been removed while new cities have been added in the list. There is an increase of four NEET 2019 exam cities in Tami Nadu following the controversy which aroused due to students being allotted test centres outside the state. NEET 2018 was conducted in 136 cities while NEET 2019 will be conducted in 154 exam cities.
November 1, 2018 – NEET exam timings have been changed 
The exam timings of NEET 2019 exam has been changed. As per the recent notification by NTA, the exam will now be conducted from 02:00 PM to 05:00 PM. The exam will be held on first Sunday of May i.e. May 5, 2019.
October 2018 – New website for NEET 2019  
NTA is gearing up to start a new website for NEET (UG) 2019. The official website for latest updates and events of NEET 2019 is nta.nic.in. This new site is under construction and will be functional on November 1, 2018, with the availability of application form. The medical aspirants can check all NEET latest updates and news from the official website after being operational.   


September 26, 2018 – Aadhaar Card not mandatory for NEET registrations
Ruling on the batch of petitions that challenged the constitutional validity of Aadhaar, the Supreme Court of India ordered that It is not mandatory to use Aadhaar card for NEET registrations. Besides that candidates can also register through any other valid Government identity proofs such as Passports, Voter IDs, Ration Cards and Bank pass books. 


September 18, 2018 – Video Lectures by IIT-PAL 
National Testing Agency (NTA) has uploaded the NEET videos lectures by IIT professors and subject experts. The video lectures are available for Physics, Chemistry and Biology subjects. With the lectures, a disclaimer stating that these lectures are just for clarifying the concepts of the subject. It does not guarantee that the questions in NEET 2019 will be based on this content.


September 14, 2018 – One-time exemption to non-NEET registered candidates to study MBBS abroad
On September 14, 2018, Medical Council of India (MCI) through a notification allowed the non-NEET registered candidates can enroll for MBBS courses outside India. Earlier, the Delhi High Court also granted permission to students who have not at all registered for NEET to go to pursue MBBS in foreign countries. For more details Click Here


September 1, 2018 – NEET 2019 Test Practice Registration started
The registration for test practice centres was started from September 1, 2018. The TPCs were established to help candidates in preparing for NEET examination. The registration link is available on the official website of NTA. 


August 30, 2018 – Free Coaching for NEET aspirants
To reduce the burden on the medical students, NTA to offer free coaching for NEET aspirants. The authority will convert their 2,697 test practice centres to the free teaching centres. The teaching component is expected to begin from May 2019 onwards. The registration form of TPCs has started from September 1, 2018.


August 25, 2018 – Students with 'low vision' can appear for NEET 
The Supreme Court of India allowed candidates with 'low vision' to pursue MBBS course. Such aspirants need to appear and qualify in NEET 2019. The order passed on August 25, will allow MBBS aspirants suffering from various forms of visual impairment to avail the 5% admission reservation for persons with disability through the Right of Persons with Disabilities Act, 2016.


August 21, 2018 – NEET 2019 to be held in offline mode
NTA released the schedule and date of NEET 2019 on August 21, 2018. Along with that, MHRD confirmed that National Eligibility cum Entrance Test (NEET) will be conducted in offline mode in a single session. This means, NEET will be held once in a year. However, the exam pattern and types of questions will be same as the previous year.


August 8, 2018 – MBBS Syllabus for NEET expected to be renewed
The medical curriculum is getting makeover after 21 years with MCI, which will come into effect from 2019 onwards. As per the media reports, the new MBBS syllabus is expected to be released in the month of September. It is also said that the new syllabus will focus on skill-based and hands-on training. 


July 7, 2018 – NEET to be held twice a year in online mode
MHRD minister Prakash Javadekar through a press conference in New Delhi on July 7, 2018, announced that NTA will be responsible for conducting NEET 2019 instead of CBSE. Along with that, the major changes announced by the ministry were:
NEET will be conducted twice a year in February and May

The exam will be held in online mode

The exam conducting authority was changed from CBSE to NTA

Test will be held in multiple sittings, which means, aspirants have to choose a seat for examination

The scores obtained in NEET will be calculated using the standardization techniques

Besides this, no changes were made in the exam pattern, types of questions, languages and syllabus of NEET 

There is no cap for attempting in NEET, which means candidates can appear as many time as they want to.
Later, as mentioned above, on August 21, NTA confirmed that NEET 2019 will be conducted in offline mode on a single day. 


NEET 2019 Latest Updates and Changes
With the change in the conducting authority of NEET 2019, it was obvious for the mode, syllabus, exam pattern, session and many other changes to happen. For a better clarity of candidates, here we brings the latest changes of NEET 2019.


NEET no more conducted by CBSE: As per the press released passed on July 7, 2018, CBSE will not be conducting authority of NEET UG 2019. In spite of that, NTA will be responsible for all the events of entrance examination from release of application form, issuance of admit card, conducting the NTA NEET, declaration of result and preparing the merit list for 15% All India Quota candidates. 


Change of NEET 2019 exam mode: Along with that press released, it also announced that NEET will be conducted in computer based mode. It was decided that candidates who would have had to appear for the exam, where they would have been assigned computers. Later, with the announcement of NEET schedule on August 21, the decision of conducting the exam in online mode was debarred. Now, it has been finalized that NEET will be held in offline mode across India.


NEET twice a year: Earlier, with the change of exam mode in computer based test, it was also stated through a press conference that NTA NEET 2019 will be held twice a year in February and May session. Again, with the change of exam mode from online to offline, it was enunciated that NTA will conduct NEET UG once in a year finalising the date, which is May 5, 2019. 


NEET would have been held in eight sessions: Furthermore, not only the exam was being held two times in a year, but also in 8 sessions every time. It means, there would have been 16 sessions in a year for candidates to appear. 


What is National Testing Agency (NTA)?
The Union Cabinet, chaired by Prime Minister Narendra Modi, on November 10, 2017, approved the proposal of creating NTA. In an effort to relieve CBSE, AICTE and other authorities, the proposal was accepted ti bring high reliability, standardized and difficulty level for assessing the aptitude, intelligence and problem solving issued in the candidates. The NTA was given a one-time grant of Rs. 25 crores from the central government to start its operation in the initial year and later on it is to be financially self-sustainable. 


Final Changes in NEET 2019
In conclusion with the NEET latest news and updates 2019, the final changes that are being implemented now are mentioned below:
NEET 2019 will be held in offline mode in single session.

Candidates with vision impairment can also apply for the national level medical entrance examination.

Aspirants who wish to pursue MBBS course outside In




LATEST: NEET online registration 2019 started - Click here to apply

dia will be required to appear and qualify in NEET. 

Candidates with Biology as an additional subject and NIOS students can also apply for the medical entrance test.
In case of any query, students can comment down below. 
Questions related to NEET