How to Prepare for NEET from Class 11
How to Prepare for NEET from Class 11 –The national-level medical entrance test, NEET, is one of the most challenging exams to crack in India. Many aspirants often spend years in NEET exam preparation. NEET preparation should begin by class 11 for students interested in grabbing medical seats because of the level of competition. Building a solid foundation for NEET 2023 preparation from Class 11 will help candidates succeed.
Stay up-to date with NEET News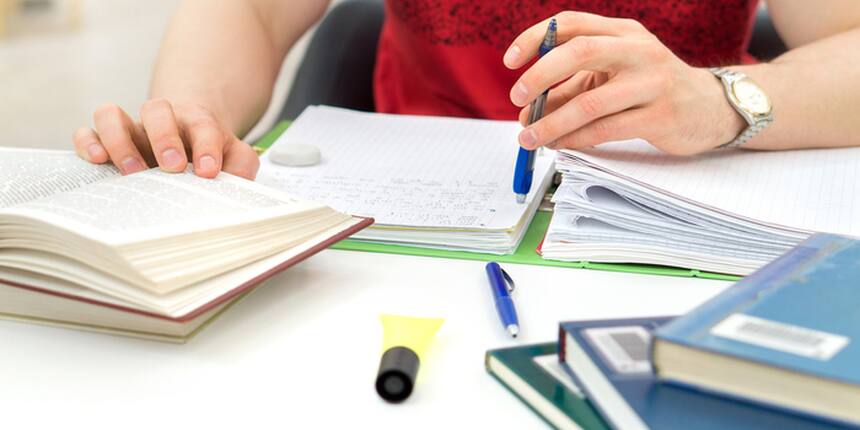 NEET UG 2023 syllabus comprises questions from Class 11 as well as Class 12 distributed in an equal proportion. It is beneficial for students to prepare for NEET from Class 11 since, in Class 12, there is added pressure to perform well in the board examination. Understanding the concepts and topics covered in Class 11 is crucial because only by understanding them will candidates be able to comprehend the curriculum for Class 12.
Students preparing for NEET 2023 from Class 11 have an extra year to refine their preparation strategies and must leave no stone unturned in the process. Aspirants planning to appear for the NEET UG exam must check this article below to know how to prepare for NEET from Class 11, including strategies, important topics, and more.
How to Prepare for NEET from Class 11 - The Strategies
Decode the Syllabus: The foremost strategy for preparing for NEET 2023 from Class 11 is to get familiar with the syllabus and be calm by it. The curriculum of Class 11 can be a bit intimidating for many, but it is in the best interest of the candidates to deal with it tactfully. Candidates must acquaint themselves with the NEET Class 11 chapters to develop a preparation strategy. Candidates can go through the NEET syllabus of Class 11 in the table below.
NEET 2023 Class 11 Syllabus
Biology

Chemistry

Physics

Unit

Topic / Chapters

Unit

Topic / Chapters

Unit

Topic / Chapters

I

I

I

Chapter-1: The Living World

II

Chapter–1: Physical World

Chapter-2: Biological Classification

III

Chapter–2: Units and Measurements

Chapter-3: Plant Kingdom

IV

II

Chapter-4: Animal Kingdom

V

States of Matter: Gases and Liquids

Chapter–3: Motion in a Straight Line

II

VI

Chapter–4: Motion in a Plane

Chapter-5: Morphology of Flowering Plants

VII

III

Chapter-6: Anatomy of Flowering Plants

VIII

Redox Reactions

Chapter–5: Laws of Motion

Chapter-7: Structural Organisation in Animals

IX

IV

III

X

Chapter–6: Work, Energy and Power

Chapter-8: Cell-The Unit of Life

XI

V

Motion of System of Particles and Rigid Body

Chapter-9: Biomolecules

XII

Chapter–7: System of Particles and Rotational Motion

Chapter-10: Cell Cycle and Cell Division

XIII

VI

IV

XIV

Chapter–8: Gravitation

Chapter-11: Transport in Plants




VII

Properties of Bulk Matter

Chapter-12: Mineral Nutrition

Chapter–9: Mechanical Properties of Solids

Chapter-13: Photosynthesis in Higher Plants

Chapter–10: Mechanical Properties of Fluids

Chapter-14: Respiration in Plants

Chapter–11: Thermal Properties of Matter

Chapter-15: Plant - Growth and Development

VIII

V




Chapter–12: Thermodynamics

Chapter-16: Digestion and Absorption

IX

Chapter-17: Breathing and Exchange of Gases

Chapter–13: Kinetic Theory

Chapter-18: Body Fluids and Circulation

X

Chapter-19: Excretory Products and Their Elimination

Chapter–14: Oscillations

Chapter-20: Locomotion and Movement

Chapter–15: Waves

Chapter-21: Neural Control and Coordination




Chapter-22: Chemical Coordination and Integration


Also Read -
Develop a comprehensive study schedule:
From the moment candidates are familiar with the syllabus, they should develop an effective study schedule to prepare for NEET 2023. NEET 2023 study plan should be structured so that there is no monotonous work and recreation time is included. Studying time must be in short bursts especially during the time of the day when one feels most productive. The study plan should be organized and re-evaluated as time progresses. Higher priority must be given to the topics which carry more weight in the NEET 2023 exam. Such topics from each subject have been listed for candidates' reference purposes.
NEET topper, Suyash Arora (AIR 5), in his interview with Careers360 said, "This is my first attempt. I have started my NEET preparations from Class 11 ".
How to Prepare for NEET from Class 11 - Important Topics
Physics
Kinematics

Laws of Motion

Work, Energy, and Power

Rotational Motion

Oscillations and Waves

Heat and Thermodynamics
Chemistry
Mole Concept

Stoichiometry

Chemical Bonding

States of matter

Thermodynamics

Hydrogen and S-block

Organic and Hydrocarbons
Biology
Diversity in the Living World

Cell Cycle

Cell Division

Biomolecules

Structural Organisation in Plants and Animals

Human Physiology
Know which books to choose from: For Class 11 students preparing for NEET 2023, NCERT is the most crucial resource. The candidates should be well-versed in every concept in the book, including formulas and numerals. Once through with the NCERT, candidates must then try and solve questions from the curriculum of the best books for NEET class 11 mentioned below.
Objective Physics Vol. 1 by Arihant

Objective Chemistry Vol. 1 by Arihant

A to Z Biology for NEET Class 11 by Cengage
Study the topics chronologically: Candidates preparing for NEET from Class 11 must maintain a chronological order of topics while studying. Several topics for NEET 2023 are interrelated, and studying accordingly will help better understand the underlying concepts and prove helpful during revision..
Identify the strong and weak areas: Starting Class 11, aspirants must make it a point to be familiar with the topics they have a strong command over and the topics they find to be more challenging. Accordingly, the study hours need to be divided among these so that the syllabus can be covered effectively.
Practice Regularly: A regular schedule is the most important aspect of preparing for NEET 2023 from Class 11 onwards. Regular practice should encompass solving numerical, practising formulas, schematic diagrams, etc.
Revision is of utmost necessity: Aspirants must develop a habit of regular revision while preparing for NEET from Class 11. The syllabus of Class 11 tends to be forgotten by candidates once they've been promoted to a higher class, so they must schedule revisions accordingly.
Try and Solve Mock Tests: For NEET aspirant it is a good idea to identify and solve the questions from the Class 11 part so that they can determine how much time they need to solve a particular type of question and become familiar with the types of questions they may encounter. The practice of mock tests is also a great way for candidates to improve their time management skills. In view of the fact that NEET 2023 mock tests cover the entire syllabus of Class 11, candidates in Class 11 should strongly consider taking them
Questions related to NEET
Showing 116921 out of 116921 Questions