How to prepare for NEET 2024 in 4 months - The National Eligibility cum Entrance Test- (NEET) is India's single largest medical entrance exam. Preparing for NEET UG 2024 is tough enough, but if 4 months is all candidates have, then things are going to be that much more difficult. Keeping this in mind, aspirants must check how to prepare for NEET 2024 in 4 months from this article.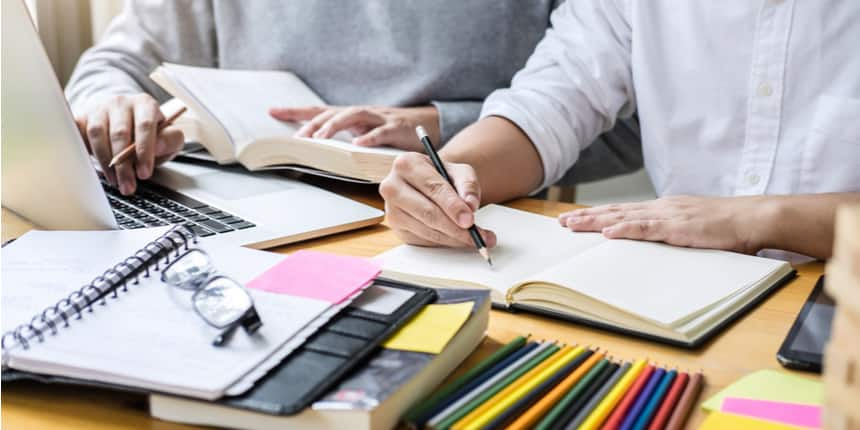 How to prepare for NEET 2024 in 4 months - Strategy, Tips
Generally, most students who do well in NEET have years of sweat and toil behind them. One reason why NEET-UG 2024 is such a difficult exam is questions are mostly concept-oriented and the competition is fierce. But while the task at hand is a difficult one, it is not impossible to succeed, especially if candidates know how to prepare for NEET 2024 in 4 months. They need to make sure that they are committed to the exam, and that there are no half-baked measures. Get ready to go at full throttle, may be armed with some useful tips on how to prepare for NEET 2024 in 4 months by Careers360. Eligible NEET 2024 candidates must read the tips mentioned in the article to give a boost to their NEET 2024 preparations.
How to prepare for NEET 2024 in 4 months - Check out the syllabus and exam pattern
The first thing candidates need to do is go through the syllabus and exam pattern of NEET 2024. While the syllabus of NEET 2024 will provide insights into subject-wise topics covered in the exam, the exam pattern will throw light on the marking scheme, types of questions asked, mode of exam, etc. Being familiar with the syllabus will help candidates focus their energies only on those topics from which questions will be asked in NEET 2024.
Most Scoring Concepts in NEET
Know Most Scoring Concepts in NEET 2024 Based on Previous Year Analysis
Know More
Meanwhile, aligning one's preparation to a prescribed exam pattern would eliminate exam-day surprises. Take, for example, NEET-UG is conducted in the offline mode and includes multiple-choice questions. Now, if a candidate misses this bit of information and instead prepares for subjective questions or online mode, it can be a recipe for disaster.
How to prepare for NEET 2024 in 4 months - Prepare and follow a study plan
Once candidates are aware of the syllabus and exam pattern, they need to chalk up a study plan that is actionable. When making time allotments, they may even segregate the topics into groups as per the chapter-wise weightage of NEET. This way they will be able to tackle difficult topics more effectively. Also, NEET 2024 aspirants must make sure that they take regular stock of their progress. If they feel that a little tweak here and there might, they should get it done.
How to prepare for NEET 2024 in 4 months - Read the right way
One thing about the NEET exam is that is concept-based, which means it will include many questions that will test their understanding of the fundamentals of the subjects. So, superficial reading won't cut it. To be successful, candidates will then have to decipher each topic, and get to the bottom of it - and all the while not wasting an enormous amount of time. Please note that if candidates get stuck with a topic, they should move on to another one. Or they will have to compensate someplace else, which could be costly.
How to prepare for NEET 2024 in 4 months - Take notes and use flashcards
There are umpteen benefits of taking notes if candidates do it correctly. For example, notes can act as summary points. So every time aspirants need to revise, all they need to do is run through the notes; this is unless they need to read the complete block of texts for additional practice. Candidates must prepare their notes while reading a topic. Also, as they go along, they can keep on fine-tuning the notes so that they can act as standalone preparation material. Likewise, flashcards are very useful in retaining concepts, even formulas. It is recommended that candidates maintain a separate sheet for jotting down all the formulas and shortcuts as well.
How to prepare for NEET 2024 in 4 months - Do extensive revision
One of the important pillars of success and cracking NEET 2024 would be doing timely revision. The frequency and time allotted for revision, of course, would depend on the topic and the associated difficulty level. For example, if there are complicated formulas and concepts involved, it will need more exhaustive revision than topics with simple concepts. But once candidates become comfortable with these topics and concepts, they may reduce the frequency.
Another thing is if candidates are reading a completely new topic that they haven't touched on before, it will not only take a lot of time the first time, but they have to keep revisiting it again and again. So, if they are running out of time and there are still quite a few topics left untouched, they need to make a decision as to how wise it is to study all these new topics.
How to prepare for NEET 2024 in 4 months - Take Mock tests
Despite studying long hours for NEET 2024, the candidate may still get caught flat-footed in the exam. It happens because solving a problem at home and doing the same thing in the exam hall with the clock ticking away isn't the same thing. But this gap can be bridged by taking mock tests, which are simulations of the real thing. Mock tests present an exam-like environment, suited for developing time management skills and learning how to cope under pressure. Along with the mock test, they may also solve previous years NEET questions and sample papers to get an idea about the type of questions asked and the topic-wise distribution of questions.
How to prepare for NEET 2024 in 4 months - Stay positive
When there is so little time and so much to be done, doubts can easily creep in and can sabotage the preparation. So, stay on guard and never let negativity creep in. But how does one do that? Well, for a start keep away from negative people. Then if a candidate feels like they're starting to feel low, they must do some recreational activity.
How to prepare for NEET 2024 in 4 months - Eat and drink healthy
Finally, candidates need to remember that just because there is an exam around the corner, they don't have to forgo their timely dinner, lunch, or even sleep. It is because if they don't eat healthily and sleep well, they might become susceptible to anxiety and nervousness. The solution is to live in the present and not think too far ahead. After all, it is the present that we are in control of!!