NEET Preparation Time Table 2019
NEET Preparation Time Table 2019 - An effective way to prepare for an exam like NEET is to have a study timetable and stick to it. One benefit of having a NEET preparation time table in place is it will ensure each topic gets the attention it needs, while leaving enough room for revision, mock tests and solving sample papers. A key element of a timetable is it is made taking into account the time span left for an exam, in this case NEET 2019 exam, and the state of your readiness. So if you are well ahead in your preparation, the NEET preparation time table at this stage will focus more on revision and taking of mock tests, and less on trying to decipher underlying concepts.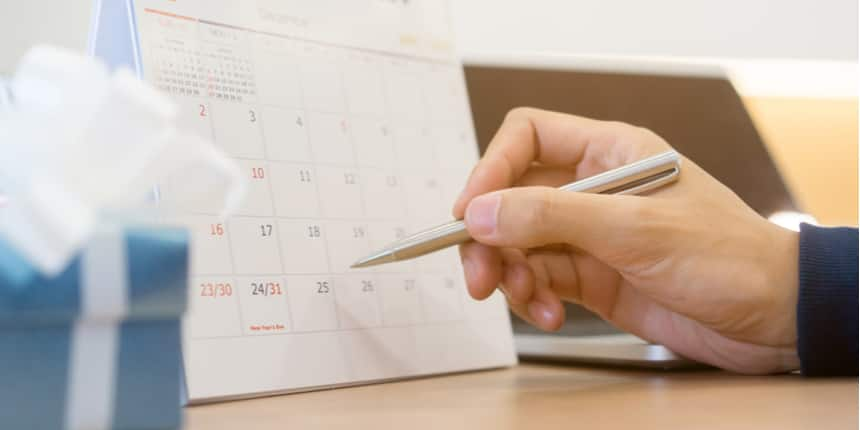 Also, there is no one-size-fits-all NEET preparation time table that is applicable to all NEET 2019 aspirants. The reason being, like cited above, the readiness of one candidate may differ from another. Then one NEET aspirant may have very different study habits than another. Nevertheless, there are some pointers that the candidate can take from the NEET 2019 preparation timetable included here, and incorporate it in their preparation.
NEET 2019 is slated to be conducted on May 5. The exam is being conducted by National Testing Agency (NTA) in pen and paper mode for admission to MBBS and BDS courses in medical colleges in India. 
Latest: Admit cards for NEET 2019 available from April 15. Download by logging in.
NEET Preparation Time Table 2019 Key Points
Once a study schedule is made, try to follow it rigorously. Also, don't skip study as it may send your NEET preparation time table haywire.

Total study time could be between 8 and 10 hours. But the onus of deciding whether one can manage long study hours without exhausting oneself lies with the candidate. Remember, you can be more productive even by studying fewer hours when you are fresh, rather than dragging yourself through the hours, when you might better rest.

Since there is only a month or so left for the exam, your study time table should focus more on revision and solving of NEET sample papers and previous years' question papers. 

When doing revision, refer your notes rather than going through text books. This will help you save time. If you get stuck, only then you may consult text books.

The NEET preparation time table must also have enough space for mock tests. By taking mock tests, you will get an exam like ambiance, for example the clock ticking away and similar type of problems. You can fine tune your preparation by taking mock tests. 
During all the commotion, don't forget to take good care of yourself. Because, if you are in a good place mentally, your brain will work at optimum level.
Week-wise NEET Preparation Time Table 2019
Week

Subjects

Physics

Chemistry

Biology

Week 1

Physical world and measurement




Kinematics




Laws of Motion




Work, Energy and Power




Motion of System of Particles and Rigid Body




Gravitation




Properties of Bulk Matter





Some Basic Concepts  of Chemistry




Structure of Atom




Classification of Elements and Periodicity in Properties




Chemical Bonding and Molecular Structure




States of Matter: Gases and Liquids




Thermodynamics




Equilibrium




Redox Reactions




Diversity in Living World 




Structural Organisation in Animals and Plants




Cell Structure and Function




Plant Physiology





Week 2

Thermodynamics




Behaviour of Perfect Gas and Kinetic Theory




Oscillations and Waves




Electrostatics




Current Electricity




Hydrogen




s-Block Element (Alkali and Alkaline earth metals)




Some p-Block Elements




Organic Chemistry- Some Basic Principles and Techniques




Hydrocarbons

Human physiology




Reproduction




Genetics and Evolution




Week 3

Magnetic Effects of Current and Magnetism 




Electromagnetic Induction and Alternating Currents 




Electromagnetic Waves




Optics




Environmental Chemistry




Solid State




Solutions




Electrochemistry




Chemical Kinetics




Surface Chemistry




General Principles and Processes of Isolation of Elements




Biology and Human Welfare




Biotechnology and Its Applications




Week 4

Dual Nature of Matter and Radiation




Atoms and Nuclei




Electronic Devices





p- Block Elements




d and f Block Elements




Coordination Compounds

Haloalkanes and Haloarenes




Alcohols, Phenols and Ethers




Aldehydes, Ketones and Carboxylic Acids




Organic Compounds Containing Nitrogen




Biomolecules




Polymers




Chemistry in Everyday Life






Ecology and environment



After you complete a chapter or topic, take up questions or problems related to that topic or chapter. This way you can test how much you have been able to retain, and also your problem solving skills. Also, intersperse the last few weeks with mock tests. Most toppers claim that mock tests are prerequisites to doing well in NEET. 
Questions related to NEET
Showing 102090 out of 102090 Questions