NEET Preparation Time Table 2022 - Things To Keep in Mind, Strategy
NEET Preparation Time Table 2022 - The National Eligibility cum Entrance Test (NEET) is one of the toughest entrance exams to crack. Comparing the number of NEET registrations every year and seats on which admission used to be granted, the level of the NEET exam is easily analysed. The competition to score well in NEET 2022, especially after an incredible trademark set by the previous year's toppers. The NEET 2022 preparation should be strategically planned.
Stay up-to date with NEET News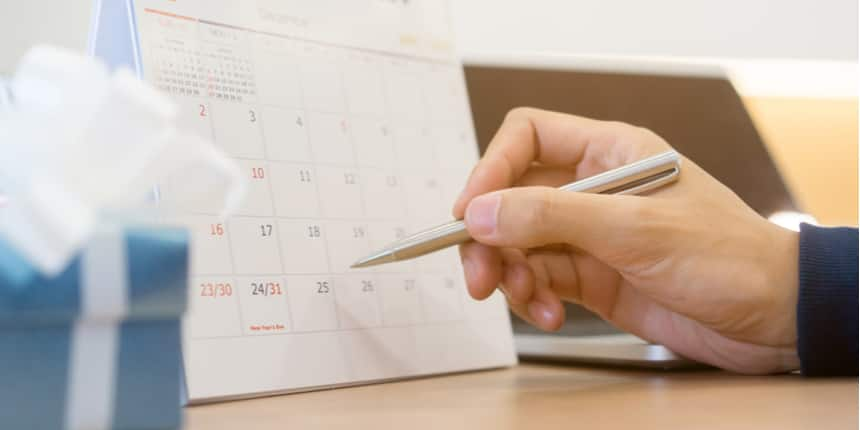 It is extremely essential for future aspirants to buckle up and keep their NEET preparation strategy on point. And an effective way to prepare for an entrance exam is to have a proper NEET study timetable for 2022 and stick to it. One benefit of having a NEET 2022 preparation timetable in place is it will ensure each topic gets the attention it needs while leaving enough room for revision, mock tests, and solving sample papers.
A key element of a timetable is that it is made taking into account the time span left for an exam and the state of your readiness. So if you are well ahead in your preparation, the NEET preparation timetable at this stage will focus more on revision and taking of mock tests, and less on trying to decipher underlying concepts. Also, there is no one-size-fits-all NEET preparation timetable for 2022 that is applicable to all medical aspirants.
The readiness of one candidate may differ from another, which means that one NEET aspirant may have very different study habits than others. Having said that, there are some pointers that the candidate can take from the NEET 2022 preparation timetable included here, and incorporate it in their preparation. Interested candidates must read the article on the NEET preparation timetable to know details such as the week-wise timetable, exam pattern, and much more.


NEET Preparation Time Table 2022 - Things To Keep in Mind
The NEET 2022 preparation time table must be followed rigorously.

Total study time could be between 8 and 10 hours. But the onus of deciding whether one can manage long study hours without exhausting oneself lies with the candidate. Remember, one can be more productive even by studying fewer hours when you are fresh, rather than dragging yourself through the hours when you might better rest.

During the last days of preparation, candidates' NEET preparation timetable should focus more on revision and solving of NEET sample papers and previous years' question papers.

When preparing for NEET 2022 from the timetable, candidates must refer to the notes rather than going through textbooks. This will help them save time. If they get stuck, only then you may consult textbooks.

The NEET 2022 preparation time table must also have enough space for mock tests. Candidates can fine-tune their preparation by taking mock tests.

During all the bustle, aspirants must not forget to take good care of themselves. Because, if you are in a good place mentally, your brain will work at an optimum level.
For a better NEET preparation, one must be aware of the exam pattern of the medical entrance exam. The NEET paper pattern 2022 will make candidates aware of the mode of the exam, the total number of questions asked, type of exam, and NEET 2022 marking scheme. Check the NEET exam pattern from the table below.
NEET Exam Pattern
Factors

Details

NEET conducting authority

National Testing Agency

Full form of NEET
National Eligibility cum Entrance Test

Mode of the exam

Pen and Paper-based mode

Duration of the exam

3 hours 20 minutes (200 minutes)

Language/Medium of the NEET exam

English, Hindi, Assamese, Bengali, Gujarati, Marathi, Tamil, Telugu, Oriya, Kannada, and Urdu

Question Type

Multiple Choice Questions

Total Number of Questions asked in the exam

The number of total questions in the NEET 2022 exam is 200 but aspirants have to attempt only 180 questions.

720 Marks

NEET Marking Scheme 2022

4 marks will be awarded for each correct answer

One mark will be deducted for each wrong attempt

No marks for unanswered question


NEET Preparation Time Table 2022
Candidates preparing for NEET 2022 must take the below-mentioned table into consideration to prepare for the exam. NEET preparation timetable mentioned below is week-wise and is divided as per their NEET chapter-wise weightage and important topics.
NEET preparation Time Table 2022
Week

Subjects

Physics

Chemistry

Biology

Week 1

Physical-world and measurement

Kinematics

Laws of Motion

Work, Energy, and Power

Motion of System of Particles and Rigid Body

Gravitation

Properties of Bulk Matter





Some Basic Concepts of Chemistry

Structure of Atom

Classification of Elements and Periodicity in Properties

Chemical Bonding and Molecular Structure

States of Matter: Gases and Liquids

Thermodynamics

Equilibrium

Redox Reactions

Diversity in Living World

Structural Organisation in Animals and Plants

Cell Structure and Function

Plant Physiology





Week 2

Thermodynamics

Behaviour of Perfect Gas and Kinetic Theory

Oscillations and Waves

Electrostatics

Current Electricity




Hydrogen

s-Block Element (Alkali and Alkaline earth metals)

Some p-Block Elements

Organic Chemistry- Some Basic Principles and Techniques

Hydrocarbons

Human physiology

Reproduction

Genetics and Evolution




Week 3

Magnetic Effects of Current and Magnetism

Electromagnetic Induction and Alternating Currents

Electromagnetic Waves

Optics




Environmental Chemistry

Solid State

Solutions

Electrochemistry

Chemical Kinetics

Surface Chemistry

General Principles and Processes of Isolation of Elements




Biology and Human Welfare

Biotechnology and Its Applications

Week 4

Dual Nature of Matter and Radiation

Atoms and Nuclei

Electronic Devices





p- Block Elements

d and f Block Elements

Coordination Compounds

Haloalkanes and Haloarenes

Alcohols, Phenols, and Ethers

Aldehydes, Ketones and Carboxylic Acids

Organic Compounds Containing Nitrogen

Biomolecules

Polymers

Chemistry in Everyday Life






Ecology and environment



As mentioned above, it is extremely important for candidates to solve the previous year's NEET question papers along with the samples papers. The previous year's paper of NEET will give the candidate an idea about what to expect in the exam and what kind of questions candidates can expect. Candidates must not also forget to complete the NEET 2022 syllabus on time. It will not only give them a feeling of relief but also provide them with enough time for revision.
Also read:
Questions related to NEET
Showing 116684 out of 116684 Questions