INI SS 2023 Topper Interview: Sahil Kharbanda (AIR 5)
INI SS Topper 2023 Interview: There is no shortcut to what one actually desires. A big dream requires a lot of hard work. A boy from a non-medical family strived to do the same and proved himself. Dr. Sahil Kharbanda had a great interest in medicine and therefore, chose it as a career.
Stay up-to date with INI SS News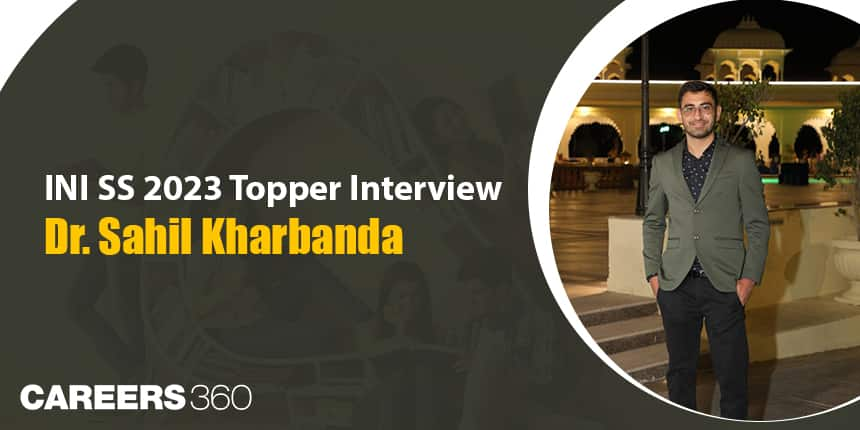 After securing 426 rank in the NEET SS 2022, Dr. Sahil decided to prepare for INI SS 2023 January session examination and managed to secure AIR 5. Dr. Kharbanda shares tips and tricks on how he achieved this success. Read the complete interview of Dr. Sahil Kharbanda below.
Question: Tell us about your background and what made you choose medicine as a career?
Dr. Sahil: I am from Jhajjar, Haryana and did my MBBS from Sawai Man Singh Medical College, Jaipur and my post graduation MD in General Medicine from R.N.T Medical College, Udaipur.
I have always loved this profession and as there were no doctors in my family, this fascinated me to actually become one. I wanted to choose a branch that can provide me the broadest view and that was the reason I chose Medicine for further studies after my MBBS.
Question: Where did you complete your internship from?
Dr. Sahil: I completed my internship from Sawai Man Singh Medical College, Jaipur itself.
Question: What strategies did you adopt to prepare for the INI SS exam? Please share the list of books you studied from.
Dr. Sahil: I prepared for NEET SS and secured 426 rank but was not satisfied by the result. Then I started preparing for the INI SS 2023 exam. Preparation of both the exams are a bit different due to the syllabus that comes in the examinations.
In NEET SS the entire medicine syllabus is asked whereas in INI SS we are supposed to choose our speciality. 60% of the course comes from the speciality and the remaining 40% is asked from the general medicine.
After giving NEET SS, only two months were left to prepare for INI SS. I picked Nephrology as my specialty and started preparing for the same first. I prepared for the exam from 'Harrison Textbook of Medicine' and to get a thorough knowledge of my specialisation which is Nephrology, I studied 'Comprehensive Clinical Nephrology- Feehally'. I also prepared from my class notes, and gave a few test series.
Question: What challenges did you face during your preparation and how did you overcome them?
Dr. Sahil: I definitely faced a lot of challenges. I was a senior resident in a medical college in Udaipur so I had to take care of things there too. But preparation for the exam was all about the management. I was able to manage my work and my studies which led me to this success.
Question: What advice would you give to candidates wanting to crack the INI SS exam?
Dr. Sahil: INI SS entrance exam demands a thorough knowledge of speciality however, I would advice my juniors and future aspirants 'do not neglect medicine. The 40% weightage is very important to crack the exam. Practising previous year's exam papers is a must as some questions come directly from there.'