MBBS vs MD - What is Difference between MD and MBBS?
MBBS vs MD – "Medicine is a science of uncertainty and an art of probability" a quote by Sir W. Osler. So aspirants who want to pursue their studies in the field of medicine must know the MBBS and MD full form and the difference between Bachelor of Medicine, Bachelor of Surgery (MBBS), and Doctor of Medicine (MD).
Stay up-to date with NEET News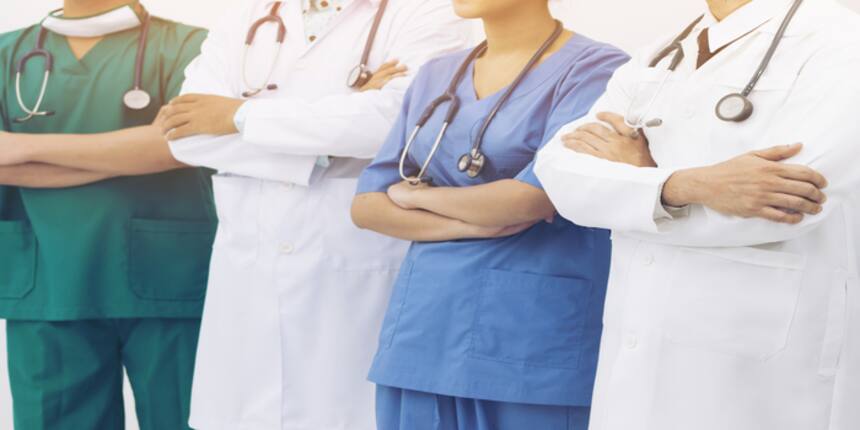 When we begin to understand these from the basics it is important for us to know what these terms actually mean. The basic difference between the MBBS & MD is that MBBS is an undergraduate course that is pursued by candidates who wish to make their career in the field of medicine. Whereas, MD is a postgraduate course that can be pursued by candidates who have completed their MBBS. The concept of MBBS vs MD is wide and requires a complete understanding of its complex details.
In order to get UG medical admission to all the government, deemed and central universities/institute and private medical colleges candidates are required to qualify National Eligibility cum Entrance Test (NEET). Whereas the admission process for postgraduate medical and dental seats is a bit more complex and is explained below. Candidates can go through the article on MBBS vs MD, to know all the details of course fees, syllabus, duration, etc. of both the courses.
What is MBBS?
MBBS is an undergraduate in medicine. MBBS is the first step towards becoming a doctor. The curriculum describes different medicine and human anatomy is able to educate the participants on how to test and cure specific diseases. The MBBS degree duration is 5.5 years.
Browse MBBS Colleges by States
What is MD?
Doctor of Medicine, commonly known as MD, is a postgraduate degree where graduates study medicine in detail. It is a two-year course that trains medical graduates in the study, prevention, diagnosis, and treatment of adult diseases.
Browse Medical Colleges by States:

MBBS vs MD - Key Difference
| | |
| --- | --- |
| Sl. No. | Details |
| 1 | MBBS vs MD: Admission process |
| 2 | MBBS vs MD: Course fees |
| 3 | MBBS vs MD: Scope |

MBBS vs MD Admission in India
Knowing the admission process of MBBS vs MD is the basic that every aspirant should know. In India, medical aspirants are offered MBBS courses in around 654 top medical colleges. Earlier for taking medical admission, aspirants have to clear NEET and admission to All India Institute Of Medical Science (AIIMS) and Jawaharlal Institute of Postgraduate Medical Education & Research (JIPMER) were through the latter's own examinations. However, from the year 2020 onwards, the undergraduate medical entrance examinations for all medical colleges, including the AIIMS and JIPMER were scrapped and now granted through only NEET. The duration of the MBBS course was earlier five and a half years which has now been reduced to four years and two months. During this duration, it is mandatory for candidates to complete 12 months rotatory internship.
While understanding the postgraduate degree courses, it is essential for candidates to know that MD and MS (Master of Surgery) are the most sought after in this category, as many of the graduates wish to pursue this category. These courses are offered to candidates only when they complete their MBBS course successfully and are degree holders for the same. Admission to the MD course is done on the basis of NEET PG and INI CET. National Board of Examinations (NBE) is the competent authority to conduct NEET PG whereas AIIMS, New Delhi use to conduct the INI CET exam. In India, the MD program is taught for a duration of 3 years, where medicos are required to choose one of the following specializations that they wish to pursue.
MD (Doctor of Medicine) - Specialities
Anaesthesiology
Anatomy
Biochemistry UG PG
Biophysics
Community Medicine
Dermatology and Venereology
Forensic Medicine and Toxicology
Laboratory Medicine
Medicine
Microbiology
Nuclear Medicine
Obstetrics & Gynaecology
Ophthalmology
Pathology
Pediatrics
Pharmacology
Physiology
Physical Medicine & Rehabilitation (PMR)
Psychiatry
Radio-Diagnosis
Radiotherapy
MS (Master of Surgery) - Specialities
Surgery
Otorhinolaryngology (ENT)
Orthopedics
MBBS vs MD - Course Fees
The stress of candidates has reduced to a significant level due to the introduction of NEET at the UG and PG levels. So now NEET has become the only UG-level medical entrance examination. Earlier there were different state-level exams for which students had to appear in order to get entrance to medical and dental colleges. So now NEET has become the only UG level medical entrance examination. Earlier the private medical colleges use to charge a high amount of fees for granting medical admission. In order to have control over that authorities have made it mandatory for the government as well as private colleges to disclose their fee for the courses. The aforementioned step enables candidates to have clarity of every detail pertaining to their admissions. The fees of the MBBS course vary between all the government-aided institutions/ government/central universities and deemed universities/private institutions.
On the basis of the institute, the MD course fee can differ extensively. As the fees of government institutes are relatively very low than the private institutes. However, within these private and government institutes also as the fee may differ from one institute to another.

Candidates must note that when definitions for MBBS vs MD are given, then it may vary in other countries. The definition of MD that we mentioned above is on the basis of what we mean in India. For instance, doctors in the US are awarded an MD or DO degree and not an MBBS degree. Also, to pursue this degree course they are required to first complete university-level pre-medical courses followed by qualifying MCAT.
In the USA, the MD/DO is a four-year program divided into two parts: pre-clinical and clinical. The pre-clinical courses consist of courses in basic sciences and the clinical courses consist of clinical rotation. There is a residency programme after the MD course after which a candidate is eligible to practice medicine in the USA. The residency programs for different specialties are different. It can range from 3 years for internal medicine and pediatrics to 5 years in general surgery. The residency programme for neurosurgery is 7 years.
MBBS vs MD: Scope
Medical is a dynamic field and jobs are available in both private and public hospitals. Medical graduates can apply for jobs in government medical institutes and even in numerous private hospitals. Candidates after completing their MBBS wish to get jobs in reputed companies across the nation and globe. There are a lot of job opportunities for deserving aspirants in the private and public sectors. After getting licensed and registered by the Medical Council of India, aspirants can also practice their specialties. After graduating from MBBS, candidates can also choose to further their studies by pursuing MD programs.
After completing an MD degree, graduates can not only call themselves an MBBS/MD, however, they can also opt for some amazing career prospects. It is indeed true that an MD has better career prospects in the long run.
Also read:
Frequently Asked Question (FAQs) - MBBS vs MD - What is Difference between MD and MBBS?
Question: Can I pursue MD before MBBS?
Answer:
No, an MD degree represents a higher post-graduate degree for speciality training. Only medical graduates with MBBS degrees are eligible to pursue an MD degree.
Question: What is the admission procedure of MD in India?
Answer:
The admission in MD in most of the colleges is granted on the basis of NEET PG scores along with counselling sessions. However, other institutes/universities such as AIIMS, JIPMER & PGIMER will be granted through INI CET.
Question: Do I need to qualify NEET in order pursue MBBS in India?
Answer:
Yes, candidates need to qualify NEET entrance examination securing the minimum required percentile to get admission in the top medical college in India.
Question: What is the full form of MD?
Answer:
The full form of MD is Doctor of Medicine.
Question: What is the full form of MBBS?
Answer:
MBBS full form is Bachelor of Medicine and Bachelor of Surgery.
Questions related to NEET
Showing 116684 out of 116684 Questions