MBBS vs MD – Candidates aspiring to pursue their studies in the field of medicine must know the difference between Bachelor of Medicine, Bachelor of Surgery (MBBS) and Doctor of Medicine (MD). When we begin to understand these from the basics it is important for us to know what these terms actually mean. MBBS is an undergraduate course which is pursued by candidates who wish to make their career in the field of medicine. Whereas, MD is a postgraduate course that can be pursued by candidates who have completed their MBBS. The concept of MBBS vs MD is wide and requires complete understanding of its complex details.
LATEST: NTA has re-opened NEET application form 2020 for corrections till May 31!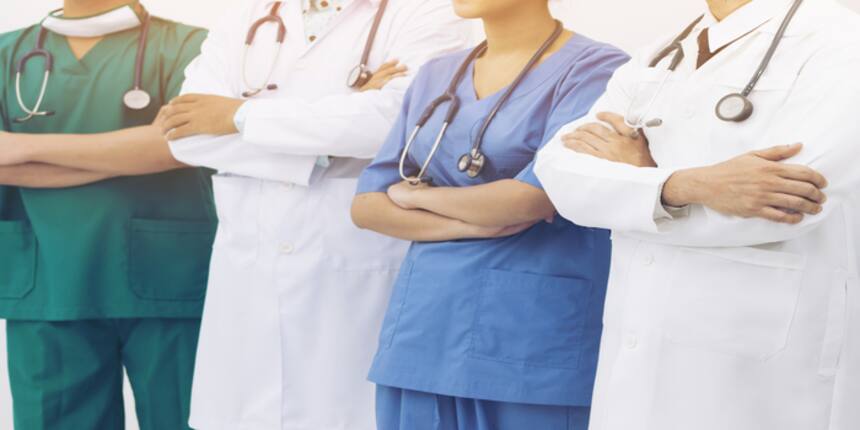 In order to get admission to all the government, deemed and central universities/institute and private medical colleges candidates are required to qualify National Eligibility cum Entrance Test (NEET). The admission process for post graduate medical and dental seats is a bit more complex and is explained below. In this article on MBBS vs MD, candidate's are provided with all the details of course fees, syllabus, duration, etc. of both the courses.
MBBS vs MD Admission in India
In India, medical aspirants are offered with MBBS course in around 500 medical colleges. Admission to this course was earlier through NEET and to AIIMS and JIPMER were through the latter's own examinations. From the year 2020, medical entrance examination for all medical colleges, including the two mentioned earlier, will be NEET. In the country, every year, around 65,000 students take admission to the MBBS courses. The duration of MBBS course was earlier five and a half years which has now been reduced to four years and two months. During this duration it is mandatory for candidates to complete 12 months rotatory internship.
While understanding the post graduate degree courses, it is essential for candidates to know that MD and MS (Master of Surgery) are the most sought after in this category. These courses are offered to candidates only when they complete their MBBS course successfully and are degree holders for the same. Admission to MD course is done on the basis of NEET PG. National Board of Examinations (NBE) conducts NEET PG. In India, MD programme is taught for a duration of 3 years, where medicos are required to choose one of the following specializations that they wish to pursue.
M D (Doctor of Medicine) - Specialities
1. Anaesthesiology
2. Anatomy
3. BiochemistryUG PG
4. Biophysics
5. Community Medicine
6. Dermatology and Venereology
7. Forensic Medicine and Toxicology
8. Laboratory Medicine
9. Medicine
10. Microbiology
11. Nuclear Medicine
12. Obstetrics & Gynaecology
13. Ophthalmology
14. Pathology
15. Pediatrics
16. Pharmacology
17. Physiology
18. Physical Medicine & Rehabilitation (PMR)
19. Psychiatry
20. Radio-Diagnosis
21. Radiotherapy
M S (Master of Surgery) - Specialities
1. Surgery
2. Otorhinolaryngology (ENT)
3. Orthopaedics
MBBS vs MD - Course Fees
Earlier there were different state-level exams for which students had to appear in order to get entrance in medical and dental colleges. However, with NEET getting introduced at UG and PG level, stress of candidates has reduced to a significant level. Now, the government has merged AIIMS and JIPMER UG entrance examinations with NEET. So now NEET has become the only UG level medical entrance examination. This has also made it mandatory for government as well as private colleges to disclose their fee for the courses. The aforementioned step enables candidates to have a clarity of every details pertaining to their admissions.
Candidates must note that when definitions for MBBS vs MD are given, then it may vary in other countries. The definition of MD that we mentioned above is on the basis of what we mean it in India. For instance, the doctors in US are awarded MD or DO degree and not MBBS degree. Also, to pursue this degree course they are require to first complete university level pre-medical courses followed by qualifying MCAT.
In USA, the MD/DO is a four-year program divided into two parts: pre-clinical and clinical. The pre-clinical courses consist of courses in basic sciences and the clinical courses consist of clinical rotation. There is a residency programme after the MD course after which a candidate is eligible to practice medicine in the USA. The residency programmes for different specialties are different. It can range from 3 years for internal medicine and pediatrics to 5 years in general surgery. The residency programme for neurosurgery is 7 years.
Questions related to NEET
Showing 83353 out of 83354 Questions