MBBS Syllabus (Semester-Wise): Medicine Subjects, Topics and FAQs
MBBS Syllabus - Aspirants who want to pursue MBBS should be aware of the syllabus as early as possible. Bachelor of Medicine and Bachelor of Surgery popularly known as MBBS is a professional degree to practice in the field of medicine. Candidates who want to become a doctor must have the knowledge of MBBS syllabus. The detailed MBBS syllabus pdf can be downloaded below.
Stay up-to date with NEET News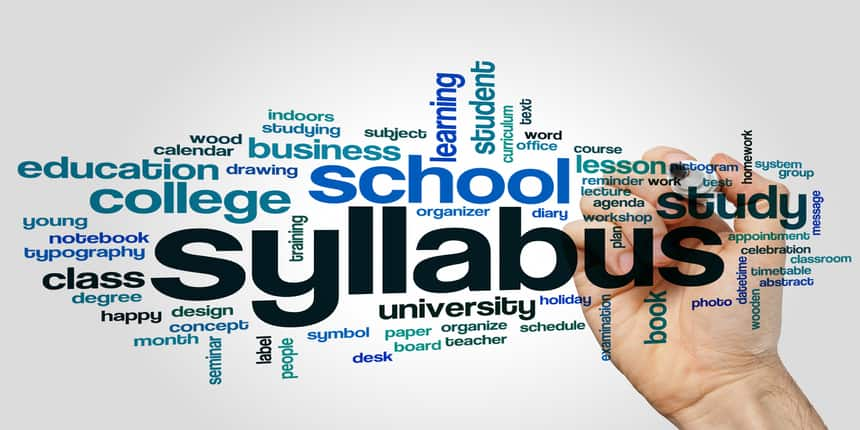 Being aware of the syllabus of MBBS before the commencement of classes will surely boost up aspirants' performance in their academics. The MBBS syllabus is also useful for medical graduates who want to pursue postgraduation medical courses such as Doctor of Medicine (MD), Master of Surgery (MS), Master of Chirurgiae (M.Ch), etc. MBBS syllabus is broadly divided under three subject heads, namely, Pre-Clinical, Para-Clinical, and Clinical. The MBBS syllabus included in these subjects includes microbiology, biochemistry, anatomy, pharmacology, physiology, and pathology.
With the knowledge of subjects in the MBBS syllabus, medical aspirants can get first-hand experience of how things work in the field concerned. Medical aspirants can enroll themselves in the MBBS course by qualifying for the National Eligibility cum Entrance Test (NEET). Interested candidates must read the article on the MBBS syllabus by Careers360 to know more details on the same.
DOWNLOAD: For AIIMS MBBS syllabus PDF - Click here
About MBBS Syllabus
The National Medical Commission (NMC) earlier known as the Medical Council of India (MCI) is the authority responsible for prescribing the MBBS syllabus. Under the MBBS course, which is for five and a half years, candidates will have to complete a one-year mandatory rotational internship. The entire MBBS syllabus has been divided into a total of nine semesters. These nine semesters will be for a period of 6 months each. There will be approximately 120 teaching days in each semester.
MBBS Syllabus - Medicine Subjects Phase wise details
The Medical aspirants can refer to the table below, for a better understanding of how the MBBS course duration is divided into phases.
Phases of MBBS Syllabus
| | | |
| --- | --- | --- |
| Phase | Semester | Details |
| Phase I | 2 semesters | Pre-Clinical Subjects |
| Phase II | 3 semesters | Para-clinical and Clinical subjects |
| Phase III | 4 semesters | Continuation of the study of clinical subjects for 7 semesters after passing semester I |

How to get admission to the MBBS course?
In order to get admission to the MBBS course, candidates must qualify for the NEET UG exam. Earlier, there were other options like AIIMS MBBS and JIPMER MBBS, but from 2020, these have also been brought under the ambit of NEET. This makes the NEET, a single national medical entrance examination at the undergraduate level. For admission to undergraduate medical courses, the aspirants need to appear for the medical entrance test and qualify by securing the NEET cutoff.
Division of MBBS Syllabus
It is already aforementioned that the syllabus of MBBS has been divided into three phases. In the table below we have compiled the subjects that are to be taught under these phases, for the reference of candidates.


Subjects covered in the MBBS syllabus

Phase

Semesters

Subjects covered

Pre-Clinical

1-2: two semesters

Anatomy, Biochemistry, Physiology

Para-Clinical

3-5: three semesters

Community Medicine; Forensic Medicine, Pathology, Pharmacology, Microbiology, Clinical postings inwards, OPDs to begin here;

Clinical

6-9: four semesters

Community Medicine, Medicine and allied subjects (Psychiatry, Dermatology), Obstetrics and Gynaecology; Paediatrics

Surgery and allied subjects (Anesthesiology, ENT, Ophthalmology, Orthopedics);

Clinical postings

MBBS Syllabus - Division of subjects covered
Candidates can refer to the table below to understand the division of subjects in these three phases.
Division of subjects
Phase

Subject

Topics

Pre-Clinical

Anatomy

Gross anatomy, Microanatomy, Embryology and Genetics, Neuroanatomy

Biochemistry

Biological cell, Biomolecules, Enzymes, Metabolic pathways, their regulation and metabolic interrelationships, Food assimilation and nutrition, Hormones, Molecular Biology, Molecular Biology, Immunology, Environmental biochemistry, cancer and cancer makers

Physiology

General Physiology, Nerve–Muscle, Blood, Respiratory System, Cardiovascular System, Gastrointestinal System, Nutrition, Environmental Physiology, Reproduction, Kidney, Neurophysiology, Yoga

Para-clinical

Forensic Medicine & Toxicology

Forensic Medicine, Toxicology

Microbiology

Microbiology, Bacteriology, Bacterial Staining and Cultivation, Common Tests for Bacterial identification, parasitology, Virology, Laboratory Diagnosis of Viral Infection, Mycology, Common Laboratory Methods for Diagnosis of Fungal Infections, Collection of Transport of Samples, Host-Parasite relationship, Bacterial and Viral Genetics, Immunity to infection, Immunodiagnosis, Vaccines, Sterilisation and disinfection, Bacteriology of water and air, Microorganisms associated with gastrointestinal infections, Gastrointestinal infections caused by parasites

Pathology

General Pathology, Systemic Pathology, Practical

Pharmacology

General Pharmacology, Autonomic nervous system & Peripheral nervous system, Central nervous system, Autacoids, Cardiovascular system, Gastrointestinal and respiratory system, Hormones, Chemotherapy, Miscellaneous

Clinical

Anesthesiology

Preoperative evaluation & optimization, Skills I/V, Cannulation, Oropharyngeal/Nasopharyngeal Airway insertion, Bag Mask Ventilation, Attaching pulse oximeter, BP cuff and ECG electrodes and setting up a monitor

Community Medicine

Behavioral Sciences, Health Education, Environment, Biostatistics, Epidemiology, Nutrition, Maternal & Child Health, Rehabilitation, Epidemiology of Communicable Diseases And Non-communicable Diseases, Important National Health Programmes, Occupational Health, Health Administration, Health Economics, Geriatrics, Counselling

Dermatology and Venereology

Ineffective dermatoses, Infective dermatoses, Infestations, Melanin synthesis, Allergic disorders, Drug eruptions, urticaria, erythema multi-forme, Vesiculo-bullous diseases, Epidermopoisis, Psoriasis, Pathogenesis, Syphilis, Gonococcal and Non-gonococcal infections, HIV infection, Dermatological Emergencies

Medicine

Clinical Pharmacology, Nutritional and metabolic disorders, Water, electrolyte and acid-base imbalance, Critical care Medicine, Pain management and palliative care, Medical Psychiatry, Poisonings, Specific environmental and occupational hazards, Immune response and Infections, Cardiovascular system

Obstetrics & Gynaecology

Basic Sciences, Obstetrics, Gynaecology, Contraception, Neonatology and Recent Advances

Ophthalmology

Microbiology in relation to eye, Pathology in relation to eye, Pharmacology in relation to eye, Disorders of the Lid, Disorders of the Lacrimal Apparatus, Conjunctivitis & Ophthalmia Neonatorum, Trachoma & Other chronic conjunctivitis, Keratitis and corneal ulcers, Corneal ulcer, Scleritis & Episcleritis

Orthopaedics

Pediatric orthopaedics, Orthopaedic oncology, Management of Trauma, Sports Medicine, Physical Medicine and Rehabilitation, Orthopedic Neurology, Disorders of Spine, Radiology, Fracture

Otorhinolaryngology

Oral cavity and oropharynx, Ear, Instruments, Operative Procedures, X-ray

Pediatrics

Vital statistics, Growth and development, Nutrition, Immunization, Infectious diseases, Hematology, Respiratory system, Gastro Intestinal Tract, Central Nervous System, Cardiovascular system, Genito-Urinary system, Neonatology, Pediatrics Emergencies, Fluid-Electrolyte, Genetics, Behavioral Problems, Pediatrics Surgical Problems, Therapeutics

Psychiatry

Behavioural Sciences, Emotion and its application to health, Cognitive process and memory, psychiatric disorders, personality disorders, Schizophrenia, Bipolar disorders, Depression, Anxiety neurosis, phobia and OCD

Surgery

Skin, Head and Neck region, Arteries, Veins, Breast, Oesophagus, Stomach and duodenum, Small intestine, Colon and rectum, Appendix, Acute abdomen, Urology

MBBS Syllabus - 12 months rotatory internship
In order to successfully complete the MBBS course, it is extremely essential that candidates complete their one-year rotatory internship. When candidates are under the internship period, they will be provided with hands-on experience of how things work in their field. They will also be taught how to maintain interpersonal relations with their patients. During this internship session, emphasis will be laid on hands-on experience. Also, the department that is concerned will be maintaining a daily logbook for each candidate. The postings will keep on changing at intervals, the scheme of which is mentioned in the table below.
Internship postings

| | |
| --- | --- |
| Speciality | Duration |
| Medicine | 1.5 months |
| Surgery | 1.5 months |
| Rural | 3 months |
| Pediatrics | 1 month |
| Obstetrics and Gynaecology | 1 month |
| Casualty | 1 month |
| Anaesthesiology | 15 days |
| Ophthalmology | 15 days |
| Elective | 2 months |
| Total | 12 months |

MBBS Scope
After the completion of the aforementioned syllabus of MBBS during Bachelor degree, deserving aspirants can get opportunities for earning in some of the following areas, in which they can get a better scope.
Hospitals
Laboratories
Biomedical companies
Nursing homes
Medical colleges
Health centres
Pharmaceutical and Biotechnology companies
MBBS Career Opportunities
Candidates after completing their MBBS wish to get jobs in reputed companies across the nation and globe. There are a lot of job opportunities for deserving aspirants in the private and public sectors. Everyone has the opportunity to grab the below-mentioned jobs.
Doctors
Junior Doctors
Physicians
Junior Surgeons
Medical Professors or Lecturers
Researcher
Scientists
MBBS Specialisations
Some major MBBS specialization areas are:
General Medicine
General Surgery
Pediatrics
Obstetrics and Gynecology
Dermatology
Ophthalmology
Orthopaedics
ENT
Psychiatry
Anesthesiology
Plastic Surgery
Neuro Surgery
Cardio-Thoracic surgery
Continuos Urinary surgery
Pediatric Surgery
Gastroenterology
Endocrinology
Clinical Hematology
Nephrology
Cardiology
Immunology
Craniologist
Pathologist
Also read:
Frequently Asked Question (FAQs) - MBBS Syllabus (Semester-Wise): Medicine Subjects, Topics and FAQs
Question: Can I get admission into MBBS course without clearing NEET?
Answer:
No, to get admission to the MBBS course, students must appear and qualify for NEET exam.
Question: How many sections are covered in how many sections?
Answer:
The syllabus of MBBS is covered into three phases - Pre-Clinical, Para-Clinical and Clinical subjects.
Question: How many topics are covered under Pre-Clinical, Para-Clinical and Clinical subjects?
Answer:
Only the topics from Pre-Clinical, Para-Clinical and Clinical subjects are covered in the MBBS syllabus.
Question: What is the duration of MBBS course?
Answer:
Candidates appearing for MBBS must complete five and a half year of theoretical as well as practical knowledge. Along with that, aspirants are also required to complete one year of compulsory internship on a rotatory basis.
Question: How important is the MBBS syllabus for preparing for NEET PG, INI CET?
Answer:
The questions asked in PG entrance examination is based on the syllabus of MBBS, thus it is mandatory for candidates to learn the fundamentals and concepts of MBBS curriculum.
Questions related to NEET
Showing 116683 out of 116683 Questions