How to Prepare for NEET Biology – Preparation Tips for NEET 2021, Syllabus, Expert Opinion
How to Prepare for NEET Biology 2021 - Medical aspirants who are preparing for NEET 2021 this year should be aware of the tips to crack it. The biology section in the NEET 2021 question paper comprises 90 questions offering a total of 360 marks. So to achieve the best possible results, aspirants can follow the preparation tips for NEET Biology. Aspirants are advised to start their preparation of Biology for NEET 2021 as early as they can. The NEET Biology syllabus carries equal distribution of questions from Class 11 and Class 12. Preparation for NEET 2021 Biology requires a candidate to go through the NCERT as the syllabus and questions for the Biology are almost entirely based on it. Candidates undergoing their Biology preparation for NEET 2021 must understand the concepts included in the syllabus and practice the questions based on their application.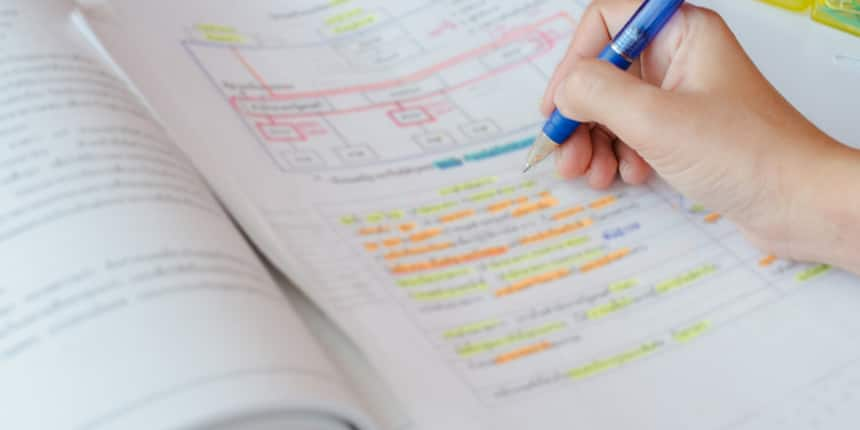 After the analysis of experts on the NEET 2021 Biology question paper experts analyzed that the difficulty level of the NEET has increased over the years. So aspirants have to prepare for NEET Biology 2021, accordingly. Aspirants seeking tips and tricks on the preparation of NEET Biology can check the preparation strategies from the article below.
Preparation strategies for NEET 2021 Biology
Aspirants can go through stepwise preparation strategies for NEET Biology 2021 from the below-mentioned table.
10 tips to prepare for NEET 2021 Biology
| | |
| --- | --- |
| Sl no. | Preparation tips for NEET Biology |
| 1 | Know and divide the NEET syllabus 2021 |
| 2 | Chalk out the important topics |
| 3 | Plan out the study schedule |
| 4 | Choosing the best NEET 2021 Biology Books |
| 5 | Design tables and charts |
| 6 | Practice earnestly |
| 7 | Take up mock tests |
| 8 | Revise Regularly |
| 9 | Tips from the topper |
| 10 | Experts opinion |

Detailed preparation tips for NEET Biology
Aspirants can go through the below mentioned preparation tips of Biology for NEET 2021 in a detailed way. Going through and following the NEET 2021 Biology preparation tips will surely boost up the preparation level of the aspirants.
1. NEET Biology preparation tips - Know and divide the syllabus
Candidates preparing for Biology must be familiar with the fact that the syllabus of Biology for NEET 2021 is vast and requires deep understanding. The Biology portion of the NEET 2021 syllabus comprises around 38 chapters from the curriculum of Class 11 and 12 combined. So, it is very necessary for the candidates to break up the syllabus into smaller sections in order to prepare for NEET Biology. A class-wise detailed description of the syllabus for NEET Biology preparation 2021 and candidates' reference purpose are below-mentioned in the table.
Syllabus for NEET 2021 Biology
Class 11

Class 12

Topic / Chapters

Topic / Chapters

Chapter-1: The Living World

Chapter-1: Reproduction in Organisms

Chapter-2: Biological Classification

Chapter-2: Sexual Reproduction in Flowering Plants

Chapter-3: Plant Kingdom

Chapter-3: Human Reproduction

Chapter-4: Animal Kingdom

Chapter-4: Reproductive Health

Chapter-5: Morphology of Flowering Plants

Chapter-5: Principles of Inheritance and Variation

Chapter-6: Anatomy of Flowering Plants

Chapter-6: Molecular Basis of Inheritance

Chapter-7: Structural Organisation in Animals

Chapter-7: Evolution

Chapter-8: Cell-The Unit of Life

Chapter-8: Human Health and Diseases

Chapter-9: Biomolecules

Chapter-9: Strategies for Enhancement in Food Production

Chapter-10: Cell Cycle and Cell Division

Chapter-10: Microbes in Human Welfare

Chapter-11: Transport in Plants

Chapter-11: Biotechnology - Principles and Processes

Chapter-12: Mineral Nutrition

Chapter-12: Biotechnology and its Application

Chapter-13: Photosynthesis in Higher Plants

Chapter-14: Respiration in Plants

Chapter-13: Organisms and Populations

Chapter-15: Plant - Growth and Development

Chapter-14: Ecosystem

Chapter-15: Biodiversity and its Conservation

Chapter-16: Digestion and Absorption

Chapter-16: Environmental Issues

Chapter-17: Breathing and Exchange of Gases

Chapter-18: Body Fluids and Circulation

Chapter-19: Excretory Products and Their Elimination

Chapter-20: Locomotion and Movement

Chapter-21: Neural Control and Coordination

Chapter-22: Chemical Coordination and Integration
2. NEET Biology preparation tips - Chalk out the important topics
Aspirants are advised to prepare with the important topics of Biology for NEET 2021. For the convenience of aspirants, the class-wise NEET 2021 Biology important topics have been listed below, aspirants can go through it.
Class 11th: Important topic of Biology for NEET preparation
Plant Kingdom
Questions from different types of algae and their pigments

General characters of pteridophytes and gymnosperms
Biological classification
General features of Monera, Protista, Fungi
Structural organization in plants and animals
Root, stem, and leaf anatomy

Animals tissues and their functions, specifically epithelial tissues
Cell: Structure & Functions
Mycoplasma, nucleus, chromosomes, ribosomes, chloroplast, and mitochondria

Meiosis - Prophase I
Plant physiology
C3, C4 cycle

Kranz anatomy

Glycolysis and Krebs cycle

ETS complexes

Photoperiodism

Transpiration pull

Bulk movement in Phloem

Mineral deficiency & Nitrogen cycle
Animal/Human Physiology
All topics specifically diagrams are very important
Class 12th: Important topic of Biology for NEET preparation 2021
Reproduction
Gametogenesis in plants

Gametogenesis in humans

Reproductive structures in plants and animals

Polyembryony, Parthenocarpy, apomixis

Menstrual cycle
Genetics & evolution
Dihybrid cross, linkage

Codominance

Pedigree analysis

Genetic disorders

Darwinism and natural selection

Human evolution
Biotechnology
Process and applications

BT cotton, RNAi, Human insulin, Gene therapy, molecular diagnostics
Biology in human welfare
Human immunity

AIDS, Cancer

Drugs
Ecology and environment
Environmental issues

Biogeochemical cycles

Population interactions

Adaptations

Succession
3. NEET 2021 Biology preparation tips - Plan out the study schedule
"A clear vision, backed by definite plans, gives you a tremendous feeling of confidence and personal power." a quote by Brian Tracy. Keeping that in mind every aspirant needs to plan out their study schedule during the preparation of NEET Biology.An effective plan of study goes a long way especially when it comes to preparing for NEET 2021 Biology. Aspirants should plan the study schedule of NEET Biology 2021, keeping the entire syllabus in their mind. So that they will not miss any portion of the NEET Biology syllabus. The time for each of the topics within the syllabus of NEET 2021 must be allocated according to the importance of the topics. It is also important that one adheres to the study schedule and includes changes in it as one progresses.
4. Preparation tips of NEET 2021 Biology - Choose the best books
The market is full of abundant books for NEET Biology preparation. Selecting the best books is the most important aspect for NEET Biology preparation 2021. The quality of resources that one utilizes for NEET 2021 preparation is reflected in the score aspirants will get in the exam. In the opinion of many toppers and experts, the NCERT should form the base of one's understanding of concepts of the NEET Biology. However, to refine the preparation of NEET 2021 for Biology aspirants must also try to include the books mentioned below in the table.
Best books for NEET 2021 Biology
| | |
| --- | --- |
| Sl no. | Name & author of Biology books |
| 1 | Biology Vol 1 and Vol 2 by Trueman |
| 2 | Objective Biology by Dinesh |
| 3 | Objective Botany by Ansari |
| 4 | Pradeep Guide on Biology |
| 5 | Objective NCERT at Your Fingertips by MTG |
5. NEET Biology preparation tips - Design tables and charts
Albert Einstein once said that "Creativity is intelligence having fun." Which means solving or understanding the problems in a creative way or to design the brain in a way that helps to solve problems. Experts also advise to summarize the study in the form of charts and tables, that will act as a quick revision strategy of the NEET syllabus 2021 for Biology preceding the exam days. Utilizing personal keywords of NEET 2021 Biology subjects will enable us to remember and would easily prove to be the most useful. During the NEET Biology preparation try and include important applications and examples in these charts. Practice more and more diagrams of NEET Biology 2021 and paste them around to keep a regular revision and also to give color to the study space.
6. NEET 2021 Biology preparation tips - Practice earnestly
Aspirants preparing NEET Biology 2021 mandatorily have to develop the habit of intense practice. Understanding of concepts in the theory can only be implemented through practice. A number of NEET sample papers and previous year question papers should be solved to acquire an idea about the pattern of questions that will be asked.
7. NEET Biology preparation tips 2021 - Take up mock tests:
National Testing Agency is to set up practice centers for NEET 2021 preparation across the country in various places so that candidates can practice taking online tests. Aspirants should, therefore, take up as many mock tests as possible to enhance their preparation for NEET Biology.
8. NEET 2021 Biology preparation - Revise Regularly
To reap the proper benefits of studying and practicing for NEET Biology, one should keep revising at regular intervals. This ensures that whatever has been studied stays fresh in the memory. Candidates should make it a point to revise the entire syllabus several times before the exams so as to be thorough with each concept included in each topic. The regular revision also allows one to keep track of the progress of the study.
9. Prepare for NEET Biology 2021 – Tips from toppers
AIR 1, Kalpana Kumari who achieved the perfect score in NEET Biology in 2018 mentioned that she followed NCERT, regular practice and the notes provided at her coaching institute and said, "I never faced difficulty in Biology but you need to give equal time to this section as well since it carries 360 marks".
AIR 3, Himanshu Sharma, who scored 350 out of 360, considered NEET Biology to be a moderately tough section and said, "Since some of the questions in Biology were asked from outside the NCERT textbooks". He referred to have studied authored books apart from the NCERT for preparation of NEET Biology.
Krishna Ashish Agarwal, NEET 2018 AIR 7, said, "If you want to clear NEET then Biology is the most important section". He believed that solving practice papers helped him in scoring 350 out of 360 in NEET Biology.
10. NEET 2021 Biology preparation tips - Expert Opinion
Academic expert and Head of T.I.M.E. Chennai, Anand Nagarajan, says, "For NEET Biology, reading and re-reading NCERT textbooks is very important. NEET 2021, without doubt, is a Biology-centric test with 50% of the questions coming from the subject. All chapters of NEET 2021 Biology are equally important. Note down and memorize the common and scientific names of the organisms while reading. Developing a strong conceptual understanding will help students score well in Biology in NEET".
Aakash Choudhary, Director of Aakash Educational Services, shares his take on NEET Biology preparation 2021 with Careers360 and says, "For NEET 2021 Biology Prepare 'Human Physiology', 'Plant Physiology', 'Cell Biology', and 'Biomolecules' from Class XI syllabus according to previous questions in NEET. Moreover, 'Animalia' and 'Plantae' must be given special attention as they are comparatively tough topics. The main emphasis, however, should be on characteristics of non-chordate and chordate phyla along with their examples. Also, memorize the common and scientific names of the organisms. Exercise as many numerical problems from 'Genetics' as you can along with the pedigree chart. You must also establish a strong understanding of conceptually about 'Biotechnology' and 'Ecology'".
The preparation strategies mentioned for NEET Biology 2021 as well as the opinions of experts and toppers are likely to assist aspirants in achieving the desired score in the Biology section of NEET 2021.
Questions related to NEET
Showing 102021 out of 102021 Questions