MBBS vs BDS - Which is better Career Option BDS or MBBS
MBBS vs BDS - The results of the Boards exam has been announced for almost all state and central boards. Aspirants passing their Class 12 with Physics, Chemistry, Biology (PCB) in their boards, and are dreaming of becoming a doctor must be confused about opting for the best course between the MBBS and BDS. As by opting one among both MBBS vs BDS courses, graduates serve the nation and take care of health and hygiene. Due to limited knowledge, any aspirants even thinking of becoming a doctor end up opting for the MBBS course but BDS is also the best alternative. However, BDS graduates are termed as a dental surgeon, not the doctor but they can use a doctor in front of their name. As dentists are not prevented from using a doctor entirely and many of the dentists use doctors in front of their names.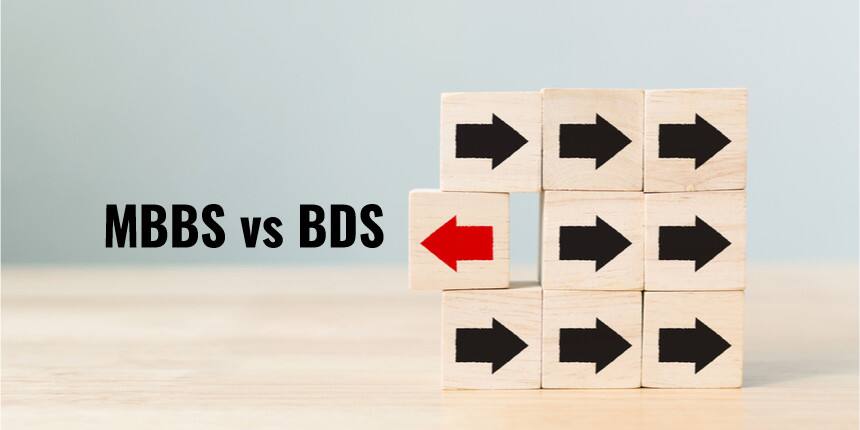 Both the MBBS and BDS courses have their own advantages, so aspirants must know the details about the course before taking the admission. In order to know the details about the aspect of the courses, aspirants can go through the article on MBBS vs BDS to know the major difference between the courses.
MBBS vs BDS - Full form
MBBS is commonly abbreviated as Bachelor of Surgery, Bachelor of Medicine. MBBS originated from its Latin name, Medicinae Baccalaureus, Baccalaureus Chirurgiae. In India, MBBS is the predominant medical undergraduate course and one of the most sought routes for becoming a doctor of modern medicine in the country.
BDS is commonly abbreviated as a Bachelor of Dental Surgery degree. In order to pursue dentistry after class 12th BDs are the most designated degree courses in India. After completion of the course, dental graduates take care of the oral hygiene of patients.
MBBS vs BDS - Brief about the course
In India, the MBBS course is the most demanding and most sought undergraduate medical course among Class 12 Science (PCB) students. To become a doctor in India, aspirants have accepted that MBBS is the best route to go with. MBBS is the only certified course to become a modern medicine doctor. Admission in MBBS course will be granted in the colleges recognized by the Medical Council of India (MCI).
In the health sector after MBBS, one of the most desirable courses is a Bachelor of Dental Surgery, also known as, BDS. Candidates who wish to groom their careers in the dentistry course after 12th need to opt for the BDS course in their Undergraduate. The curriculum of BDS is being regulated by the Dental Council of India.
MBBS vs BDS - Course duration
MBBS is an undergraduate medical degree for aspirants seeking to become doctors. The MBBS course duration is 5.5 years out of which four and a half years are theory-based and one year of mandatory internship.
During the MBBS internship duration, aspirants are supposed to participate in various hospital wards training. During this period aspirants use to have the real-time experience of their theoretical knowledge.
BDS is an undergraduate course awarded after five years of duration. Out of the five years of BDS degree duration, four years will be for theory and one year will be for a rotatory internship.
MBBS vs BDS - Admission process
In order to get admission into these medical or dental courses in India, students have to qualify 12th with Physics, Chemistry & Biology by scoring a minimum of 50% aggregate marks for General whereas it is 40% in the case of reserved category.
National Eligibility cum Entrance Test (NEET) is a single entrance test conducted for granting admission to 82,926 MBBS, 26,949 BDS, and other undergraduate medical seats offered by 542 medical, 313 dental, and various other colleges in India. NEET 2020 will be conducted on September 13, in offline mode from 2:00 PM to 5:00 PM. As it is known that admission is solely granted on the basis of NEET then what makes the difference in the admission process of MBBS and BDS?
The counseling for both the courses, the MBBS and BDS will be totally different and aspirants have to separately register for this. On the basis of application filled, merit list, counseling process admission will be granted in the medical and dental colleges across the nation.
MBBS vs BDS - Syllabus
Aspirants can go through the below-mentioned syllabus for both the MBBS and BDS.
Specialty wise MBBS syllabus
Phase

Subject

Topics

Pre-Clinical

Anatomy

Gross anatomy, Microanatomy, Embryology, and Genetics, Neuroanatomy

Biochemistry

Biological cell, Biomolecules, Enzymes, Metabolic pathways, their regulation, and metabolic interrelationships, Food assimilation, and nutrition, Hormones, Molecular Biology, Molecular Biology, Immunology, Environmental biochemistry, cancer and cancer makers

Physiology

General Physiology, Nerve–Muscle, Blood, Respiratory System, Cardiovascular System, Gastrointestinal System, Nutrition, Environmental Physiology, Reproduction, Kidney, Neurophysiology, Yoga

Para-clinical

Forensic Medicine & Toxicology

Forensic Medicine, Toxicology

Microbiology

Microbiology, Bacteriology, Bacterial Staining and Cultivation, Common Tests for Bacterial identification, parasitology, Virology, Laboratory Diagnosis of Viral Infection, Mycology, Common Laboratory Methods for Diagnosis of Fungal Infections, Collection of Transport of Samples, Host-Parasite relationship, Bacterial, and Viral Genetics, Immunity to infection, Immunodiagnosis, Vaccines, Sterilisation and disinfection, Bacteriology of water and air, Microorganisms associated with gastrointestinal infections, Gastrointestinal infections caused by parasites

Pathology

General Pathology, Systemic Pathology, Practical

Pharmacology

General Pharmacology, Autonomic nervous system & Peripheral nervous system, Central nervous system, Autacoids, Cardiovascular system, Gastrointestinal and respiratory system, Hormones, Chemotherapy, Miscellaneous

Clinical

Anesthesiology

Preoperative evaluation & optimization, Skills I/V, Cannulation, Oropharyngeal/Nasopharyngeal Airway insertion, Bag-Mask Ventilation, Attaching pulse oximeter, BP cuff, and ECG electrodes and setting up a monitor

Community Medicine

Behavioral Sciences, Health Education, Environment, Biostatistics, Epidemiology, Nutrition, Maternal & Child Health, Rehabilitation, Epidemiology of Communicable Diseases And Non-communicable Diseases, Important National Health Programmes, Occupational Health, Health Administration, Health Economics, Geriatrics, Counselling

Dermatology and Venereology

Ineffective dermatoses, Infective dermatoses, Infestations, Melanin synthesis, Allergic disorders, Drug eruptions, urticaria, erythema multiforme, Vesiculo-bullous diseases, Epidermopoiesis, Psoriasis, Pathogenesis, Syphilis, Gonococcal and Nongonococcal infections, HIV infection, Dermatological Emergencies

Medicine

Clinical Pharmacology, Nutritional and metabolic disorders, Water, electrolyte and acid-base imbalance, Critical care Medicine, Pain management and palliative care, Medical Psychiatry, Poisonings, Specific environmental and occupational hazards, Immune response and Infections, Cardiovascular system

Obstetrics & Gynaecology

Basic Sciences, Obstetrics, Gynaecology, Contraception, Neonatology and Recent Advances

Ophthalmology

Microbiology in relation to eye, Pathology in relation to eye, Pharmacology in relation to eye, Disorders of the Lid, Disorders of the Lacrimal Apparatus, Conjunctivitis & Ophthalmia Neonatorum, Trachoma & Another chronic conjunctivitis, Keratitis and corneal ulcers, Corneal ulcer, Scleritis & Episcleritis

Orthopedics

Pediatric orthopedics, Orthopaedic Oncology, Management of Trauma, Sports Medicine, Physical Medicine and Rehabilitation, Orthopedic Neurology, Disorders of Spine, Radiology, Fracture

Otorhinolaryngology

Oral cavity and oropharynx, Ear, Instruments, Operative Procedures, X-ray

Pediatrics

Vital statistics, Growth and development, Nutrition, Immunization, Infectious diseases, Hematology, Respiratory system, Gastro-Intestinal Tract, Central Nervous System, Cardiovascular system, Genito-Urinary System, Neonatology, Pediatrics Emergencies, Fluid-Electrolyte, Genetics, Behavioral Problems, Pediatrics Surgical Problems, Therapeutics

Psychiatry

Behavioural Sciences, Emotion and its application to health, Cognitive process and memory, psychiatric disorders, personality disorders, Schizophrenia, Bipolar disorders, Depression, Anxiety neurosis, phobia, and OCD

Surgery

Skin, Head and Neck region, Arteries, Veins, Breast, Oesophagus, Stomach and duodenum, Small intestine, Colon and rectum, Appendix, Acute abdomen, Urology
BDS (Bachelor of Dental Surgery) Syllabus
First Year of BDS
General Human Anatomy including Embryology and Histology

General Human Physiology and Biochemistry, Nutrition and Dietetics

Dental Anatomy Embryology and Oral Histology

Dental Materials

Pre-clinical Prosthodontics and Crown & Bridge
Second Year of BDS
General Pathology and Microbiology

General and Dental Pharmacology and Therapeutics

Dental Materials

Preclinical Conservative Dentistry

Pre-clinical Prosthodontics and Crown & Bridge

Oral Pathology & Oral Microbiology
Third Year of BDS
General Medicine

General Surgery

Oral Pathology and Oral Microbiology

Conservative dentistry and Endodontics

Oral & Maxillofacial Surgery

Oral Medicine and Radiology

Orthodontics & Dentofacial Orthopaedics

Paediatric & Preventive Dentistry

Periodontology

Prosthodontics and Crown & Bridge
Fourth Year of BDS
Orthodontics & Dentofacial Orthopaedics

Oral Medicine & Radiology

Paediatric & Preventive Dentistry

Periodontology

Oral & Maxillofacial Surgery

Prosthodontics and Crown & Bridge

Conservative Dentistry and Endodontics

Public Health Dentistry
MBBS vs BDS - Top 10 colleges
Aspirants can go through the below mentioned top medical and dental colleges of India for MBBS and BDS admission in India.
Top medical (MBBS) colleges in India
Top dental (BDS) colleges in India
MBBS vs BDS - Career opportunities
Aspirants can go through the below-mentioned careers opportunity after pursuing the MBBS and BDS course.
Career after MBBS
Candidates after completing their MBBS degree successfully wishing to get jobs in reputed companies across the nation and globe should know the career opportunities after MBBS. There are a lot of job opportunities for deserving and qualified aspirants in the private and government sectors. Everyone has the opportunity to grab the below-mentioned jobs.
Doctors

Junior Doctors

Physicians

Junior Surgeons

Medical Professors or Lecturers

Researcher

Scientists
Career after BDS
There are plenty of job options available for the BDS graduate. Aspirants after successful completion of a BDS degree can work in both the private and government sector of the country. Aspirants can go through the below-mentioned opportunity after completing the BDS.
Set up a private practice

Consultant

Teaching

Oral consultant

Oral surgeon, and many more.
Frequently Asked Question (FAQs) - MBBS vs BDS - Which is better Career Option BDS or MBBS
Question: Is it necessary to clear NEET for both MBBS and BDS?
Answer:
Yes, only NEET qualified candidates will be considered for admission to the BDS course and MBBS course. Please note that the qualifying percentile and marks will be different for different categories.
Question: How many marks are required in NEET for MBBS and BDS admission?
Answer:
The cutoff marks depend on various factors like the category of the candidate, sanctioned seats, the performance of candidates in the exam. Also, the cutoff varies from one year to another.
Question: Why is comparing MBBS vs BDS necessary?
Answer:
Due to limited knowledge, any aspirants even thinking of becoming a doctor end up opting for the MBBS course but BDS is also the best alternative.
Question: Who regulates MBBS and BDS education in India?
Answer:
The Medical Council of India (MCI) regulates the MBBS education, whereas the curriculum of BDS is being regulated by the Dental Council of India.
Questions related to NEET
Showing 88789 out of 88789 Questions