NEET 2020 Topper Interview "Don't let yourself down in any situation is the key" says Durgam Yashvanth AIR 59
NEET 2020 Topper Interview: After a long wait, when the NEET 2020 result was finally announced, it filled Durgam Yashvanth and his family with immense joy. Durgam Yashvanth has emerged as NEET 2020 topper and got an impressive AIR 59. The young lad from Andhra Pradesh aspires to take admission at AIIMS Delhi. Shaik got 701 marks in his NEET 2020 result. Sheer perseverance and consistency with which he solved the questions after consistently preparing for the NEET 2020 exam proved to be a boon for him on the day of the exam. When people were going through the anxiety due to the lockdown that was caused because of COVID 19 pandemic, Durgam Yashvanth focussed on revision and taking NEET mock tests. Apart from that he did not let himself get demotivated if he did not perform well in the mock tests. Read the full interview of NEET 2020 topper Durgam Yashvanth to know all the aspects of his preparation for the NEET exam.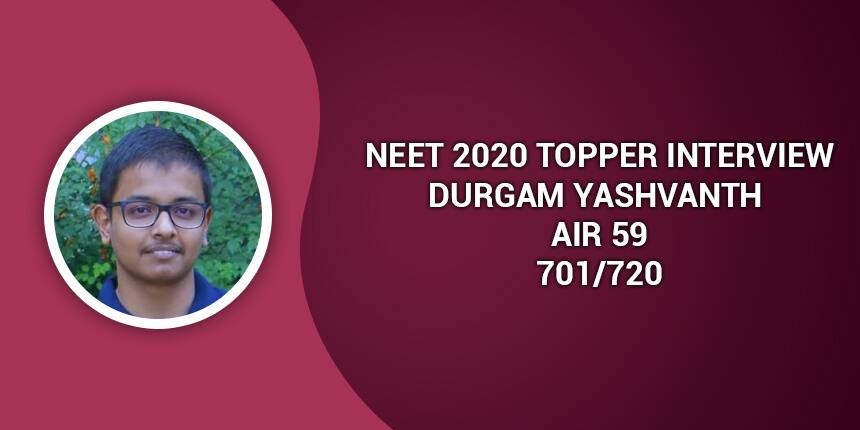 Latest: NEET 2020 result has been declared on October 16. Also check NEET 2020 Cutoff.
Careers360 - Congratulations on your NEET result! What are your feelings on this achievement?
Durgam Yashvanth - I am very happy about this.
Careers360 - What motivated you to choose medicine as a career? When did you decide to become a doctor?
Durgam Yashvanth - I was in 6th standard when I decided to become a doctor and I was motivated by society.
Careers360 - Is this your first attempt? When did you start your preparations for the NEET exam? How did you go about it?
Durgam Yashvanth - This was my first attempt for the neet exam and i was preparing from 11th standard.
Careers360 - The lockdown was announced in March and things changed. How did you prepare for NEET 2020 during COVID-19? How did it affect your preparation? What was the most striking thing during this preparation?
Durgam Yashvanth - lockdown was so much difficult after that, but I adjusted myself and followed my time table strictly. 1 month before the exam i was suffering from fever but still i rework on that.
Careers360 - Did you take any coaching for NEET 2020? How was the coaching affected because of the lockdown and how did you keep in touch with your teachers for doubts and regular lessons?
Durgam Yashvanth - I was taken coaching from sri chaitanya. Online classes go 3-4 hrs every day and the remaining time I use to devote myself to self study. In lockdown time to revision programs for going on and during that revision program add multiple choice questions i use to connect each of my lectures in my whatsapp for my doubt clarification.
Careers360 - What was your daily routine for NEET before lockdown and after? How much time did you devote to self-study because coaching can only teach you but you have to do the work?
Durgam Yashvanth - my routine was almost the same before or after lockdown, i used to get up by 4 O'Clock and sleep by before 10 O'Clock. This is right, I used to give time to self study for 6-7 hrs.
Careers360 - Which subject is your weak one and in which are you strong?
Durgam Yashvanth - I am not good in physics and my good command over biology.
Careers360 - How was the preparation different from the early days to just a month before NEET exam?
Durgam Yashvanth - I used to do a free mock test every day before the 1 month exam and rest are the same.
Careers360 - What was your exam day strategy? What was the roughest and the easiest section according to you?
Durgam Yashvanth - Exam day i started with biology than chemistry than physics. Biology was easy paper with one or two tricky questions and chemistry was easy but one question of periodic table i didn't and in physics two questions were misleading so i lost that. Some theoretical questions in physics were difficult and biology was most easy even the previous year questions.
Careers360 - Which college is your dream college for studying medicine? What is your aspiration in the field of medicine and which specialization would you be interested in?
Durgam Yashvanth - AIIMS Delhi is my dream college. I would like to be a cardiologist after my MBBS from AIIMS Delhi.
Careers360 - How did your family support you and motivate you during this stressful lockdown period? How did you de-stress during your preparation?
Durgam Yashvanth - My other supported me a lot during the lockdown period and she motivated me a lot not to lose my confidence during the preparation. I used to take a walk after my dinner and saw some motivational quotes for de-stress myself.
Careers360 - What would you suggest to future NEET aspirants in terms of preparation, attitude etc?
Durgam Yashvanth - Mostly i suggest the biology to read the NCERT itself, not doing much beyond.
Questions related to NEET
Showing 95755 out of 95757 Questions