NEET 2018 question paper - Download Question paper with solutions pdf
NEET 2018 question paper: The National Testing Agency (NTA) releases the question paper for NEET on their official website, neet.nta.nic.in. The NEET question paper 2018 is available in pdf form on this page. Aspirants can download the NEET UG question paper and start solving previous years' papers.
Stay up-to date with NEET News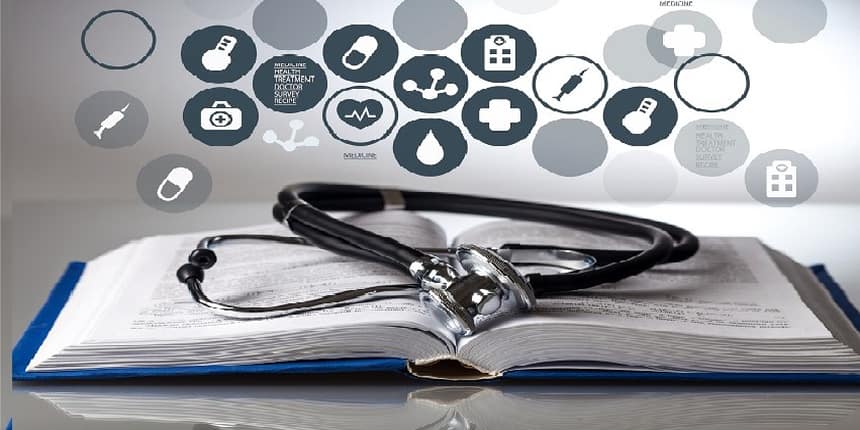 NEET UG is conducted for admission to medical, dental, AYUSH and BSc nursing courses in India. A total of 180 questions were asked from the subjects Physics, Chemistry, Biology in the NEET question paper 2018. 45 questions were asked each from Physics and Chemistry whereas 90 questions were asked from Biology section.
Along with the previous year question paper, candidates must also be aware of the NEET UG syllabus. NEET question paper 2018 pdf is available in 10 languages with codes. Candidates can read the article to know how to download NEET question paper 2018.
Also read:
NEET question paper 2018: All PDF
Given in the table below are the NEET question paper 2018.
NEET question paper 2018
Codes

Question paper

Answer key

Code AA

CodeBB

Code CC

Code DD

Code EE




Code FF

Code GG

Code HH

Code KK

Code LL

Code MM

Code NN

Code PP

Code QQ

Code RR

Code SS

Code WW




Code XX

Code YY

Code ZZ
NEET question paper 2018: All Languages
Candidates can download the NEET 2018 question paper in hindi or their preferred language here.
Importance of NEET 2018 question paper
Candidates get to know the exam pattern, level of questions asked, marking policy, etc.

Candidates will make themselves prepared to solve the question paper within the time limit.

Aspirants can learn the weightage of topics which will help them to prepare the topics well.

Candidates can evaluate their performance and focus on the weak topics.

Solving previous year's question paper is a must to boost up the confidence level.

Candidates can learn time management.
NEET 2018 question paper: How to prepare from them?
Solving previous years question papers increases the paper solving speed while letting the candidate understand the type of questions asked. Candidates must solve previous year's question papers to give a boost to their NEET preparations.
NEET 2018 question paper with solutions pdf is available in different codes. Solve a paper daily.

Try to complete the paper within the time limit.

Read the questions carefully before answering them.

Note the important points/ formulas/ reactions on the flash cards.
To prepare well for the upcoming NEET examination, candidates must be aware of the updated exam pattern. The exam pattern followed in NEET UG is mentioned in the table below.
Paper Pattern of NEET
Factor

Particulars

Exam mode

Pen and paper mode/Offline

Total sections

3

Questions asked from each section

Physics- 50

Chemistry- 50

Biology-100

Total number of questions

200 (out of which candidates need to answer 180)

Nature of questions

Multiple choice questions

Duration of the exam

3 hours and 20 minutes

NEET marking policy

+4 for correct response

-1 for incorrect response

0 mark for an unattempted question
NEET UG syllabus
Candidates preparing for the undergraduate medical exam must check the syllabus for NEET UG. The same has been provided below.
Subject

Topics

Physics

Class 11 Topics

Thermodynamics

Gravitation

Kinematics

Laws of motion

Physical World and Measurement

Work, Power and Energy

Properties of Bulk Matter

Oscillations and Waves

Motion of system of Particles and Rigid body

Behavior of Perfect Gas and Kinetic Theory

Class 12 Topics

Optics

Atoms and Nuclei

Electronic Devices

Dual nature of matter and radiation

Electromagnetic current and alternating current

Current Electricity

Electromagnetic waves

Magnetic effect of Current and Magnetism

Electrostatics
NEET Syllabus: Chemistry
| | |
| --- | --- |
| Subject | Topics |
| Chemistry | Class 11 Topics |
| | Hydrogen |
| | Hydrocarbons |
| | Environmental Chemistry |
| | Organic Chemistry- Some basic Principles |
| | Redox reactions |
| | State of matter: Gases and Liquids |
| | s-Block elements |
| | Equilibrium |
| | Thermodynamics |
| | Chemical bonding and molecular structure |
| | Classification of elements and Periodicity |
| | Structure of atom |
| | p-Block elements |
| | Class 12 Topics |
| | Alcohols, Phenols, and Ether |
| | Chemistry in everyday life |
| | Biomolecules |
| | Solid states |
| | p-Block elements |
| | Surface chemistry |
| | Electrochemistry |
| | Solutions |
| | Chemical Kinetics |
| | D- and f-Block elements |
| | Polymers |
| | Coordination compounds |
| | Aldehydes, ketones, and Carboxylic acids |
| | Organic compounds containing Nitrogen |
| | General principles and processes of isolation of compounds |
| | Haloalkanes and Haloarenes |
Subject

Topics

Biology

Class 11 Topics




Human Physiology

Cell structure and function

Structural organization in plants and animals

Plant physiology

Diversity and Living world

Class 12 Topics

Genetics and Evolution

Biotechnology and its application

Human welfare

Ecology and environment

Reproduction
Questions related to NEET
Showing 116781 out of 116781 Questions