NEET 2021 Topper Interview: Tanmay Gupta AIR-1
NEET 2021 topper interview: Tanmay Gupta, has created history by securing perfect 720 out of 720 in the NEET medical entrance exam. By securing a percentile of 99.999806 scores, Tanmay is one of the NEET-UG toppers who secured AIR-1. Along with Tanmay Gupta, Mrinal Kutteri and Karthika G Nair has also obtained first rank in the list of NEET toppers 2021. The National Testing Agency (NTA) announced NEET 2021 results on November 1 at neet.nta.nic.in.
Stay up-to date with NEET News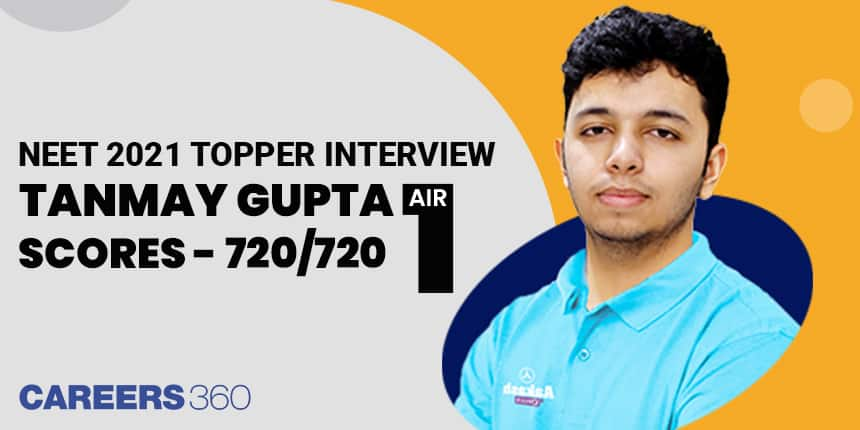 In our NEET topper interview 2021 with Tanmay Gupta, who hails from Jammu, he said that consistency and dedication towards your goal leads to success. This NEET topper thinks that if someone understands the concepts, the NEET preparation would be very easy for them. Willing to get admission in AIIMS Delhi, Tanmay Gupta (AIR-1) focussed on NCERT textbooks and taking mock tests a month before the exam day.
NEET 2021 exam was conducted on September 12, for admission to 83,350 MBBS, 26,949 BDS, 52,720 AYUSH, 603 BVSc & AH seats across India. From this year onwards, the admission to BSc Nursing courses will also be done through NEET scores.
Here is an extract from the topper interview of NEET-UG 2021, Tanmay Gupta AIR-1.
NEET 2021 Topper Interview: Tanmay Gupta AIR-1
Careers360: Congratulations on your NEET 2021 result! How are your feelings on this achievement?
Tanmay Gupta: The feeling of being a NEET topper with 720 marks was simply amazing and unbelievable.
Careers360: Please tell us something about yourself. From where you completed your schooling, parents and more.
Tanmay Gupta: I am from Jammu and I completed my schooling till Class 10 from Jammu only. Later we shifted to Delhi and started my Class 11 from D.P.S. RK Puram. My father is an orthodontist and my mother is a dentist, so I am from the doctor's family.
Careers360: What motivated you to choose medicine as a career? When did you decide to become a doctor?
Tanmay Gupta: Actually, I decided to write the NEET entrance exam in Class 10 itself. I always wanted to become a doctor and the influence came from my parents and grandparents who are also doctors.
Careers360: Is this your first attempt? When did you start your preparations for the NEET exam? How did you go about it?
Tanmay Gupta: Yes, this year it is my first NEET attempt. I started my NEET-UG preparations for 2021 in Class 11.
Careers360: How did you prepare for both your board exams and NEET?
Tanmay Gupta: Actually, I think NEET preparations include board exam preparations also. What you learn in NEET 2021, you have to write in an elaborated form in the boards. If you understand the NEET concepts carefully then I think it won't be a big task for anyone.
Careers360: How did COVID second wave affect your preparation? What was the most striking thing during this preparation?
Tanmay Gupta: During NEET 2021 preparations, COVID-19 changed situations a lot. It was difficult as while preparing I had to give 10 hours a day. However, people around me - family, friends were really supportive. And the NEET result came and it went well for me.
Before the release of notice and NEET-UG postponements, the situation was bad but now that the NEET result 2021 is good, I think it was a good thing happening.
Careers360: Did you take any coaching for NEET 2021? How was the coaching affected because of the lockdown during the second wave and how did you keep in touch with your teachers for doubts and regular lessons?
Tanmay Gupta: I took my coaching as a regular student from Aakash Institute, Pitampura branch. The faculty members are really supportive and it made this journey really easy for me. So, after the COVID-19 situation across the nation, the coaching was shifted to online mode and it was a benefit for us. It helped us waste no time and we have teachers whom we can contact them anytime to get our doubts clear.
Careers360: How much time did you devote to self-study because coaching can only teach you but you have to do the work?
Tanmay Gupta: During coaching classes last year, I used to study for approximately 4-5 hours. And when I had no coaching classes, I used to devote 8 hours to my self-study.
Careers360: Which subject is your weak one and in which are you strong?
Tanmay Gupta: There is not a weak subject, but Inorganic Chemistry is the one I don't study much. The strongest NEET subjects are Zoology and Physics.
Careers360: How was the preparation different from the early days to just a month before the NEET exam?
Tanmay Gupta: In the last month, I was more focussed to giving more NEET mock tests for the full syllabus. It was NCERT text book revision and giving mock tests. While in the earlier days, I used to prepare through NCERT text books and revision notes provided by the teachers. In the last few days, my focus shifted to taking as many NEET mock tests as possible.
Careers360: What was your exam day strategy? What was the roughest and the easiest section according to you?
Tanmay Gupta: On the NEET 2021 exam day, comparatively Physics was the lengthy and the toughest subject, while Biology was the easiest one. On that day, I attempted Biology first, then Chemistry and I had more than 1.5 hours left to complete my NEET-UG Physics section. Then, I rechecked the answers marked through the NEET question paper.
Careers360: Which college is your dream college for studying medicine? What is your aspiration in the field of medicine and which specialization would you be interested in?
Tanmay Gupta: I would definitely like to go to AIIMS, New Delhi, which is a dream college. For a particular specialization, I have to make up my mind to choose one.
Careers360: How did your family support you and motivate you during this stressful lockdown period? How did you de-stress during your preparation?
Tanmay Gupta: After my NEET preparations, I used to watch light-hearted TV serials. I had a particular time for exercise of one hour a day. These things helped me boost my stress. Of course, parents and friends were very supportive so that helped a lot.
Careers360: Whom do you attribute your successful NEET 2021 topper journey to?
Tanmay Gupta: I would like to attribute my success to everyone who believed in me, especially my parents, nanu-nani, my friends and teachers.
Careers360: What would you suggest to future NEET aspirants in terms of preparation, attitude etc?
Tanmay Gupta: First of all, you should remember that these 2.5 years of long journey should be consistent. Make a goal for yourself, you know how much you can do. So, it should be a realistic goal and focus on that. What you mainly require is consistency and dedication, that's all.
Browse Medical Colleges by Cities
Questions related to NEET
Showing 116707 out of 116707 Questions