NEET physics question paper 2021, 2020, 2019, 2018 Pdf
NEET physics paper: NEET question papers are an essential part of preparing for the National Eligibility cum Entrance Test (NEET) exam. The NEET syllabus, prescribed by National Testing Agency (NTA), consists topics from classes 11 and 12, and the subjects included are physics, chemistry, and biology.
Stay up-to date with NEET News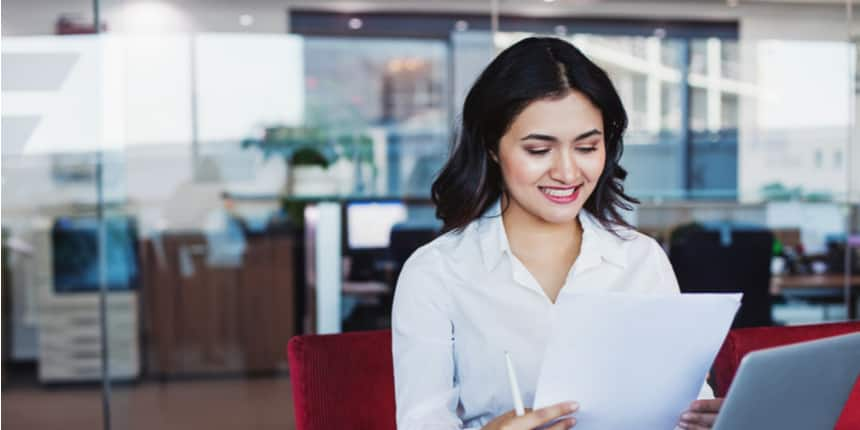 To score well in the NEET physics question paper students need to have a thorough understanding of concepts and an understanding of computational reasoning in the NEET physics section. While class 11 and 12 questions are distributed differently, there are two main elements to winning the NEET physics section: speed and accuracy. Aspirants need to get accustomed to the NEET 2022 physics syllabus and plan their schedules accordingly.
To minimize negative markings done by the NTA and score well in the NEET 2022, candidates need to practice the NEET physics question paper. The Careers360 article below discusses essential topics of the NEET physics question paper so that aspirants can save time and get to their preparation quickly without wasting their time and energy on unimportant topics.
The following topics of NEET physics 2022 can be covered based on the previous year's analysis and the number of questions asked for each section
| | |
| --- | --- |
| NEET physics topics | Number of questions |
| Electrodynamics | 20 |
| Mechanics | 15 |
| Heat | 2 |
| SHM Waves | 2 |
| Optics | 4 |
| Modern Physics and Electronics | 7 |
| Total | 50 |
NEET Physics section: Number of questions
As per the NEET exam pattern 2022, there are 200 questions in the test. The physics section of the NEET UG Exam 2022 contains 50 questions. In total, 45 questions must be attempted, making 180 marks in the exam.
NEET physics question paper: Previous years
NEET physics questions are mostly computation-based, and even the most basic questions may require calculations. Candidates need to practice the previous year's NEET question
papers as there are times when the NEET physics section has the trickiest questions. Unlike the other two sections, there are few direct questions in the NEET question paper. The code wise previous years NEET physics question paper is provided below in the table:
| | |
| --- | --- |
| Year | Subject |
| NEET 2018 | Physics 2018 |
| NEET 2019 | Physics 2019 |
| NEET 2020 | Physics 2020 |
| NEET 2021 | Physics 2021 |
An analysis of NEET Physics question papers from last year
According to Careers360's last year NEET exam analysis, physics was the most challenging section. There were 42.2% moderate level questions in the NEET Physics sections and 57.8% easy level questions. The NEET Physics questions took up a lot of time as they were in numerical form.
You can find a breakdown of Physics questions in the NEET question paper 2021 below.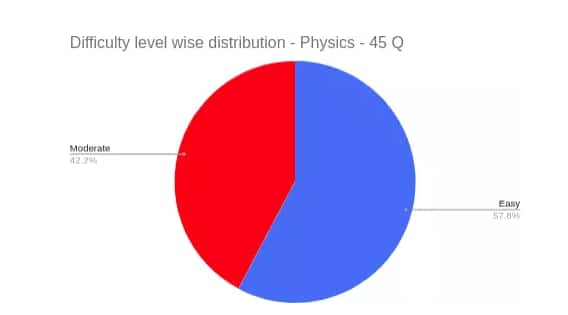 NEET physics question papers: How to do well
Experts estimate that students can score at least 100 marks in the NEET physics question paper by covering 70% of the NEET syllabus. Generally, candidates focus primarily on biology and chemistry to pass the NEET exam. Nevertheless, how well they score in these subjects will not help them gain admission to MBBS.
NEET Physics is, on the whole, an easy low effort subject with just a few well-established concepts requiring solid conceptual understanding. Aspirants should take as many NEET mock tests as possible during this period and should review the most important NEET physics topics. When candidates take these tests, they must be able to analyze how well they did.
A large number of numerical problems accompany each theoretical concept in the Physics NEET questions. While preparing for NEET Physics 2022, candidates should put more effort into understanding the concepts and solving the numerical problems. The candidate can go over the important chapters that they should focus on first to avoid any inconveniences.
Questions related to NEET
Showing 116778 out of 116778 Questions