How to Prepare for NEET 2022 - 5 months preparation plan by Aakash Chaudhry
How to prepare for NEET 2022 in 5 months - The National Testing Agency (NTA) is the competent authority to conduct the National Eligibility cum Entrance Test (NEET). Aspirants who will be appearing for NEET 2022 always go through the dilemma of when and how and when to start preparation. The month wise NEET 2022 preparation strategies will help aspirant to ace the exam with ease.
Stay up-to date with NEET News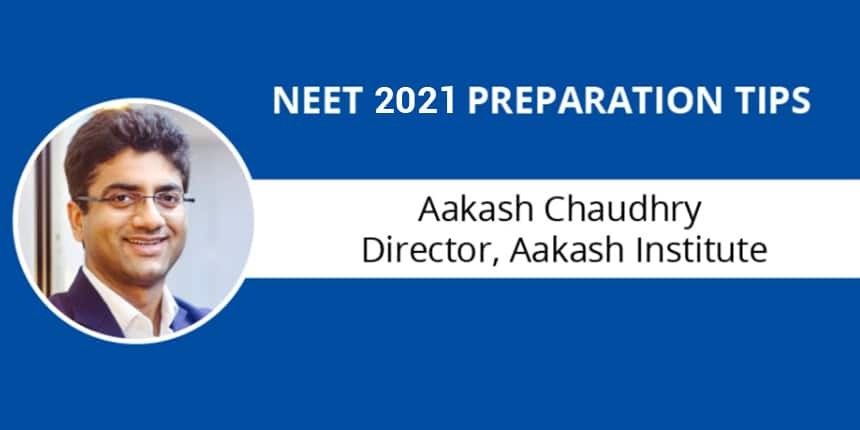 With 5 months in hand for NEET 2022 preparation, candidates have to prepare with proper strategies for a better NEET result. As many as 15 lakhs aspirants take the NEET exam each year, the competitive nature of the exam creates tension among students. Thus aspirants should start their preparation in the early stages with knowing the NEET 2022 five months preparation tips. Candidates should put their best efforts through NEET five months of preparation planning and ace the exam with ease.
Careers360 spoke to Mr. Aakash Chaudhry, Director of Aakash Institute on how to prepare for NEET 2022 in 5 months. With his previous year insights on how to deal with stress and do's and don'ts of the exam, candidates can prepare for NEET exam in 5 months. Mr. Chaudhry has also talked about managing the time while preparing for NEET-UG and board exams. As per him, "Efficient time-management, in-depth knowledge of topics, and judicious planning can help students to score good marks in the exam. Aspirants will easily get to know NEET 2022 five months preparation tips by going through the article below.
Read the full interview on NEET 2022 preparation tips below:
Careers360: What should be the preparation strategy of students if one is appearing for Class 12 Board as well?
Aakash Chaudhry: It is imperative for a NEET aspirant, who is currently studying in Class 12, to keep the focus on the pattern of both exams, independently. Students are required to cover the Class 11 syllabus as well to prepare for NEET 2022. Students should make a proper schedule for NEET 2022 preparation while keeping priorities ready as the board exams get closer. The month of February and March should be dedicated completely to Class 12 board preparation while in November, December, and subsequently after boards in April, NEET exam preparation should be kept as the key priority.
Careers360: Are NCERT books enough for NEET preparation 2022? If not, which are the others that can be referred to?
Aakash Chaudhry: NCERT is considered the prime help book or if we can say bible for any NEET 2022 aspirant. However, in addition to the NCERT books and available recorded video content, students can also refer to some of the best books for NEET.
Best books for NEET 2022
Physics

Chemistry

Biology

Concepts of Physics Vol I and II by H.C. Verma

Modern Approach to Chemical Calculations – R. C. Mukherjee

Trueman's Elementary Biology Volume – I and Volume – II

NCERT – Exemplar

Concise Inorganic Chemistry – J. D. Lee

Organic Chemistry – Morrison and Boyd

NCERT - Exemplar

NCERT - Exemplar

Careers360: How should the preparation strategy change as the exam draws closer? Should the strategy change when the exam is 5 months, 3 months, and one month away?
Aakash Chaudhry: We believe, a well designed and phased manner approach to cover NEET 2022 syllabus should be adopted while moving closer to the date of the exam as described below:
Practice thoroughly from NCERT Books. Multiple revision is believed to further strengthen concepts & confidence

Solve mock tests regularly

Avoid taking up new concepts

Follow a fixed routine for 3 months

Take timely breaks
Read, revise, repeat

Practice to perfection

Keep the faith and stay focused
NEET 2022 subject-wise preparation in 5 Months
Physics: Make a note of important points and formulae of every chapter in a separate book. Solve as many NEET questions from mock papers and keep the revision book handy. Some of the important topics are Dimensional Analysis, Current Electricity and Heat Transfer, Kinetic Theory of Gases, Thermodynamics and Rotational Dynamics, Geometrical Optics, Waves, and Sound, and Electromagnetic Induction.
Chemistry: For Chemistry, the NCERT textbook is recommended, as it is well framed for a detailed understanding of all the topics. Aim to attempt all questions in the textbook and then move on to reference books for additional preparation of NEET 2022. Physical Chemistry is about clearing concepts and implementing these concepts and procedures by solving maximum MCQs. Inorganic chemistry is more about facts and little about concepts.
This section involves a lot of learning the concepts from their end. Organic chemistry is very demanding and candidates must clear their concepts. Important topics in NEET 2022 Chemistry are Thermodynamics, Equilibrium, Hydrocarbons, Carbonyl Compounds, Chemical bonding, Mole concepts, Electrochemistry, and Coordination Compounds.
Biology: NCERT textbooks are again pertinent for the Biology section to crack the NEET exam. This is considered the most important subject for the candidates aspiring to take admission to MBBS and BDS courses. Further, Biology is given 50% weightage in the NEET question paper 2022 as compared to Chemistry and Physics. Hence, you need to be very clear with different questions to attempt questions in the exam. And this can be possible with a regular revision of the subject with practice tests.
Use mnemonics to memories things in Biology. Important topics in NEET 2022 Biology can be Diversity in Living World, Structural Organization in Animals and Plants, Cell Structure and Functions, Plant Physiology, Human Physiology, Reproduction, Genetics and Evolution, Biology, and Human Welfare, Biotechnology and its Applications, Ecology, and Environment.
Animalia and Plantae's topic needs to be prepared more carefully NEET exam. The main emphasis must be on the characters of Phylum in Non-Chordates and the classes of Chordates. All examples given in the NCERT along with the common name (wherever given) should also be memorized.
Choose quality NEET study material 2022 and practice as many MCQs as possible from a reputed institute which has a track record on content quality & output.

Work thoroughly on weaker areas

Make notes

Have a positive mindset
Careers360: How important test series, mock tests, and previous year question papers? When should an aspirant start taking them?
Aakash Chaudhry: One of the best tools to prepare for NEET 2022 is to join a mock test series. Taking NEET 2022 mock tests can help to strengthen the student's preparation method and build up a higher confidence level. Students will be able to analyze their NEET scores and reduce errors as well. During NEET preparation 2022, mock tests may help students to evaluate the time spent on each section. Students should start taking the mock tests 3 months before the date of the NEET 2022 exam so that they will have ample of time to work on the different kind of mistakes which students are committing repeatedly while taking the mock tests.
Careers360: Should students adopt a different preparation strategy for AIIMS MBBS and JIPMER MBBS? If yes, how can they differ?
Aakash Chaudhry: Although the syllabi of Physics, Chemistry and Biology are believed to be the same for NEET, AIIMS & JIPMER but there are certain additions in later two:
These exams are conducted in CBT mode only.

In AIIMS, students will come across questions from General Knowledge & Current Affairs as well as the Mental ability section.

In JIPMER, an additional section of the English language as well as Logical and Quantitative Reasoning.
Looking into the above additions and difference in NEET exam pattern 2022, the preparation strategy for AIIMS and JIPMER should be slightly different as given below:
Try to write as many mock tests as a student can on AIIMS and JIPMER pattern in online mode

Get acquainted with the ongoing news and current affairs, by reading newspapers and popular journals, along with taking some practice on logical reasoning content/questions

In order to crack the Assertion-Reason type of questions, concepts of PCB should be cleared in the length and width of the topic.

We believe Physics plays a crucial role in the AIIMS MBBS entrance examination. Looking at previous exam papers, Physics is usually on the tougher side, hence the major focus on Physics is required if a student aims to crack the AIIMS exam.
Careers360: What should be the last minute and last day preparation strategies for the exam?
Aakash Chaudhry: The last phase of NEET 2022 preparation is often considered a crucial juncture. With barely a day or two to go, it is normal to get a little nervous, however, one must ensure that they make the most of their time. It is advised to flip through your notes and fix doubts instantly. This is not the time to focus on new things. Most importantly, have a positive mindset.
Careers360: What should the students do to tackle the pre-exam stress?
Aakash Chaudhry: Exam pressure and stress are said to go hand in hand. The thought of not doing well can interfere with our body and mind and hinder our productivity. The following are the activities recommended for overcoming NEET 2022 pre-exam stress:
One of the ways to tackle stress is to look at it from a different perspective. Use it as a positive tool that drives you to work hard and aim to get a rank in the exam.

Exercising and doing yoga every day is said to calm your mind and help you think better.

Always remind yourself of why you are studying so much, what is your aim and for what you are working so hard. This will help you to move forward in your struggle. Reminding yourself of the results at the end of it may really amplify you up and reduce your pressure.

Believe in yourself. If you have given your 100% at the time of preparation of NEET 2022 then there is no need to worry about the result.
Careers360: What are the common mistakes made by the students on the exam day which can be eradicated?
Aakash Chaudhry: Students strive hard to score well in NEET to get admission to the college of their choice, but they still end up making a few mistakes. The following are the common mistakes made by students during the NEET exam 2022:
Misreading or misinterpreting the question

Making a careless mistake, such as reversing the number or marking the wrong answer

Not keeping track of time
Careers360: Any NEET 2022 preparation tips that students should keep in mind to deal with the negative marking system?
Aakash Chaudhry: Students preparing for the NEET exam should not overlook negative marking, as it can make a difference between a good and average rank. For students appearing in NEET 2022, it is recommended to not to be overconfident. Skip doubtful questions as it will help in decreasing negative marking. One must ensure to read all the questions carefully and avoid answering questions at the last moment.
Careers360: What should be the exam-taking strategy? How should candidates manage their exam time between the different sections of the paper?
Aakash Chaudhry: It is very important to stay calm and composed during the NEET 2022 exam. In a first, read the questions carefully and emphasize on the highlighted words of question statements. Start with the subject you like the most or is your strength. NEET Biology subject is recommended to be attempted first. Don't spend too much time on the individual NEET question papers 2022. Keep moving forward and attempt the questions that you know in the first half of the exam time. Accordingly, keep a track of time and how many questions are left unattempted. Every section of the NEET 2022 question paper should be dedicated to the required time. Ideal time distribution can be:
Physics: 60 Mins for 45 questions, Chemistry: 50 Mins for 45 questions, Biology: 60 Mins for 90 questions, and the remaining 10 minutes should be used wherever additional time is required.
Careers360: NEET was to be a computer-based test this year but is now a pen and paper-based one. What do you think caused this change of events suddenly? In your opinion, will NEET 2022 be a computer-based test?
Aakash Chaudhry: I believe the government decided to go back to pen and paper tests to give more time to students and the rest of the ecosystem to be ready for a computer-based test. Another possible reason could be that step was taken so that it does not affect the preparation strategy of the students.
In my opinion, there is a strong likelihood that NEET 2022 could be in CBT mode. This will result in saving precious time during exams and will also result in a faster declaration of NEET 2022 results. It will also bring in the digital revolution on the NEET exam in the rural areas as students will now be able to practice free of cost in centres set up by the National Testing Agency (NTA).
Careers360: Any other message you would like to share with NEET 2022 aspirants?
Aakash Chaudhry: Adopt a learning style that suits the students - visual, auditory, or tactile. Visual devices include drawing, pictures, charts, maps, graphs, etc to supplement your preparation for the NEET exam. Use bright markers and symbols to point out important notes of NEET 2022 which will help aspirants during revision. Students are known to retain the knowledge gained better when they can associate an image or demonstration referring to it.
After completion of any NEET exam topic, objective questions related to it should be solved on regular basis to be aware of the retention of the topic. All those questions which could not be solved should be marked and searched in study materials. One should prepare the summary list of important facts/formulae of every chapter and should keep on revising the list regularly.
Questions related to NEET
Showing 117341 out of 117341 Questions