INI CET 2021 Last Minute Preparation Tips by Expert Gaurav Tyagi, Founder of Career Xpert
INI CET last minute preparation tips by experts - The All India Institute of Medical Sciences (AIIMS), New Delhi is all set to conduct the INI CET exam on July 22, 2021. As per the latest schedule, INI CET 2021 July session to be scheduled at designated centres in computer based exam for around 80,000 candidates. Therefore, the expert Gaurav Tyagi, founder of Career Xpert shares last minute preparation tips of INI-CET 2021 for medical aspirants.
Latest Updates for INI CET
Stay up-to date with INI CET News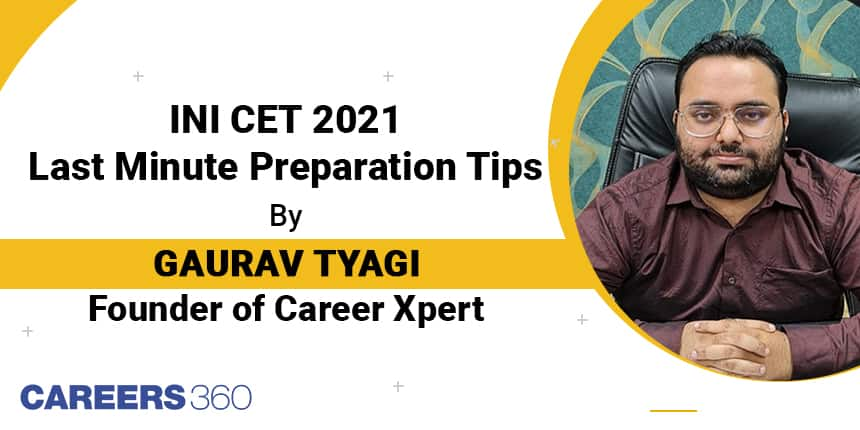 In this article on INI CET 2021 last minute preparation tips by the expert, mentions the preparation strategy which candidates can refer to before appearing for the exam. Here are a few INI-CET last minute preparation tips by expert Gaurav Tyagi to help aspirants sail through the preparation process. The article on 'last minute tips for INI CET 2021' comprise what candidates should do in the remaining time. How to prepare for INI CET 2021 will help candidates plan things in an easy and relaxed manner.
INI CET 2021 last minute preparation tips by Gaurav Tyagi, Career Xpert
First of all, aspirants must follow all the INI CET exam day guidelines as specified by the authority.

Candidates should focus on the revision of important topics which carry more weightage in the INI CET 2021 exam.

The notes which were prepared at the time of preparation will be the best tool to help recap important stuff from each topic.

Candidates should appear in the mock test. This will help them to boost confidence for the exam day.

Candidates should practice more and more questions they can as this will enable candidates to maintain speed and accuracy as well. After finishing the mock test, they should analyse their performance which will help them reshape the final strategy.

Candidates should take care of their health and they should not resort to any practices which pose risk to their health.
Last-minute tips for INI-CET 2021 by experts - Strategy to prepare
Candidates should not touch new topics. This is one of the important things which proves crucial especially when the time span for commencement of INI CET 2021 exam is short. In the last few days, the focus should be on memorising and recapping things that you have learned in the past year or so. Starting a new topic may confuse them and mar your preparation, so it is advised to avoid any new topic at this time.

Candidates should make their strong areas even stronger. They must know their strong areas like the topics where they perform better. Try to work on those topics so that there is the least chance of mistakes if questions are asked from them. This will boost your confidence before the exam day.

Candidates must try to avoid stress and must not allow negative forces to overpower them at this stage. As negative forces like stress, tension may affect overall performance. They should always keep the fact in mind that their preparation is the best and they will definitely score well in the INI CET 2021 July session.

Aspirants should make a study plan in a manner where there is enough scope to get unwind. This is the time when you shouldn't think too much about your performance in the INI CET 2021 exam. Just believe in yourself and remain cool, calm, and relaxed.

Aspirants must recap INI CET 2021 pattern and marking scheme. As there is a provision of negative marking, so answer only those questions where you feel confident of the correct response.

Cross-check INI CET 2021 test paper before final submission.
Other than this, candidates should make their strategy to focus only on the topics they have good command on and now they should not touch the topics they have skipped.
INI CET 2021 July syllabus
The syllabus of both NEET PG and INI CET is more or less same. The only difference is that in NEET PG 2021 less clinical questions are asked whereas in AIIMS INI CET questions from clinical part are more.
A day before the INI CET 2021 exam, candidates need to arrange the documents which are needed at the INI CET 2021 exam centre. They should also take care of prohibited items at the centre. They must reach the INI CET 2021 exam centre before time. They should cooperate with the exam authority in performing exam-related formalities.
Candidates must note that this is the time to fine-tune things only. To score good marks in INI CET 2021 follow the above-mentioned tips to increase their chances of getting selected.
INI CET 2021 July session
Conducted by AIIMS New Delhi, INI CET is the exam for admission to postgraduate courses in leading government medical institutes in the country including AIIMS, Jawaharlal Institute of Postgraduate Medical Education and Research (JIPMER) Puducherry and National Institute of Mental Health and Neuro-Sciences (NIMHANS) in Bengaluru. The INI-CET regulates admission to around 800 seats for which more than 80,000 candidates appear.
Questions related to INI CET
Showing 39 out of 39 Questions