INI CET 2023 Counselling Success Stories: Interview with Dr. Malini Anand R
All India Institute of Medical Sciences (AIIMS), Delhi carries out the INI CET exam twice a year for candidates looking for admission into Postgraduate programs in Medical Science. They are held every year in January & July. With a valid INI CET scorecard, students can apply for programs such as Master of Surgery (MS), Doctor of Medicine (MD), Master of Dental Surgery (MDS), and Master of Chirurgiae (MCh). AIIMS institute that considers INI CET scores are AIIMS institutes all over India and other top-ranking medical institutions like JIPMER, NIMHANS and PGIMER.
Stay up-to date with INI CET News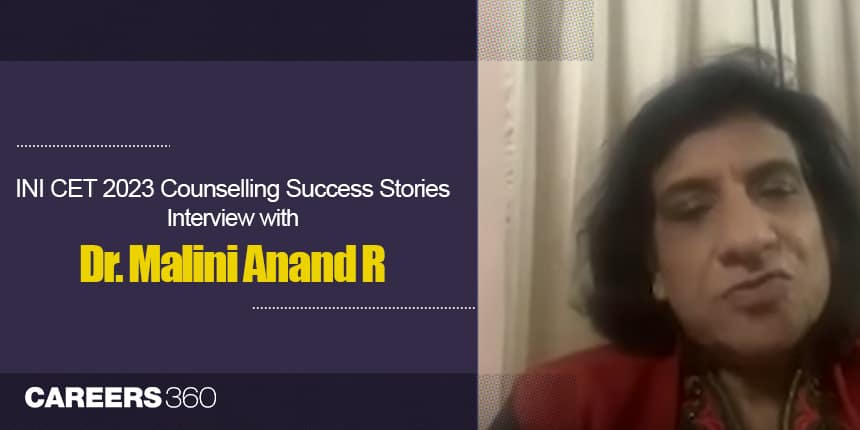 Careers360 in a recent interview with Dr. Malini Anand R, Vice Principal at CLG World School, Moradabad, talked about her experience with counselling of her daughter Dr Vani Anand with the Careers360 team. She talks about her journey as a parent, and the various sessions the Careers360 team had with her daughter Dr. Vani. She is finally a part of AIIMS New Delhi, which provided profound relief to her mother. Go through the complete article to know more about Dr. Vani's experience.
Also read:
Full video of Dr. Malini Anand R in conversation with Careers360
Careers360: Give a brief introduction about yourself (Malini Anand) and Vani Anand?
Malini Anand (Parent): I am Malini Anand, mother of Dr. Vani Anand. My daughter has done her MBBS from Subharthi Medical College. She has been preparing for her PG. So, she gave her INI-CET examination and had a rank of around 5935 and we were very apprehensive that what kind of college will she get, and what kind of subject will be given to her because of the reservations she belonged to, I mean we people belonging to an un-reserved category.
Also read: INI CET Accepting Colleges
Careers360: Which medical college did Dr. Vani get admission into and share highlights about her admission journey?
Malini Anand (Parent): While my daughter was trying to find out online what should she do and what kind of a subject and college she would be given. She came across Careers360 wherein she had filled out one form to predict the grade and the college and the branch. So, it was quite appropriate to what was actually given to her in the first round, we had two zoom sessions with the personnel of Careers360 and they were constantly in touch with me, and my daughter with whatever as we people do not belong to the medical background. So, there were a lot of apprehensions that how should we go about and what will be. But, there was one-on-one basis counselling that was given to my daughter and they had their heads wherein they took constant feedback from the person who spoke to my daughter on Zoom.
There were times when my daughter was very worried and there were times when she really could not gauge what subject allocation will be given. There was a certain change in the dates, and all the updates were given to my daughter constantly by Careers360 they even helped us out in filling out the choices as she again did not know what college should we apply for and what subjects, and what branches should she be given. So, finally, my daughter in the first round was given anatomy in AIIMS, Patna, and went for the second round, and then from there AIIMS, Jodhpur, Anatomy was given to her then we went for this open round where now she has been given AIIMS, New Delhi with the lab medicine. I mean we are happy with the best institution and Lab medicine is an upcoming branch wherein it encumbrances pathology and oncology and even all the radiology also it is a complete investigation branch. So, we are more than happy to receive this though she is going to be appearing for NEET PG also as of now, I think Careers360 has really guided us and the best part was that whatever calls my daughter gave them, I mean all my daughter's calls were attended. Careers360 guided my daughter till the last and up till yesterday when the open round result was to be declared, they were the first ones to give my daughter a call to tell her that the result is out and they also send the whole PDF of the result. And, the complete follow-up and they did not leave our hand up till the last.
Careers360: How did you come to know about Careers360 Counselling Services?
Malani Anand (Parent): My daughter was searching for some platform to predict her college and the branch that she would get from INI CET because it does not allow making many choices but allocate and send online already designated preferences. The ambiguous anxiety was there about what would happen and how would we fill and what would be the procedure. So, my daughter found your platform Careers360 where she had to fill out a form to predict the grade.
My daughter filled out the form where the branch and the college were predicted and given to her, then she thought that she must have this one-on-one basis of career counselling. She received a call from one of your departments and this is how the journey began where there were zoom sessions on a one-on-one basis and there was somebody at the top who was also monitoring everything and on and off. She even received a call from one of your seniors to let me know what kind of experience she was having with Careers360, so this was the best part.
Careers360: Which features made you choose this package?
Malani Anand (Parent): The fees that I had to pay, I'll be very honest because of the hefty fee which other counsellors asked they were very adjusting, this was one reason and the second was that when I saw that there was a one-on-one basis counseling and suggestions and personalized touch that was given by the organization I think that was the best part.
Careers360: Can you please tell us about the obstacles you faced during the counseling process?
Malani Anand (Parent): Very especially INI CET process is very complicated. It being online you really do not know what branch and what college will you get into, and have to really understand what choices you should fill and which college should be preferred over the other. Then you know Careers360 really guided because they had the complete data as to what branches are available at various colleges and even had data that which college should be preferred over the others.
Because there are not many choices in INI CET, the choices and the seats are limited and the colleges under the INI CET examination are also limited. It only has AIIMS and PGI Chandigarh which are the most prestigious colleges in the country. So, one does not even want to miss out on a chance of taking admission for PG in these prestigious institutions. And, yes my daughter did have obstacles and I had a lot of ambiguousness as if to leaving one seat and going for the second round then what would happen and even in the second round, my daughter did not report and if she wanted to leave then what would be the next opportunity that she should look for so there all those obstacles and ambiguities were sold by Careers360.
Careers360: Would you recommend our Counselling package to your friends and family for the upcoming academic year?
Malani Anand (Parent): Of course, I have already done that to many of my friends because all my friends are from the medical background and the age bracket that we are, wherein our children are all in the medical profession. So, I would give three cheers to Careers360 and five stars to Careers 360 and ask everybody to join and I further recommend all my friends and family to if at all the need be should always be Careers360. And, I would recommend that whosoever is planning to have a counsellor because ultimately we do need a counsellor in our medical profession because there are so many options present that we may not be able to gauge.
So, to take a counsellor's help is always better and it is recommended and even price wise and fees wise, they were so nominal and they were so adjusting that I think this was the right decision that my daughter had taken and it is only because of Careers360 that I was able to go for the open round and I was allocated the appropriate branch which is of my daughter's choice. Thank you so much Careers360 and everybody present they are all a very well-equipped team wherein they came back with the most appropriate answers and I think Careers360 needs applause. They have been the best counsellors ever my daughter could ever find, and I think it was my luck that she found them and they held her hand and took her to the last.
Careers360: Do you think Expert Counselling plays an important role in helping students to get into a good medical college?
Malani Anand (Parent): Oh yes, definitely. Because, you have been helping people as you have the entire data, but for us, it is just one child. And, whatever research we may do is very limited and it is always better to have a counsellor in the process because I think it is only through that the child has really worked hard giving the examination and qualifying the examination. So, this much is needed and is absolutely necessary that you engage a counsellor and have the best college and best branch for your child. So, yes it is very important.
Questions related to INI CET
Showing 39 out of 39 Questions