INI CET 2023 Counselling Success Stories: Interview with Dr Tahir Bhat
INI CET is a National-level entrance test, conducted by the All India Institute of Medical Sciences (AIIMS), Delhi, for candidates looking for admission into Postgraduate programs in Medical Science. With a valid Institute of National Importance Combined Entrance Test, INI CET score, students can apply for programs such as Master of Surgery (MS), Doctor of Medicine (MD), Master of Dental Surgery (MDS), and Master of Chirurgiae (MCh) and many more. The exam is carried out in two sessions every year, the first in the month of January and the second in July. The INI CET scorecard is accepted by 12 AIIMS colleges and other top-ranking private medical institutions.
Stay up-to date with INI CET News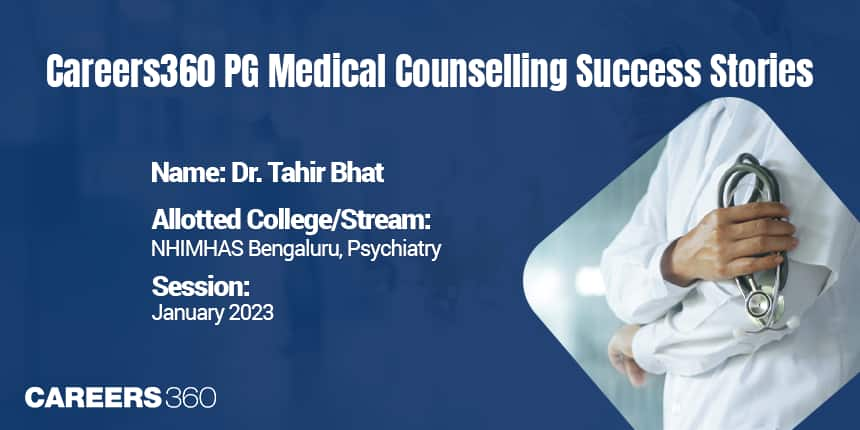 Careers360 in an interview with Dr Tahir Bhat brings you insights into the success stories from Careers360 Medical Counselling- January Session 2023. Dr Bhat has been granted admission into NIMHANS, Bengaluru college in the Psychiatry stream. Read the full interview of Dr Tahir Bhat below.
Also read:
Full video of Dr Tahir Bhat in conversation with Careers360
Careers360: Please give us a brief introduction about yourself and what is your INI CET rank.
Dr Bhat: Hi, I'm Dr Tahir. I'm from Kashmir and I did my undergraduate from Bangladesh. My INI rank was 1300.
Careers360: Which medical college did you get admission to, and how long have you been preparing for the INI CET exam?
Dr Bhat: Currently I am in NIMHANS, Psychiatry stream. It took me 3-4 months to prepare for the INI CET exam.
Also read: INI CET Accepting Colleges
Careers360: How did you come to know about Careers360 Medical PG One-to-One Counselling service?
Dr Bhat: I was searching online for some counselling options and I came across many counselling options. Actually, there was a college predictor app, so initially I used that, I didn't know there was a counselling option. One of my friends told me Careers360 provides counselling as well. So, I contacted the team or rather they contacted and explained about the counselling services and it was really helpful.
Careers360: Which features made you choose this package?
Dr Bhat: The best feature was the option that I can ask the expert any doubt I have, no matter what time it was, no matter 2-3 times a day, there was no limitation to it. Like with other counselling services, most of them have a specific day and specific time set but Careers360 provided the option that I can clear my doubts, ask or call as many times as I want. So that was the main differentiating point why I chose Careers360.
Careers360: Can you please tell us about the obstacles you face during the INI CET counselling process?
Dr Bhat: The thing is that INI counselling is different from NEET counselling. As in NEET counselling, we are allowed to change the option in the second round. During INI counselling we are not allowed to do that so the first choice we fill is crucial and of all the colleges and all the different streams all the branches it is difficult to check priority-wise. That actually was the most challenging thing because I was not able to think about what should I give first, or what should I give second, I was not sure about the list.
Careers360: How did the Careers360 team help in overcoming these hurdles?
Dr Bhat: Initially when they contacted me, they asked me about my preferences and the best thing that I liked was that they made a list for me and that reduce a lot of stress for me because otherwise, I would have to sit by myself and prepare a list myself but Careers360 made the option wise, college-wise list for me that helped me a lot.
Careers360: Do you think expert counselling plays an important role in helping students to get into a good medical college?
Dr Bhat: Expert Counselling, yes it helps. As I said earlier we aren't able to change the priority list in the second round as in NEET. So yeah it actually helps.
Careers360: Were you satisfied with the counselling experts that were allotted to you?
Dr Bhat: I'm satisfied because I remember I used to message them 2-3 times a day, multiple times so yes I am satisfied with the counselling experts allotted to me.
Careers360: Which feature would you like the most from a one-to-one counselling service?
Dr Bhat: The feature that I liked the most was the expert was available no matter the time or the day, and no matter Sunday or Saturday. That's the best feature I liked about the one-to-one counselling service.
Careers360: Would you recommend Careers360's counselling package to your friends & family for the upcoming academic year?
Dr Bhat: I definitely will recommend Careers360 counselling packages to them.
Careers360: Any notes/suggestions you would like to share with us?
Dr Bhat: I think you made a very good counselling team, expert team, and reaching out to the candidates; helping them with priority lists based on their likings and I don't think there is anything.
Questions related to INI CET
Showing 37 out of 37 Questions