INI CET 2023 Topper Interview - Dr Anirban Deb (AIR 1) "All you need is a consistent effort"
INI CET 2023 Topper Interview: Following the announcement of the INI CET January 2023 session results, Dr. Anirban Deb from Kolkata, emerged as an All India Rank 1 in the postgraduate medical exam. From being a meritorious student in his school to achieving several gold medals in undergraduate medical courses, here's a story of INI CET 2023 AIR 1, Dr. Deb.
Stay up-to date with INI CET News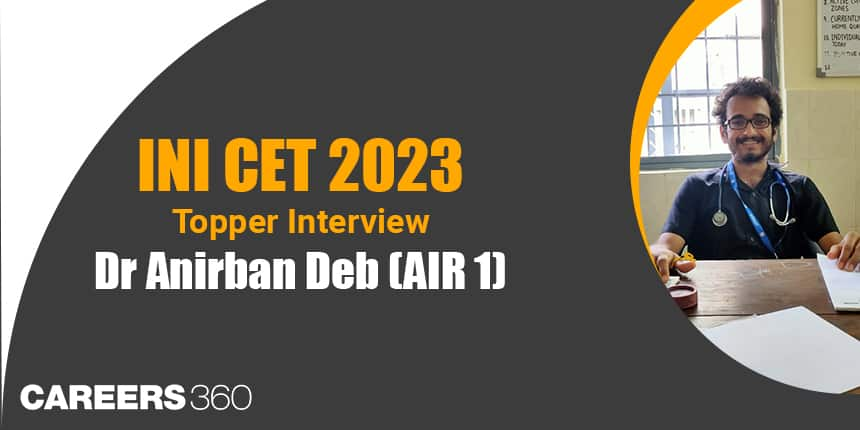 During his interview with Careers360, the INI CET 2023 topper, Dr. Deb emphasised on preparing the subjects thoroughly from the first year itself. As a doctor, he was faced with a language barrier and cultural differences during his postings in rural areas and how he overcame that obstacle and made it his strength.This whole experience helped him achieve success and grow as a person. Read further to know how Dr. Deb achieved this success.
Careers360: Congratulations on emerging as an INI CET 2023 topper! How are you feeling about your results?
Dr. Anirban Deb: Looking at the result, I myself was not able to believe that I have secured first rank. I checked the result at least 20 times after which it was sure that I actually had secured All India Rank 1 in INI CET. As soon as the result was out, there was a crazy rush of calls. It is quite an overwhelming experience and now the feeling of being a topper has actually sinked in. In the future I will look at this moment as the best moment of my life.
Careers360: Tell us something about your background.
Dr. Anirban Deb: I belong to a nuclear family. My mother is a housewife and my father is a Homoeopathic medicine businessman. I did my schooling from a CBSE board school in Kolkata. I topped the board examination at school and state level both by securing 98.2%.
While appearing for the class 12 boards, I gave medical entrance exams too. I secured AIR 143 in NEET, rank 81 in JIPMER and rank 6 in WBJEE. After the counselling session, I decided to join JIPMER to pursue an MBBS degree.
Careers360: What motivated you to pursue medicine as a career?
Dr. Anirban Deb: Biology was my favourite subject in class 11 and 12. The idea of curing people actually lured me to this field. My parents are suffering from hypertension and diabetes. I also witnessed deaths of a few relatives due to diabetes. That's when I decided to become a doctor, providing basic management to the people against the common diseases. It was difficult for me in the beginning as Pondicherry was far away from my hometown and I faced a language barrier, adjustment issues, etc.
Careers360: Did you appear for any other PG medical entrance examination?
Dr. Anirban Deb: Yes, I appeared in INI CET main session and secured a rank of 283. Also, I gave NEET PG 2023 in which my rank was 168.
Careers360: When preparing for INI CET, what motivated you most?
Dr. Anirban Deb: The COVID-19 pandemic forced us to spend two months in community medicine following our internship in medicine. Despite the light posting, the language barrier left me at the lowest point in my life. Following that, I attended a medical camp called NIRMAN in Maharashtra. The eight days I spent at the camp gradually led me to realise my life's purpose. In the wake of all this, I reoriented myself towards preparing for my entrance exam.
Careers360: How did you prepare for INI CET 2023?
Dr. Anirban Deb: When I was busy, I practised MCQ's as much as possible, putting in at least one to two hours daily. Over the weekend, the number of MCQs would increase. Every now and then, when I had some free time, I would prepare some notes. Since I had to complete my internship, I only had 20 days left to prepare for the INI CET. I read a few of the hot topics. A good preparation of pre and para-clinical subjects gave me more confidence. September 2022 was the deadline for me to complete the syllabus. My revision consisted of studying for 14 to 15 hours a day. Each two-week period, I consistently gave the grand tests. In addition to gaining speed, this helped me to understand the types of questions being asked in exams.
Careers360: Were you working with someone during the preparations and if yes, then how did you manage both?
Dr. Anirban Deb: No, I was not working anywhere while I was preparing for INI CET.
Careers360: Did you have any specific exam day strategy?
Dr. Anirban Deb: The question paper of INI CET consisted of few direct questions, multiple choice questions in which multiple answers may be correct. I focussed on completing the one liners first which actually I completed in about 15 mins. The remaining time, I devoted to the rest section. I made sure to revise the marked answers twice.
Careers360: What are your hobbies and did you find time to engage in your hobbies throughout your preparations?
Dr. Anirban Deb: Playing cricket and drama are my hobbies but both of these I have not done since last year due to internship. Then my hobby shifted to reading books. Now, I like to read non-fiction books. They are my best companions this time.
Careers360: Any message or advice for future medical aspirants?
Dr. Anirban Deb: I want to advise the candidates to focus on your personal and professional development from the first year itself. Preparations for the further entrance examinations should be started early however, the main objective of your MBBS should be to attend clinical postings, learning the best management of common cases.
It will definitely be your day in one of the entrance examinations. All you need is a consistent effort, rigid mindset that will make you confident.
Questions related to INI CET
Showing 39 out of 39 Questions