NEET 2022 Topper Interview (Hrishikesh Nagbhushan Gangule, AIR 3) - "Do not be afraid of mistakes"
NEET Topper interview 2022: The National Testing Agency (NTA) announced the NEET 2022 result on September 7. With a score of 99.99 percentile, Hrishikesh Nagbhushan Gangule secured AIR 3 becoming a state topper of Karnataka. Making a difference in society by serving mankind motivated him to choose medicine as a career.
Stay up-to date with NEET News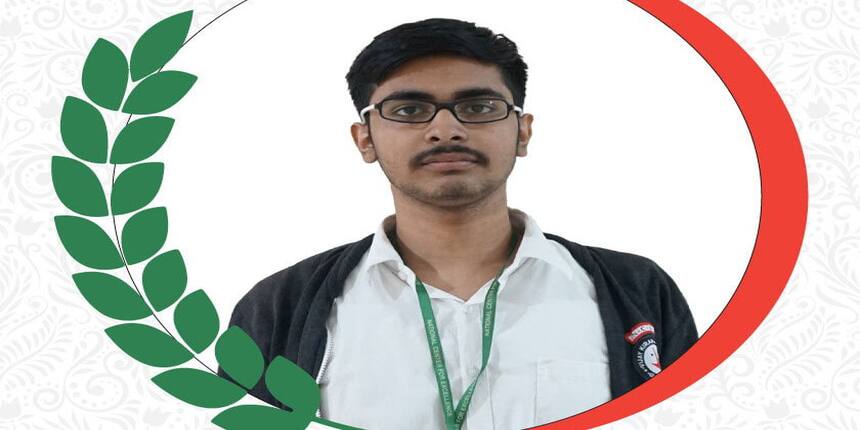 In conversation with Careers360, he emphasised on being prepared for any kind of situation during the examination. According to Hrishikesh, one must first gain confidence by attempting the section he/she likes to perform well overall in the NEET exam. He aims to join AIIMS Delhi to pursue an MBBS degree, making his family and teachers proud. Candidates aiming to know the full insights must read the full interview with Hrishikesh Gangule.
Careers360: Tell us something about yourself. Where did you complete your schooling and about your family?
Hrishikesh: I live in Bangalore and completed my schooling from National Centre for Excellence. I secured 99.4% in class 12. My parents are software engineers.
Careers360: What motivated you to choose medicine as a career? When did you decide to become a doctor?
Hrishikesh: I dreamt of becoming a doctor when I was 9 years old. I spoke to some of my relatives who were doctors. This motivated me to think and apparently chose to pursue medicine. I always thought that by becoming a doctor I can make a difference in my family as well as society. I could be of great service if I succeed in my aim.
Careers360: Is this your first attempt? When did you start your preparations for the NEET exam?
Hrishikesh: Yes, this is my first attempt. I started preparing for the NEET examination properly when I was in class 11.
Careers360: How did you prepare for your board exams as well as NEET?
Hrishikesh: Preparation for NEET along with the board exams was not a big issue for me. I did my schooling from a CBSE board school where Physics, Chemistry and Biology were the core subjects. The same are asked in the NEET along with some other subjects such as Physical education or math and english. I didn't do any extra preparation, rather focussed on NCERT books.
Careers360: Did you take any coaching? Whether it was online or offline?
Hrishikesh: Yes, I took online classes from Aakash Institute for two years starting from class 11. I went to the branch for the last three months to give mock tests. Initially I was skeptical about the online classes but they went on very smoothly. Even if I missed any class I could learn from the online recorded class. Teachers were always available to solve our doubts.
Careers360: How much time did you devote to self-study?
Hrishikesh: I used to study for around 5-6 hours per day. However, these hours were not fixed. I used to target myself based on the topics. My everyday aim was to complete a topic while being thorough with it before moving to the next topic whether it takes an hour or 5 hours.
Careers360: What was your exam day strategy? What was the roughest and the easiest section according to you?
Hrishikesh: While attempting the paper, I focussed on reading the question paper first. I aimed at finishing the paper as soon as possible, securing time to check the answers again. As far as the paper strategy is concerned, one must attempt the section he/she is good at to gain confidence.
Careers360: How did you deal with the stress?
Hrishikesh: Initially, I was worried about making mistakes. So I used to talk to parents and teachers. They always motivated me, making me understand that mistakes are natural. The important thing is to learn from them.
Careers360: Which college is your dream college for studying medicine?
Hrishikesh: I have always dreamt of joining AIIMS, Delhi and I am elated that it is possible now with my rank.
Careers360: To whom do you attribute your success to becoming a NEET topper?
Hrishikesh: I attribute my success to my teachers and my entire family. My teachers taught me well and were very supportive throughout my journey. My parents motivated me every time I felt low or stressed. This helped me a lot to achieve my goal.
Careers360: What would you suggest to future NEET aspirants in terms of preparation, attitude etc?
Hrishikesh: Students must be prepared for all situations. I was given 15 minutes less time to attempt the paper. Also, I was not allowed to choose the NEET question paper with which I was used to during my coaching classes. Students must prepare by giving mock tests. One should practice all types of questions and must know their weak and strong topics. Being regular with the studies and preparing the topic thoroughly before moving to the next.
Questions related to NEET
Showing 116779 out of 116779 Questions