NEET 2022 Topper Interview: Zeel Vipul Vyas- AIR 9
Striving to manage your time properly is crucial to success in life. Zeel Vipul Vyas, a student of Bharatiya Vidya Bhavan, Makarpura, in Vadodara, believed in it and has earned an All India rank of 9 in the NEET results 2022. The 17-year-old candidate knows one thing for sure: hard work can take you anywhere in life if planned properly.
Stay up-to date with NEET News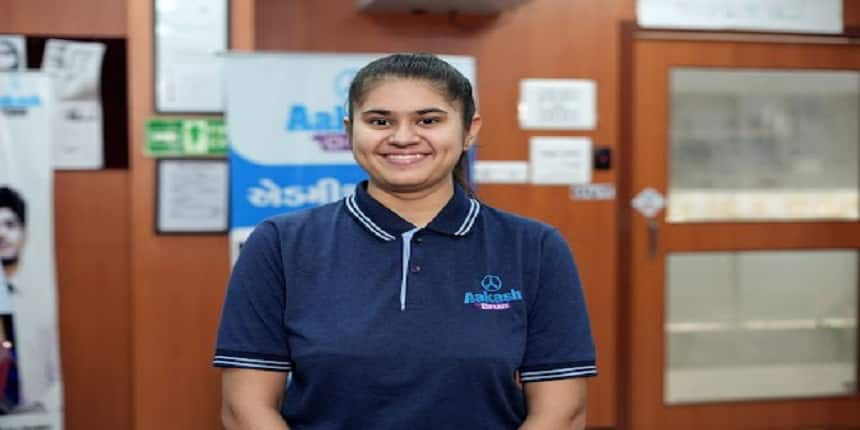 It brings her joy to accomplish what she had always aimed for, but she is also delighted at the rank she had not expected. She stated, "I had expected marks, but not rank." I now realize that I have already achieved what I set out to achieve. I must keep striving forward.".
There are 91,415 MBBS, 27,948 BDS, 52,720 AYUSH, 487 BSc nursing, and 603 BVSc & AH seats available in India through NEET 2022 exam, which was scheduled to take place on July 17, 2022. Careers360 presents a short excerpt from an interview with Zeel Vipul Vyas of NEET-UG 2022.
Careers360: Congratulations on your achievement! How do you feel about it?
Zeel Vipul Vyas: I am delighted
Careers360 Where did your interest in medicine come from?
Zeel Vipul Vyas: When I joined a coaching institute for preparation, I started liking biology and decided to pursue it. Earlier I was unsure about choosing between math and biology. My decision to join the coaching institute in Class 9 was to make sure I would not make a wrong choice when I chose the subject in Class 11. Coaching institutes were a great way for me when selecting subjects in class 11, and I am glad I did.
Careers360:Is this your first attempt?
Zeel Vipul Vyas: Yes, it is the first time I have attempted NEET in 2022.
Careers360: How long did it take you to start seriously studying for the NEET?
Zeel Vipul Vyas: It was only in class 11 that actual NEET preparation began.
Careers360: Has school studying and NEET preparation been manageable for you?
Zeel Vipul Vyas: The two exams were never separated, and I prepared them together. It was more about understanding concepts and asking as many questions as possible to clarify any doubts I might have. In order to be successful in either subjective or objective contests, you need a solid grasp of the fundamentals and a lot of practice. Immediately following my board exam, I practiced as many previous year's NEET question papers as possible and took as many NEET mock tests as possible.
Careers360:What is the importance of self-study to you?
Zeel Vipul Vyas: The day started with schooling, followed by coaching classes. The remaining time was dedicated to self-study, but I didn't forget to have fun, as it's important not to overdo things. The one thing I make sure to maintain is my love of listening to music.
Careers360:How would you rate your strengths and weaknesses in each subject?
Zeel Vipul Vyas: I have always considered biology my strongest and favorite subject. In truth, I pursued MBBS only for the biology course, and there was no such thing as a weak subject. It was just that physics took a little more time, and I had to practice a lot.
Careers360: How did you approach the NEET question papers?
Zeel Vipul Vyas: There was no strategic approach, and I simply followed the order of the question papers
Careers360:When it comes to pursuing MBBS, which college is your first choice?
Zeel Vipul Vyas: Like every other topper, AIIMS Delhi is my first college of preference.
Careers360:Whom do you attribute your success to?
Zeel Vipul Vyas: My parents and teachers have the most substantial influence on me. I was born to a pharmacist mother and a doctor father. My parents both work in the medical field.
Careers360: To aspirants preparing for NEET, what advice would you give?
Zeel Vipul Vyas: There is no doubt that hard work is the key to success, but hard work without a plan can be fruitless. Time management is something that everyone should learn. Aside from that, you shouldn't ignore a teacher's guidance because it is a blessing. Maintain a regular study schedule and clarify doubts as soon as they arise. Make sure you don't put it behind your back, thinking I will get to it later. If doubt remains, do not move on to another chapter or subject until the question has been answered.
Careers360: What are some helpful time management tips you can share?
Zeel Vipul Vyas: Prioritizing things and giving equal importance to board and NEET exams is very critical. Preparation should begin as soon as you become aware of the upcoming subject. The best way to do your homework is in advance. It may seem overwhelming at first, but with constant effort, the challenge will become your strength, and you will be glad you didn't give up.
Questions related to NEET
Showing 116528 out of 116528 Questions