Advantages and disadvantages of online and offline NEET 2023 Preparation
Advantages and disadvantages of online and offline NEET 2023 preparation - "In order to create an engaging learning experience, the role of the instructor is optional, but the role of the learner is essential." quoted Bernard Bull. Online learning is the future of education, and it is happening right now all around us. Several coaching facilities offer both online and offline programmes for NEET preparation 2023, making it difficult for the students to select just one.
Stay up-to date with NEET News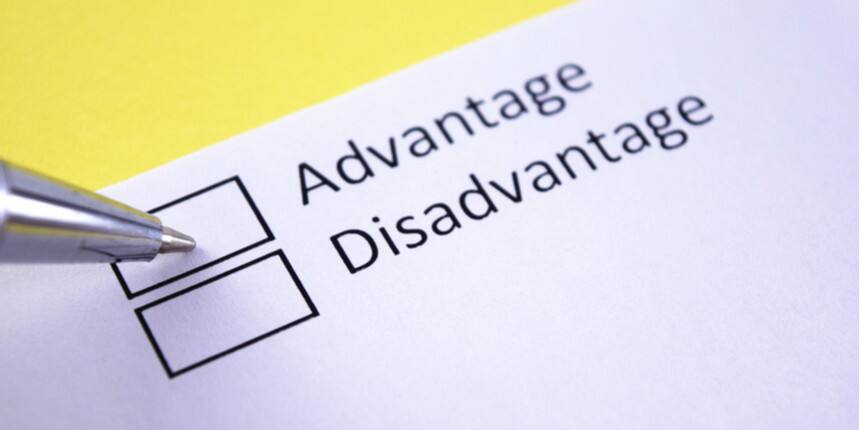 Every aspirant prefers the online preparation of NEET 2023. After COVID-19, a lot of educational institutions have transitioned into online classes for NEET 2023 preparation and performing well also. NEET is a pen-paper-based examination and the single undergraduate medical entrance examination in the nation.
The preparation of NEET 2023 has seen a large transition in online rather than offline. In order to understand the entire transition, it is first important for candidates to know the advantages and disadvantages of the NEET 2023 exam online and offline preparations.
Candidates preparing for the NEET examination should know which mode of preparation will well suit them. The way preparation for NEET 2023 varies from aspirants to aspirants, so it is highly advised to select the learning mode as per convenience. In order to help aspirants with the same Careers360 brings to you a detailed analysis of the advantages and disadvantages of NEET 2023 online and offline preparations in the article below.
Advantages of online NEET 2023 preparation
There are many high-yielding advantages of online NEET preparation. These are as follows:
Candidates can study in the comfort space of their own houses.

Also, with the ever-increasing use of online NEET 2023 preparations, there is an increase in engagement between students, teachers, and parents. This benefits teachers to enhance their skills.

Online classes also help bring in a lot more transparency, which was not there earlier. Parents can now sit alongside their children and see how much he/she is interacting in the class and how well they are taught.

Another advantage of NEET 2023 online preparation is that candidates who were earlier hesitant in asking questions in a classroom environment are now easily able to raise their queries through live chat.

'The way the whole pedagogy around online coaching is designed, the team of teachers is not stopping effort after delivering content, they are reaching out to students to check whether they are attending or not, parent-teacher meetings are being conducted online for students, this proves parents are also very keen', says Mr. A Chaudhary (Director & CEO) of Aakash Educational Services Limited (AESL).

Also, due to online NEET 2023 preparation classes, candidates do not require to travel long distances to reach their coaching institutes
Also Read -
Disadvantages of online NEET preparation 2023
When we start considering the disadvantages of online NEET preparation, they are very few. These include a lack of a proper classroom environment and disturbance from the family members. Another disadvantage of NEET online preparations is that candidates are not able to interact freely with the teachers to get their queries resolved, this is also because even teachers are not accustomed to teaching candidates in that manner.
Advantages of offline NEET 2023 preparation
Candidates, when seated in a classroom environment, are more likely to concentrate in the classes, than when sitting at home. This is because the classroom environment is designed in a way that offline NEET preparations bring about more engagement between student-teacher.
Disadvantages of offline NEET 2023 preparation
Large batch sizes result in a lack of individualised attention.
High prices (additional traveling, food, rent expenses).
There is no option to record classes, thus you will always be absent if you skip one.
Only local students will attend the coaching.
How do candidates make the best use of online NEET preparation 2023?
Candidates should now put their best foot forward as the NEET 2023 exam date is not yet announced. There is now no excuse left with them, if hard work is not put in now then it can never be. They should take active participation in online NEET preparation 2023 and not hesitate in asking any questions. Candidates should get their queries resolved on time and not hesitate to actively take part.
How can teachers adapt to NEET 2023 preparation online?
The entire online transition of NEET preparations has created an unimaginable burden on the teaching faculty of schools and coachings. It has become difficult for the aspirants of NEET 2023 to cope with fast-changing technology. However, they are not lagging behind much, as every day they get a chance to enhance their skills, adapt themselves to the new technologies, and provide tips for NEET 2023 preparations.
Frequently Asked Question (FAQs) - Advantages and disadvantages of online and offline NEET 2023 Preparation
Question: How is NEET 2023 online transition making changes?
Answer:
The online preparations for NEET 2023 have provided many high-yielding benefits as mentioned in the article above. These benefits will become more prevalent with the passage of time.
Question: What are the NEET 2023 online preparation tips for candidates?
Question: When will the authorities release the admit card of NEET 2023?
Answer:
NTA has not yet specified any date for the release of the NEET 2023 admit card. Candidates must note that the admit card will be available to them in online mode and PDF format.
Question: Which is better, NEET 2023 online or offline preparations?
Answer:
Both online and offline preparations have their own advantages and disadvantages. However, keeping in mind the current COVID-19 situation, online preparations are best suited.
Question: When will the authorities conduct NEET 2023?
Answer:
NEET 2023 exam date is yet not announced.
Questions related to NEET
Showing 116683 out of 116683 Questions