NEET 2022 Topper Interview- Tanishka AIR 1
NEET 2022 Topper Interview: The much-awaited NEET UG 2022 results were announced by the National Testing Agency (NTA) on September 7. Out of 1872343 candidates who appeared for NEET 2022, Tanishka from Rajasthan emerged as the topper by securing All India Rank 1.
Stay up-to date with NEET News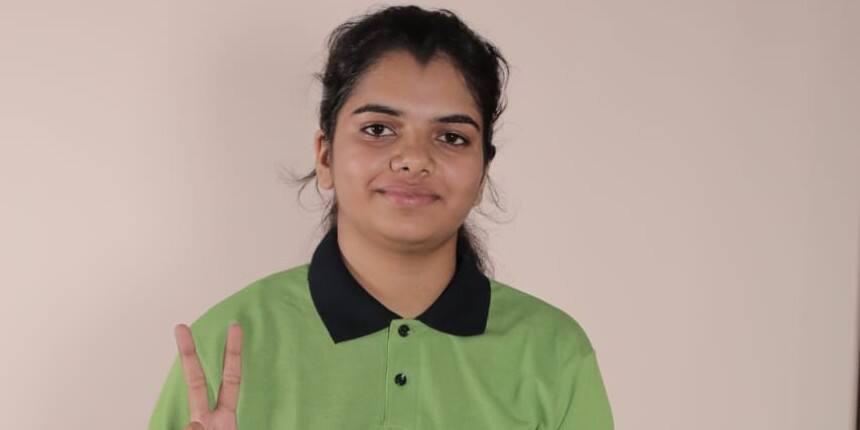 In conversation with Careers360, Tanishka expressed her desire to become a doctor, her feeling about the result and what has helped her become a NEET 2022 topper. Tanishka aims to get into the All India Institute of Medical Sciences, AIIMS New Delhi and gives credit to her teachers and parents for her journey. Keep reading to know insights into the NEET 2022 AIR 1 topper interview.
Careers360 Congratulations on your NEET 2022 results! How are your feelings about this achievement?
Tanisha: I have no words, really. For the first time in my life, I realised that one can have tears in their eyes in joy.
Careers360: Tell us something about yourself. Where did you complete your schooling and about your family?
Tanishka: Till Class 10, I studied in Yaduvanshi Shiksha Narnaul, and then in Class 11 and 12, I enrolled myself in Allen career institute for a two years classroom program. My father is a teacher and my mother is a lecturatist.
Careers360: What motivated you to choose medicine as a career? When did you decide to become a doctor?
Tanishka: It started with a feeling of humanity, we see people around who do not get the treatment that they need because of money. So I want to help such people in whatever way I can.
Careers360: Is this your first attempt? When did you start your preparations for the NEET exam?
Tanishka: Yes, this is my first attempt. I started my NEET preparations in Class 11th.
Careers360: How much time did you devote to self-study? What do you think is better, coaching or self-study?
Tanishka: I used to study 5-6 hours daily for my NEET 2022 exam. Coaching indeed helps you better with your NEET UG 2022 preparations.
Also read: NEET UG free coaching
Careers360: Which subject is your weak one and which is the strongest?
Tanishka: I don't feel that I have any weak subjects, nor did I feel any pressure during the preparations. My favorite subjects are Physics and Physical Chemistry.
Careers360: How was the NEET UG preparation different from the early days to just a month before the exam?
Tanishka: A month before my exam, I exceeded my self-study hours from 5-6 to 10-12.
Careers360: What was your exam day strategy? What was the roughest and the easiest section according to you?
Tanishka: My strategy for NEET 2022 exam day was to first attempt the biology questions first, then the chemistry subject and the last physics. The easiest section was Physics.
Also read: How to prepare for NEET UG at home?
Careers360: Which college is your dream college for studying medicine? What is your aspiration in the field of medicine and which specialization would you be interested in?
Tanishka: My dream college is AIIMS, New Delhi. I have not decided on the specialization, but out of all I'm interested in Cardio, Neuro and Onco.
Careers360: To whom do you attribute your successful NEET topper journey?
Tanishka: My parents, as well as, my teachers are the biggest supporters of my journey.
Careers360: What would you suggest to future NEET aspirants in terms of preparation, attitude etc?
Tanishka: Give your 100% during the preparations and you will get the result.
Questions related to NEET
Showing 126728 out of 126728 Questions