NEET 2023: Five Common Preparation Mistakes that Bring Your Score Down
NEET 2023 Preparation Tips - The journey of cracking India's single largest medical entrance exam, the National Eligibility cum Entrance Test (NEET) is long and tests candidates at every step. Students often make mistakes while preparing for NEET UG 2023 exam. Most of the mistakes students commit during NEET preparation are very common and can be avoided with a little extra focus and practice.
Stay up-to date with NEET News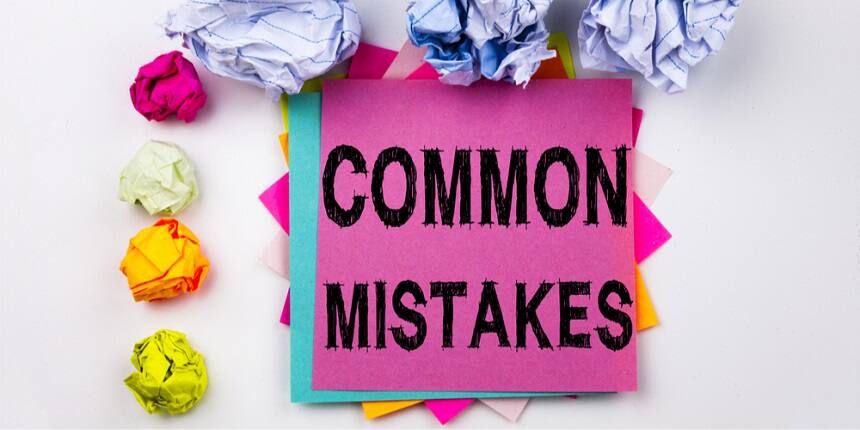 Correcting silly mistakes during NEET preparation 2023 is crucial as these mistakes can affect the performance of candidates in the exam and bring down their scores. The importance of cracking the NEET exam increases manifold as it is the only national level entrance exam conducted for medical admissions to UG courses in India.
NEET 2023 will be conducted for granting admission to as many as 91,927 MBBS, 27,698 BDS, 52,720 AYUSH, and 603 BVSc & AH seats. Owing to NEET's common mistakes, candidates can waste their entire year of preparation. Last year's 3 toppers set the level of competition by scoring full marks in the NEET. With such a high level of competition, it becomes imperative for candidates to identify 5 common mistakes during NEET preparations they are committing that can affect their NEET result 2023. The article below aims to highlight the five most common NEET preparation mistakes that bring candidates' scores down. To know about the 5 common mistakes that will affect NEET 2023 score read the article below.
5 mistakes to avoid while preparing for NEET 2023
Check the most common mistakes to avoid which can affect your NEET 2023 score below.
Lack of planning
A common mistake that differentiates serious NEET aspirants from non-serious ones is lack of planning. It is often observed in the case of non-serious NEET aspirants, that candidates do not plan their preparation strategy. Having a timetable, preparation strategy, long term, and short-term goals are a must for cracking NEET 2023.
Lack of planning and schedule leads to confusion and wastage of time during NEET preparation 2023. Thus, jumping into the race of cracking the NEET exam, candidates must prepare a timetable and schedule. The preparation strategy should cover the entire NEET 2023 syllabus well in time and must suit their convenience.
Multiple books
There are unlimited sources of study for NEET 2023 preparation and this creates chaos and confusion in the minds of NEET aspirants. Students preparing for the medical entrance test are also found to be under the impression that studying from multiple books is mandatory for cracking the NEET exam. However, this is one of the most common myths around NEET 2023 preparation.
NEET toppers over the years have always recommended students to focus on only one set of books for the NEET exam. Amongst the best books of NEET 2023 are the NCERTs. The NCERTs are often referred to as the bible of the NEET exam. NCERTs cover the entire syllabus of NEET 2023. Students should always revise the NCERTs multiple times to become thorough with NEET chapters.
Lack of analysis
After completing the syllabus of NEET 2023, candidates start the process of testing their level of preparation. For this, candidates rely on NEET 2023 mock tests, sample papers, and past-year question papers. Preparation of the medical entrance exam using NEET mock tests is a proven strategy for success. However, a very common mistake that students make is not analysing their performance in NEET mock tests. It should be understood that analysing how much the candidate scored in a mock test of NEET 2023 is a crucial part of NEET preparation.
Candidates who have aced the medical entrance exam in the past have a common strategy of analysing their performances in NEET mock tests. During analysis, candidates should identify how many questions they answered correctly and how many they didn't in the NEET UG mock test. Aspirants should also analyse the time taken by them in solving each question in the NEET question paper. Further, the questions candidates couldn't solve in the question paper of NEET should be solved separately. By analysing NEET mock tests, candidates can identify their scoring areas, weaker sections, speed, and accuracy.
Stress
The preparation journey of NEET 2023 is very demanding and stressful. Studying for long hours, managing multiple subjects, and high competition level in NEET 2023 takes a toll on candidates' health and results in stress. However, worrying about the future, ignoring your health, overthinking, and taking stress only contribute to deteriorating candidates' health and thus affect their preparation.
Students should understand that competition in NEET-UG is immense, and there's no doubt about that. The only way to succeed in cracking the exam is through hard work and practice. And to study well for the NTA NEET exam 2023, candidates must be healthy both physically and mentally.
All work no play makes Jack a dull boy
A healthy mind resides in a healthy body. Quite a famous saying and a very important one. Life is sure a balance of work and leisure. When preparing for the NEET exam, candidates try to isolate themselves to focus on their preparation. However, this often leads to stress and frustration in students. Thus, candidates should keep in contact with their friends, talk to their family, meditate, and maintain their health to achieve success in the NEET exam.
Frequently Asked Question (FAQs) - NEET 2023: Five Common Preparation Mistakes that Bring Your Score Down
Question: What is the syllabus of NEET exam 2023?
Answer:
The syllabus of NEET includes Physics, Chemistry, and Biology from classes 11 and 12.
Question: Which are the best books for NEET preparation?
Answer:
To prepare for NEET 2023, students are advised to refer to NCERT books.
Question: How many questions are asked in NEET exam?
Answer:
A total of 200 multiple choice questions are asked in the NEET exam. 100 questions are asked from Biology while 50 questions each are asked from Physics and Chemistry.
Questions related to NEET
Showing 116683 out of 116683 Questions