NEET 2020: Five Common Preparation Mistakes that Bring Your Score Down
NEET 2020: Five Common Preparation Mistakes that Bring Your Score Down - "When you make a mistake, there are only three things you should ever do about it: admit it, learn from it, and don't repeat it." a beautiful quote by Paul Bear Bryant. Candidates might make some NEET common mistakes but working on that or avoiding mistakes can lead to a better score. There are millions of students across the country who prepare to crack the NEET exam but out of that millions, only a few students make it to clear the exam for granting admission to around 1,63,150 MBBS/BDS/AYUSH/BVSc&AH seats. The reason is not like that the aspirants who do not qualify the NEET entrance exam, do not study well or give their all-time in preparation, nor is it like they are not serious about the exam. The fact is NEET 2020 is a single medical entrance test for undergraduate courses which makes it one of the most competitive exams of the nation. Seeing the level of the exam, it requires a proper NEET 2020 preparation strategy. During the preparation of NEET 2020, there are some common mistakes that students do, and that costs the score level down, despites of better preparation. Candidates are advised to read the article on " NEET 2020: Five Common Preparation Mistakes that Bring Your Score Down" to be aware of the mistakes and avoid doing any of them.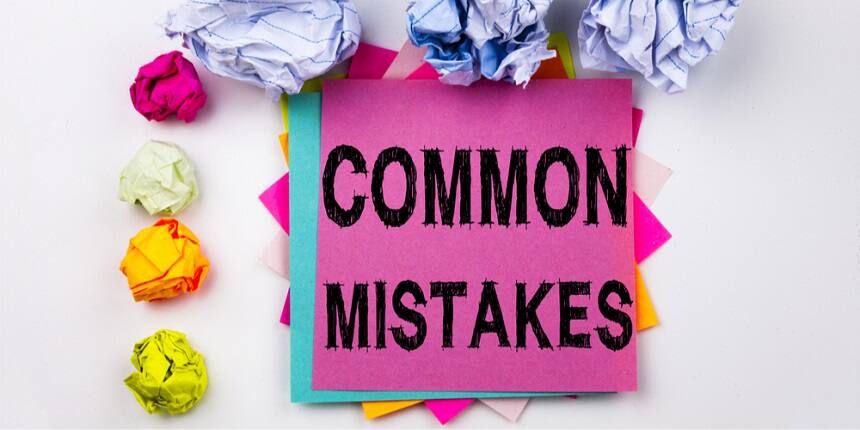 5 Mistakes to avoid while preparing for NEET 2020
Aspirants can go through the below-mentioned points that one should inculcate during the preparation in order to assure high score in the upcoming NEET 2020 examination:
Preparing without schedule
"A plan is what, a schedule is when. It takes both a plan and a schedule to get things done." a quote by Peter Turla. Candidates preparing for NEET without a proper schedule might land themselves into lots of confusion in the end and even their hard work will not give any result. Candidates are advised to prepare a daily routine for NEET 2020 preparation as per their convenience. As every candidate has their different time in which they know they can prepare well. So, candidates have to prepare the NEET 2020 timetable according to that. Candidates also know about their weaker and stronger points for the NEET exam. So, candidates have to work more on the weaker section and have to plan accordingly. It must be noted by candidates that they should not leave any portion of NEET syllabus 2020.
Working harder than working smart
Sometimes hard work does not pay but the smart work does as there are students who have a misconception that by devoting a certain number of hours in the preparation can help them to crack the NEET 2020 exam. Yes, it is right for getting success or having a better result. The efforts are important, but knowing where to make efforts makes all the difference. There will be situations or times when students sit still in front of books for hours and hours but do not gain much because of the lackness of concentration or attention. Candidates should not work harder by targeting a specific number of hours for NEET preparation. They should act smartly by targeting a specific number of topics or chapters. Especially during the last month of NEET 2020 preparation, the change in the score will be made by the smart work of the NEET aspirants.
Ignoring NCERT and jumping over lots of books
The primary step a medical aspirant makes during the preparation is searching for the best books for NEET 2020. By taking some anonymous advice, most of the aspirants end up buying lots of reference books, neglecting the NCERT books for NEET 2020 preparation. Ignoring the NCERT book and focussing more on the reference book is one of the most common mistakes students make during the NEET preparation. In order to score good marks NCERT books should be prioritized first for preparation of NEET 2020. After evaluating the previous year NEET question papers, experts advise that in the medical entrance test more than 95% of questions are based on the NCERT concept. So, one cannot secure a decent score without adding NCERT books as a tool for their NEET 2020 preparation. A common problem in aspiring candidates of NEET is switching from one book to another. Doing this might lead candidates in lots of confusion.
Not doing a proper self-analysis
Self-analysis is the most powerful way of getting answers for all confusion and the improvement begins with the self-analysis. There are many students during the NEET 2020 preparation who escape the phase of self-analysis in the race of knowing more and more. Candidates should note that without being aware of their preparation analysis, they can't score in the NEET result. So aspirants have to avoid this facet of preparation of NEET 2020 to score well in the exam. To cope up with these candidates are advised to practice the questions from the NEET 2020 sample paper, question papers, or opting for various mock tests for the exam. By practicing the question candidates easily have the NEET preparation analysis of the area in which they have to work more and in which portion they have their grip.
Not taking care of health and hygiene
Sometimes the students' with more dedication and enthusiasm or fear of the NEET 2020, study for hours and hours and forget that their body & brain needs some rest. In Fact, there are aspirants who even don't care about health and hygiene, which are the most ignored but more important mistakes which aspirants make during NEET 2020 preparation and this should be avoided. This duty is not only for the students but parents also to know how to keep aspirants healthy during the NEET preparation. Without proper health one cannot be able to secure a good rank and even appear for NEET 2020. So candidates should take a little break during the NEET 2020 preparation hours, do some physical exercise and even a small meditation can boost up the concentration level.
Also read:-
Frequently Asked Question (FAQs) - NEET 2020: Five Common Preparation Mistakes that Bring Your Score Down
Questions related to NEET
Showing 102087 out of 102087 Questions