NEET Reservation Criteria 2020: EWS, PWD, SC, ST & Others
NEET reservation criteria 2020 reflects the percentage of seats that are reserved for the scheduled castes(SC), scheduled tribes (ST), other backward castes (OBC), economically weaker section (EWS) and for candidates with physical disabilities (PwD) for admission to MBBS, BDS and AYUSH courses through NEET 2020. Candidates who will qualify the entrance test will be invited to participate in the NEET 2020 counselling process where the admission is taken on the basis of NEET 2020 reservation criteria. The reservation criteria of NEET 2020 is applicable on the 15% seats offered in All India Quota. For the 85% state quota seats, each state has its own NEET reservation criteria 2020 which are applicable at the time of state counselling. In addition to that, all NEET seats offered in central/deemed Universities and private colleges are also under the purview of NEET 2020 reservation criteria. To bring the disadvantaged section of the society at a level playing field, the NEET reservation criteria has been brought in effect.
Latest - NEET result to be declared soon; click here for direct link by Careers360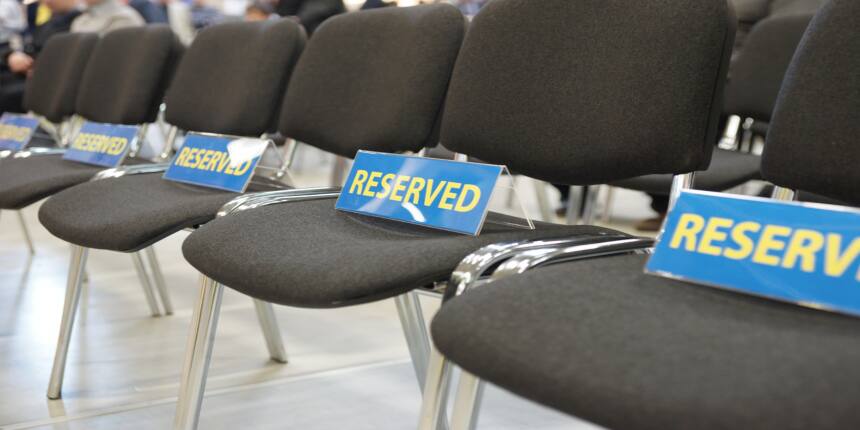 NEET 2020 was conducted on September 13, 2020 in offline mode for admission to 80,055 MBBS and 26,949 BDS seats offered in the medical-dental colleges of India. Interested candidates can check the detailed information on the NEET reservation criteria for the upcoming academic session in the article below.
NEET Reservation Criteria 2020 - 15% AIQ
The Directorate General of Health Services (DGHS) on behalf of Medical Counselling Committee (MCC) will conduct the counselling for 15% seats offered in all government medical colleges except for the state of Jammu and Kashmir. As per the reservation criteria of NEET 2020, out of the total 15% seats are reserved for SC candidates, for ST candidates 7.5 % seats will be kept reserved while 27% of the seats are reserved for OBC candidates. Rest of the unreserved seats will be filled based on the merit achieved in NEET 2020. From the year 2018, states of Andhra Pradesh and Telangana also participate in the AIQ counselling. Candidates must note that the remaining unreserved seats are filled on the basis of merit secured in NEET result 2020.
NEET reservation criteria for 15% AIQ
| | |
| --- | --- |
| Category | Reservation |
| Scheduled Caste | 15% |
| Scheduled Tribe | 7.5% |
| Other Backward Castes | 27% |
| Economically Weaker Section | 10% |
| Persons with Disability (PwD)* | 5% |
*Horizontal reservation across all categories including unreserved seats.
NEET Reservation Criteria - Economically weaker section
With effect from 2019, Ministry of Health and Family Welfare has brought EWS quota in NEET-UG admission. As per the official rule, 10% of the seats will be reserved for the candidates financially unsound background. Such candidates must not be covered under any other reservation scheme and the gross family income should not exceed Rs. 8,00,000/-. Clear criteria and guidelines have been issued by the authority based on which the beneficiaries of the EWS reservation will be distinguished. The EWS category will be applicable to PwD and CW category seats available in Delhi University and medical college of RML Hospital. Following are the detailed criteria.
Those candidates whose family own any of the following assets will not be considered eligible to avail admission under EWS quota.
5 acres of agricultural land and above

Residential flat of 1000 sq ft. and above

Residential plot of 100 sq. yards and above in notified municipalities

Residential plot of 200 sq yards and above in areas others than the notified municipalities.
Candidates must note that EWS reservation at all India level will be offered in the central universities only. For the 85% state quota seats, respective state counselling authority will release their own criteria based on which EWS reservation will be implemented. To accommodate the 10% reservation criteria, seats have been increased so that pre-existing NEET reservation criteria is not disturbed.
NEET reservation 2020 (EWS) - List of colleges
Reservation criteria for NEET 2020 at all India level will be applicable only in central education institutions/ central universities for whom the LoPs have been issued by the Board of Governors, Medical Council of India and will be applicable only for UR category candidates.
NEET reservation criteria 2020- Persons with disability
In accordance with the NEET 2020 reservation criteria, candidates with benchmark physical disability will get a reservation of 5% out of the total seats available. This provision has been brought in effect under the Rights of Persons with Disability Act, 2016. Candidates claiming reservation under the said act (AQI seats) will be required to submit a Disability Certificate issued by one of the disability assessment boards as listed below.
Reservation Criteria of NEET 2020 - 85% state quota seats
The NEET reservation criteria for seats under state quota seats will be subjected to the latest reservation policy prevailing in the state released by the counselling authority. Each state has its own reservation policy for various indigenous categories which are governed under the state rule. Admission to all seats offered in private medical and dental colleges are also governed by the respective state counselling authority which does not necessarily have NEET reservation criteria.
Reservation Criteria of NEET 2020- Deemed/Central Universities & ESIC colleges
All the seats offered in Deemed/Central universities, ESIC college and AFMS institutes are also filled through All India counselling conducted by DGHS and the same NEET reservation criteria will be applicable here. However, admission to AFMC, Pune shall be subject to the rules and regulations prescribed by the Directorate General of Armed Forces Medical Services, Ministry of Defence, Government of India.
For details on NEET 2020 reservation policy - Click here
Frequently Asked Question (FAQs) - NEET Reservation Criteria 2020: EWS, PWD, SC, ST & Others
Question: What are the reservation criteria for NEET aspirants?
Answer:
As per the reservation criteria, seats for SC, ST, OBC, EWS and PwD candidates will be reserved. The admission to 15% AIQ, 85% state quota and other seats will be allotted through NEET 2020 scores.
Question: How many seats are reserved for general category candidates under NEET reservation?
Answer:
The seats left after the constitutional reservation for NEET exam will be available for general category candidates.
Question: How many seats are reserved in a government college?
Answer:
15% seats will be reserved for All India Quota seats, while 85% seats will be reserved for state quota. The seats under this reservation will be allotted as per the NEET reservation criteria 2020.
Question: Question: Is domicile required for NEET reservations?
Answer:
For admission to 15% AIQ, seats will be allotted irrespective of the domicile NEET criteria. While for 85% state quota seats, candidates need to fulfill the domicile and other eligibility conditions asked by the respective authority.
Question: How many seats are reserved for SC and ST under AIQ?
Answer:
As per government regulations for NEET reservation criteria, 15% seats for Scheduled Caste (SC) and 7.5% seats for Scheduled Tribe (ST) are reserved in Central Universities.
Questions related to NEET
Showing 97575 out of 97577 Questions