NEET Reservation Criteria 2024 - The National Testing Agency (NTA) will release the detailed NEET 2024 reservation criteria along with the information brochure. The NEET-UG reservation is provided to state medical and dental colleges under the All India scheme along with central universities.
The decision on seat reservation of NEET UG will benefit nearly 1,500 OBC and 550 EWS candidates. Candidates must note that the NEET reservation criteria 2024 will be directed under reservation guidelines of the Government of India (GOI). Besides EWS and OBC, the reservation of 15% seats for Scheduled Caste (SC), 7.5% seats for Scheduled Tribe (ST) and 5% seats for Persons with Disability (PwD) will be given. Medical aspirants must fill their reservation criteria of NEET-UG while registering for NEET 2024 admissions.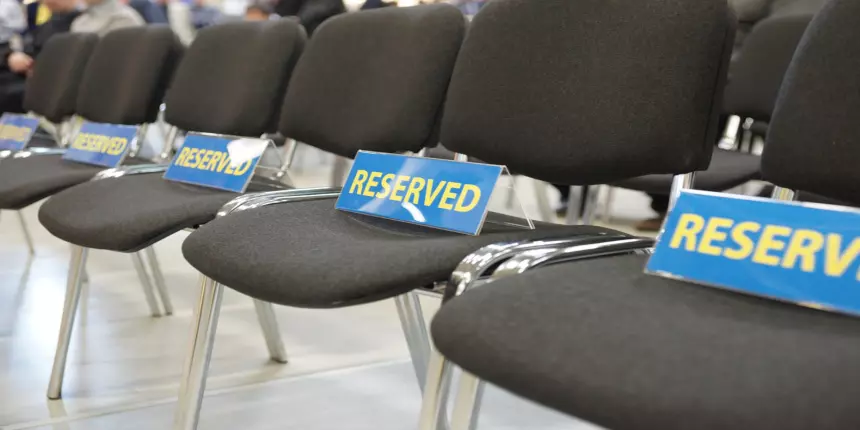 NEET Reservation Criteria 2024: EWS, OBC, PWD, SC, ST & Others
In every state, 85% of seats are reserved under State Quota candidates and NEET 2024 reservation criteria for them is decided by the concerned state authorities. NEET is the single undergraduate national-level medical entrance examination. Based on the NEET result 2024, admissions to over 1 lakh MBBS and 27,868 BDS seats, 52,720 AYSH seats, and 603 BVSc & AH seats will be offered in the medical-dental colleges of India. For more details on the reservation criteria of NEET, SC ST reservation in NEET and others, candidates are advised to refer to the articles that follow.
NEET Reservation Criteria 2024 for 15% AIQ
NEET 2024 reservation criteria will be provided to 27% OBC and 10% EWS categories. Out of total seats in all government MBBS/BDS colleges, 15% will be reserved for All India Quota (AIQ) seats. The seats under the 15% AIQ scheme will be allotted through NEET-UG reservation criteria. Earlier, the Supreme Court introduced NEET reservation to 15% seats for SC and 7.5% seats for ST categories. While, the 27% OBC reservation for NEET admissions were implemented in Central universities only. However, it was not extended to AIQ seats of state MBBS and BDS colleges.

In 2021, the Government of India (GoI) took a decision to provide 27% OBC and 10% EWS reservation in the AIQ scheme. The OBC and EWS students from across the country are able to take admissions under the AIQ scheme. Check the OBC and EWS NEET reservation tweet here.
The Directorate General of Health Services (DGHS) on behalf of the Medical Counselling Committee (MCC) conducts the counselling for 15% seats available for admission in all government medical and dental colleges. This does not apply to the colleges present in Jammu & Kashmir. As per the NEET reservation criteria, there are certain percentage of seats reserved category-wise in government medical colleges, in the 15% AIQ. Candidates must note that the remaining unreserved seats are filled on the basis of merit secured in NEET result 2024.
NEET Reservation Category: AIQ 15% Reservation Criteria
| | |
| --- | --- |
| Category | Reservation |
| SC | 15% |
| ST | 7.5% |
| NEET reservation for OBC-NCL | 27% |
| GEN-EWS | 10% |
| Persons with Disability (PwBD) | 5% |
*Horizontal reservation across all categories including unreserved seats.
NEET Reservation Criteria - Economically weaker section
The Ministry of Health and Family Welfare brought EWS quota in NEET-UG admission in 2019. Under this quota, 10% of seats are reserved in the government medical colleges for candidates from financially unstable backgrounds. The distinguishing criteria for EWS category in NEET 2024 reservation are listed below. It must be noted that those candidates whose family owns any of these will not be eligible.
Annual income of the family must not be more than ₹8,00,000

5 acres of agricultural land and above

Residential flat of 1000 sq. ft. and above

Residential plot of 100 sq. yards and above in notified municipalities

Residential plot of 200 sq. yards and above in areas others than the notified municipalities
Participating institutes in NEET EWS reservation
1. Central University/Institutes
2. National Institutes
3. State Government Medical Colleges
NEET Reservation Criteria 2024 (EWS) - List of colleges
Given below is the list of colleges that undertake admissions through NEET EWS reservations. Also this reservation will only be available to candidates belonging to unreserved categories.
NEET reservation criteria 2024 - Persons with disability
In compliance with the last year NEET reservation criteria, those candidates who have a benchmark physical disability are eligible for getting a reservation of 5%. Candidates will be getting this provision under effect of the Rights of Persons with Disability Act, 2016.
Those candidates who claim to be eligible for NEET 2024 reservation criteria under the same will have to submit their Disability Certificate, issued to them by one of the below-mentioned disability boards.
Reservation Criteria of NEET 2024 - 85% state quota seats
Like previous years, the guidelines for NEET reservation criteria for the seats which are under state quota will be set by the state counselling authorities on the basis of the prevailing reservation policies. Candidates must be aware that all the states have their own reservation policies. These reservation policies are strategized for different indigenous categories that are governed under state rule.
Also, the concerned state counselling authorities govern the admission process in the government and dental colleges of the particular state. Their reservation policy might not match with NEET 2024 reservation criteria.
Reservation Criteria of NEET 2024- Deemed/Central Universities & ESIC colleges
DGHS conducts All India Counselling for seats available in Deemed/Central universities, ESIC college and AFMS institutes and NEET reservation criteria 2024 is applied here. Directorate General of Armed Forces Medical Services, Ministry of Defence, Government of India lays down rules and regulations for admission to AFMC, Pune.
Also read: