Negative Marking in NEET 2023 - How can I avoid it?
Negative marking in NEET 2023 - The National Testing Agency (NTA) conducts the National Eligibility cum Entrance Test (NEET 2023) for all aspiring medical candidates. While preparing for the medical entrance test, students are most concerned about the NEET negative marking. Most students frequently ask, "Is there a negative marking in NEET 2023."
Stay up-to date with NEET News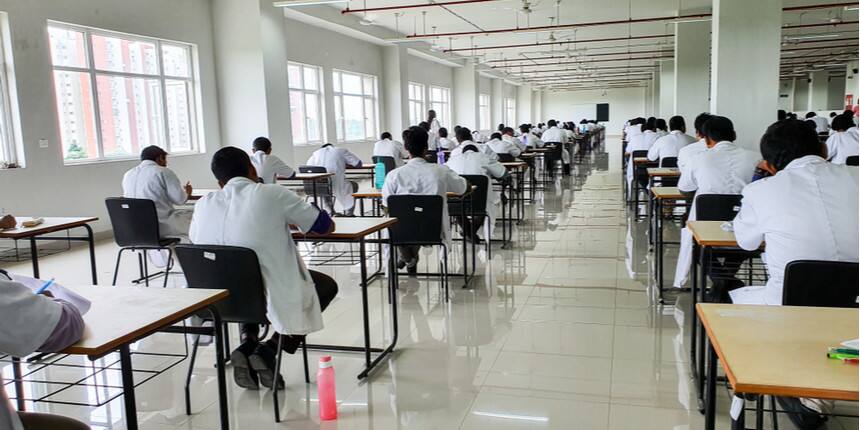 Due to NEET 2023 negative marking system, candidates generally hesitate to answer even when they have a vague concept of the answer. However, as per the previous years, NEET UG marks vs ranks, we can easily see, that a single wrong answer can cost an aspirant a few thousand ranks.
The negative marking in NEET is well defined in the official marking scheme. As per the official NEET marking scheme 2022, four marks are to be awarded for the correct answer, while one mark is to be deducted for the wrong attempt. To avoid speculations in attempting the question paper and avoid NEET 2023 minus marking, aspirants should read the article below.
NEET Negative Marking System 2023 - Official Scheme
To concentrate on reducing negative markings during NEET UG 2023 preparation, all applicants must be aware of the negative marking pattern. The key to getting a higher NEET-UG test result is understanding negative marking and how to avoid it.
Each question carries 4 marks.

For each correct response, the candidate will get 4 marks.

For each incorrect response, one mark will be deducted from the total score.

No marks will be deducted if the candidate leaves the question and does not attempt.

If a candidate attempts more than one answer to the same question, it will be considered an incorrect response and will be negatively marked.
How To Calculate Negative Marking In NEET 2023
As per the NEET UG paper pattern, a total of 200 questions will be asked in the examination out of which candidates will have to answer 180 questions. So, the maximum number of questions to be answered in NEET exams is 180 which scores the NEET 2023 total marks, 720 marks. Out of the NEET total marks of 2023, 360 marks are for Biology (Botany + Zoology), 180 marks are for Physics, and 180 marks are for Chemistry. Before taking the exam, candidates must be familiar with the negative marking in NEET 2023. One can calculate negative marking in NEET with the help of these points:
Count the number of correct responses and multiply by 4

Count the number of incorrect responses

The difference from the above-mentioned points fetches your NEET score
Formulae to calculate NEET score:
NEET Score 2022 = (Correct answers X 4) – (Incorrect answers X 1)
How to Avoid Negative Marking In NEET?
NEET negative marking is the biggest enemy of the NEET scores 2023, which you must overcome if you want to ace the test. The minus marking in neet 2023 can cost aspirants their rank. As per the subject experts, in the NEET 2023 syllabus, the biology section is there, where the scope of negative marking is high. People get overconfident in NEET biology 2023 and believe that it cannot be incorrect. Since physics and chemistry are primarily conceptual subjects, there are fewer chances of receiving low marks if you study diligently.
Tips to Avoid Negative Marking In NEET
Ask yourself a lot of questions about each NEET UG 2023 subject. Practice more and more questions, as the more you practice, the better you get at understanding the question being asked by the examiner and you will be better at correctly marking the NEET correct response.

No matter how much preparation you have done, on should avoid being overconfident. As Overconfidence precedes carelessness, which increases the chances of NEET minus marking.

Don't rush while attempting the question. Read the questions once completely and then begin to answer them.

Be focused, while you are solving one question; try not to consider any other questions you may have left unanswered or that you might wish to try later. One should try meditation on a regular basis, as it is quite beneficial.

If you attempt to practice NEET previous years' questions or mock tests online, do it in a real NEET-like environment. If you do so, take these seriously and try to finish them quickly without wasting time or halting the fake tests in between.\

Always review or analyse your errors after completing the question paper. The conceptual and factual mistakes contribute largely to negative marking in NEET. Therefore, analysing correctly will help aspirants in decreasing the NEET 2023 exam negative marking.

Maintain a calm and relaxed state of mind when you solve the NEET question papers 2023; otherwise, you'll undoubtedly mark the incorrect ones. While attempting the paper, try not to be tense.

Remember to double-check the question and the number of NEET OMR while filling in the bubbles. People frequently mark the correct response but the incorrect question. In NEET OMR sheet 2023, it's common for people to skip a question and then repeatedly mark the incorrect response for each subsequent question. Try to avoid these.
Questions related to NEET
Showing 116919 out of 116919 Questions