AIIMS PG Analysis 2020 by Students and Question asked in Exam
AIIMS PG exam analysis 2020 by students - All India Institute of Medical Sciences (AIIMS), New Delhi has successfully conducted the AIIMS PG/MDS entrance exam on June 11, 2020, from 1:00 PM to 4:00 PM. In the judgment for postponement of AIIMS PG July session exam, the Delhi High Court had mentioned that around 40,000 candidates registered for the entrance exam. While a total of 33,491 candidates appeared for the AIIMS PG exam. As per the exam analysis of AIIMS PG July 2020, students found questions asked from Emergency Medicine and Obstetrics & Gynecology. While covering the current events, three questions were asked from COVID-19. Careers360 had conversations with candidates who appeared for the test, to know AIIMS PG 2020 exam analysis, difficulty level, topic-wise weightage and previous year analysis.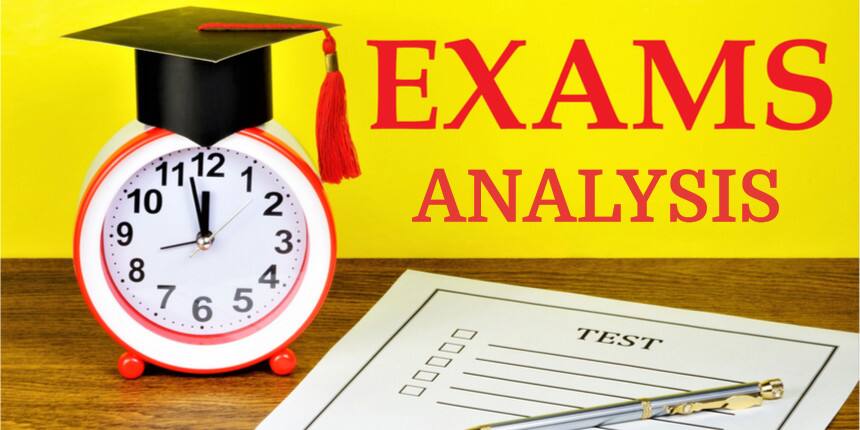 Few days before the exam, the authority released an official notice mentioning change in AIIMS PG exam pattern 2020 pattern. The questions asked in the exam were Multiple Choice Questions (MCQs) of the single best answer type.
AIIMS PG 2020 exam analysis by participants
Check some of the student reactions on AIIMS PG July session below.
AIIMS PG analysis 2020 for difficulty level
According to the AIIMS PG analysis 2020, the entrance was moderate. Dr. Sumit Nahata, shared that the difficulty level of AIIMS PG exam was not reputed like previous years. However, some questions were asked which requires knowledge of the subjects.
AIIMS PG exam analysis - comparison with last year paper
One cannot compare the difficulty level or AIIMS PG exam analyse since the paper pattern was changed. AIIMS focuses more on Biostatistics and Epidemiology in PSM, since there are more calculative parts, but nothing was there. Blood transmissions and Clinical Oriented questions as an intern were asked in the previous years AIIMS exams.
"Some questions were too easy which were directly repeated from last year's AIIMS exam, while others were too difficult to answer. It was not at all like AIIMS standard, which has been followed for the past few years" said Dr. Sumit Nahata, who attempted for the first time.
Another aspirant also said that, there were no sectional-division in AIIMS PG 2020, like last year. It seemed like AIIMS wanted to conduct the entrance exam as soon as possible. THis year, AIIMS PG 2020 July exam will be a high scoring exam.
AIIMS PG analysis - topic-wise distribution
Dr. Sumit also shared that questions were asked from Emergency Medicine, Casualty, three questions related to COVID-19. Every year, AIIMS PG exam contains more questions from these topics, Obstetrics and Gynecology. AIIMS also asks questions from the last six month events.
While some of the students shared when asked about AIIMS PG 2020 analysis that Psychiatry has the least number of questions and the computer based exam was more balanced in comparison to the previous year.
AIIMS PG exam analysis 2020 - technical glitches
As per the analysis of AIIMS PG 2020, there were no technical glitches during the entrance examination, AIIMS PG smooth. As per the AIIMS PG exam analysis 2020 by students, most of the glitches occur due video questions, which were asked in earlier AIIMS exam pattern.
AIIMS PG 2020 exam analysis through social media
After the completion of the entrance exam, a number of candidates who took the exam shared their experience of AIIMS PG analysis July 2020 on various social media platforms like Facebook, Twitter, Quora and Careers360 QnA. Some of the analysis for the AIIMS PG 2020 exam has been shown below.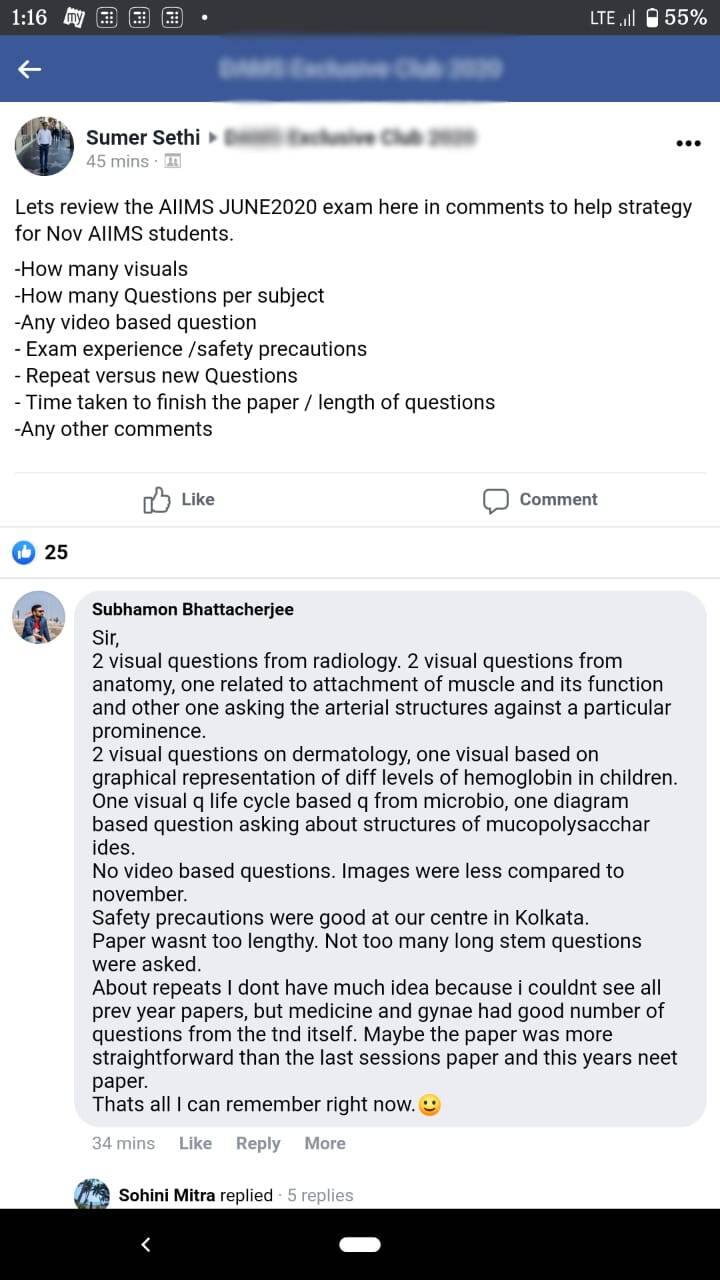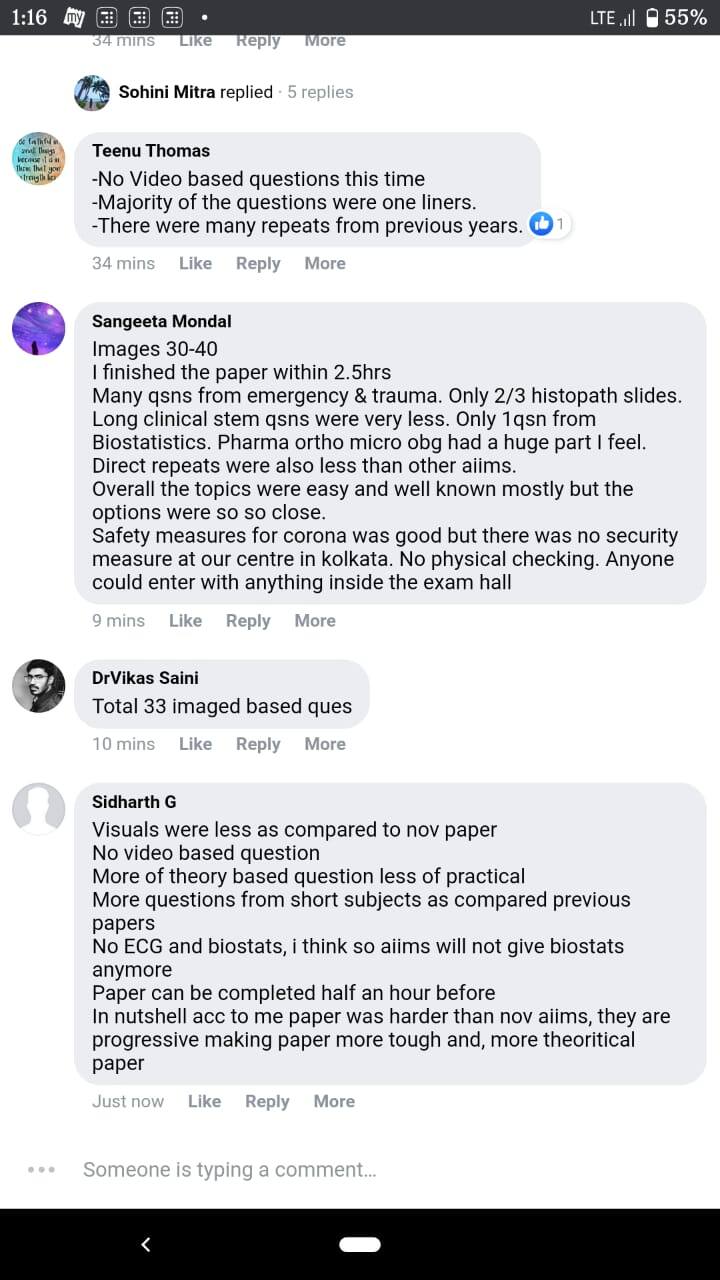 Questions asked in AIIMS PG 2020 July session
Based on their memory, some of the students posted on various social media platforms some of the questions that were asked in AIIMS PG.
Q.1. All of the following are components of biophysical profile except
a. Fetal breathing movement
b. Gross body movement
c. NST
d. Contraction stress test
Q.2. Which is not mechanism of action of OCP
a. Suppression of ovulation
b. Cervical mucus changes
c. Prevents implantation
d. Dec. GnRH
Q.3. Which is not component of Bishops score
a. Cervical dilatation
b. Cervical length
c. Position of cervix
d. FHR
Q.4. What is the criteria for abdominal ectopic pregnancy
a. Spigelberg
b. Studdiford
c.Rubin's
d. None
Q.5. 50 year old lady presents with abnormal vaginal bleeding for 2 months.Management will be
a. Progesterone
b. Hysterectomy
c. Endometrial aspiration cytology
d. LNG-IUD
Q.6. Ideal age for screening of cancer cervix
a. <21 yr
b. > 30 yrs, every 5 yearly
c. 21-65yrs
d. > 65yrs
Q.7. 30 yr old female wad diagnosed with unilateral breast cancer, she was put on Tamoxifen, risk of which of the following will be increased
a. Inc incidence of ovarian ca
b. Inc chance for opposite breast Ca
c. Inc. Risk of endometrial ca
d.CML
Q.8. 28 yr old G2P1 with 8 months amenorrhea presented with pain abdomen, bleeding per vaginum, loss of fetal movements, History of PIH on medication, diagnosis
a. Placenta previa
b. Abruptio placentae
c. Preterm labor
d. Polyhydramnios
Q.9. 28 yr old lady presents with 6weeks amenorrhea, pain abdonen, bleeding P/V, UPT +, TVS shows empty uterus, no Free fluid in POD, ovary normal, next line of management
a. Laparoscopy
b. Evacuation of uterus
c. Hospitalize and observation
d. Follow up with beta HCG
Q.10. ESR increases in pregnancy because of increase
a. Fibrinogen
b. Albumin
c.Antithrombin
d. Platelets
Q.11. 38 yr old lady presented in Gyne OPD with cytology report showing HSIL, next step will be
a. Repeat pap smear
b. Hysterectomy
c. Colposcopy
d. Cryosurgery
Q.12. 24yr old female presents with 6 weeks amenorrhea, intractable vomiting, USG showed snow storm appearance, next step im mg
a. Follow up with beta HCG
b. Suction, curettage
c. Medical treatment
d. Conservative management
Q.13. All are used in treatment of PCOS except
a. Clomiphene citrate
b. Ulipristal
c. Laparoscopic ovarian drilling
d. Letrozole
Q.14. 32yr old lady presented in infertility clinic, she has regular cycles of 28 days, ovulation can be confirmed with
a. progesterone levels at 14 days
b. Progesterone levels at 21days
c. LH at 14 days
d. LH at 21 days
Q.15. All structures are cut in mediolateral episiotomy except
a. Bulbospongiosus
b. Superficial and deep perineal ms
c. Pudendal vessels
d. Obturator muscle
AIIMS, New Delhi will announce the result of AIIMS PG 2020 for July session within a week of completion of exam. Thus it is expected that AIIMS PG 2020 result will be announced by June 18, in PDF format. AIIMS PG aspirants can download the result in online mode mentioning roll numbers, All India Rank, category, category rank, percentile secured and counselling remarks. Shortlisted aspirants can also download the AIIMS PG scorecard 2020 by entering the required credentials.
Frequently Asked Question (FAQs) - AIIMS PG Analysis 2020 by Students and Question asked in Exam
Question: How was the AIIMS PG exam for the July session?
Answer:
AIIMS PG June 2020 was moderate. However, some questions were tough and some were too easy to answer.
Question: Was there any technical glitches in AIIMS PG?
Answer:
No, there were no technical glitches in the exam as no video questions were asked.
Question: When will AIIMS PG result 2020 be announced?
Questions related to AIIMS PG
Showing 641 out of 641 Questions