NEET 2019 Topper Interview: "Regular practice and guidance paid off" says Raghav Dubey, AIR 10
NEET 2019 Topper Interview: The result of NEET 2019 has finally announced on June 5, on the auspicious occasion of Eid. The announcement of result on the day of Eid brought the joy of spring for NEET topper 2019, Raghav Dubey. Hoshangabad boy bagged NEET AIR 10 with 695 marks out of a total of 720. A son of a Biology teacher, Raghav also developed a keen interest in Biology and wish to pursue MBBS from AIIMS, New Delhi or Maulana Azad Medical College, New Delhi. With the proper guidance of teachers and motivation from friends and family, Raghav has cracked the NEET 2019 exam. Raghav Dubey, who secured 99.9992203 percentile in NEET UG, focused on the importance of self-study in his exclusive NEET 2019 topper interview with Careers360. Raghav is a passionate swimmer and loves to spend time with his family. Here is the complete interview of NEET 2019 topper, Raghav Dubey, and his success story.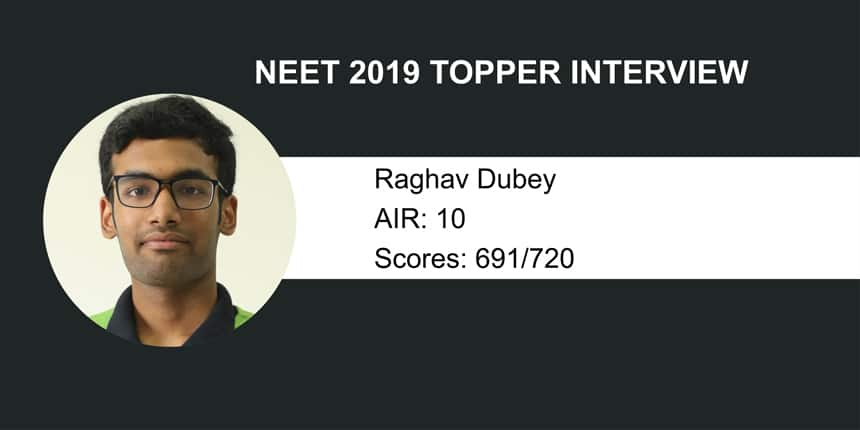 Careers360: First of all, congratulations on emerging as a NEET 2019 topper! How are you feeling about your NEET results?
Raghav Dubey: I am feeling happy. I never expected to become NEET 2019 AIR 10. So, this day has been the most joyful day.
Careers360: Tell us something about your background.
Raghav Dubey: I belong to Hoshangabad near Bhopal, Madhya Pradesh. I completed my Class 10 and Class 12 from Hoshangabad itself. Being an average student in schools I was satisfied. I moved to Kota two years before. My father is a farmer-cum-businessman, while my mother was a Biology teacher now turned as a housewife.
Careers360: What motivated you to pursue medicine as a career?
Raghav Dubey: Like my mother, I was also really drawn towards Biology and that is why I thought of pursuing medicine as a career and becoming a doctor.
Careers360: How did your family support you in your journey?
Raghav Dubey: They really supported and motivated me a lot. This is a team effort of my family. However, they never forced me to chase a good rank but always advised studying hard. My family has been a constant support for me. They have stood with me through all hurdles in life.
Careers360: Can you share with us your overall and subject-wise score in NEET 2019?
Raghav Dubey: I managed to obtain 695 marks out of 720. As per the subject-wise marks are concerned, I scored 345 in Biology and 175 marks in Chemistry and Physics, respectively.
Careers360: Which other medical entrances have you appeared for?
Raghav Dubey: Yes, I took the AIIMS MBBS and JIPMER UG entrance exam. Also, expecting good scores just like NEET.
Careers360: How did you prepare for NEET 2019 while balancing your preparations for the Board exam and other medical entrances?
Raghav Dubey: I have been preparing for NEET UG exam for last two years. The major three subjects for NEET i.e. Physics, Chemistry and Biology were almost done in a year. Then, I just had to prepare for English and other additional subjects. Though, the board preparations strengthen my NCERT concepts.
Careers360: Tell us about your NEET preparation routine.
Raghav Dubey: There was no routine for NEET 2019 preparations. I just followed my teachers' advice and used to revise each and every topic. I always tried to complete a topic from all the three NEET subjects.
Careers360: Did you take any coaching or help? How beneficial did it prove?
Raghav Dubey: I took coaching from Allen Kota for two years. And yes, most of the credit of my success goes to Allen Kota. There were daily routine practices and motivation sessions.
Careers360: How much time did you devote to self-study vs. coaching?
Raghav Dubey: After six hours of coaching, I always tried to study 5-6 hours a day. However, during weekends or holidays, the time span used to increase to 7-8 hours. I never focused on the time I studied but was always tried to focus more on completing my topics.
Careers360: What was your exam day strategy for all three subjects, namely Physics, Chemistry, and Biology?
Raghav Dubey: Since Biology has the maximum number of questions, therefore, I focused more on completing Biology first. Then tried to complete Chemistry and Physics.
Careers360: Which according to you were the toughest and easiest sections?
Raghav Dubey: Biology was not the toughest one, but there were some questions which were tricky. The chemistry was based on NCERT questions only, so it was moderate and Physics was the easiest one.
Careers360: How did you tackle your strong and weak areas?
Raghav Dubey: When I had enough time to prepare for NEET 2019, I tried to cover as many topics as I can. However, by the time of D-day, I did not try to look for the leftover topics.
Careers360: What are your hobbies? Did you engage in them during the preparations?
Raghav Dubey: I had a passion for swimming, which I had to drop due to preparations. I used to talk to my friends and family for some time during preparations.
Careers360: What factors would you attribute this success to?
Raghav Dubey: I am really thankful to my family, friends, and teachers.
Careers360: Any particular college you have in mind for admission?
Raghav Dubey: Only AIIMS, New Delhi, if I clear AIIMS MBBS 2019 with good scores. If not then, Maulana Azad Medical College, New Delhi.
Careers360: Where do you see yourself in the next 10 years?
Raghav Dubey: I never think a lot about the future. Just want to do what I am doing with positivity.
Careers360: Any message or advice for future medical aspirants?
Raghav Dubey: Just be confident. Always follow the guidelines of teachers and experts and you will never need any other advice.
Questions related to NEET
Showing 83443 out of 83444 Questions