NEET 2020 Topper Interview: 'Being a doctor is a noble profession' says Soyeb Aftab (AIR 1)
NEET 2020 Topper Interview: The declaration of NEET result 2020 on October 16 brought immense joy to the family of Soyeb Aftab. NEET AIR 1 Soyeb Aftab, whose father is in construction business and mother a housewife, is extremely overjoyed on his achievement. His NEET 2020 score, which is 720 out of 720, broke all records and set a new benchmark for future aspirants. Aftab aspires to join AIIMS, New Delhi, and now that he is NEET 2020 topper he is on his way to materialise his aspirations.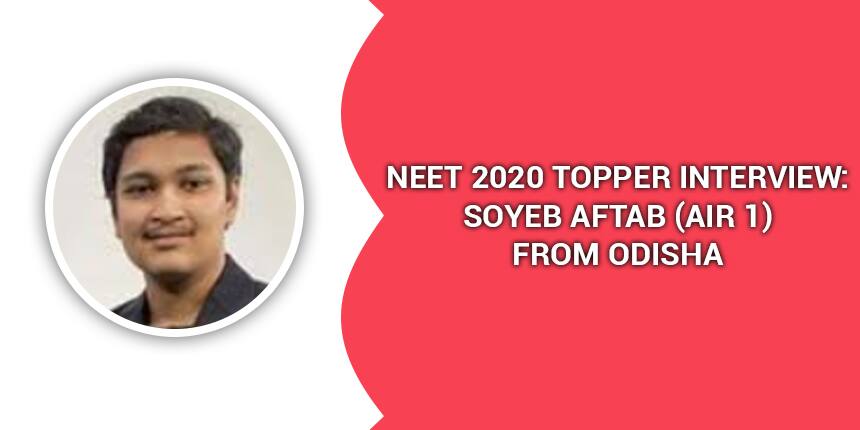 Check below NEET AIR 1, Soyeb Aftab's answers during his interview with Careers360
Careers 360 - Congratulations on your NEET result 2020! Tell us something about yourself.
Soyeb - Thank you very much. My name is Soyeb Aftab. My father is in the construction business and my mother is a housewife. I am from Rourkela, Orissa.
Careers 360 - What are your feelings on this achievement?
Soyeb - I am very happy about securing these marks. I did not expect that I would get 720 out of 720, I was expecting somewhere around 700.
Careers 360 - What motivated you to choose medicine as a career? When did you decide to become a doctor?
Soyeb - There was no motivation as such. There are no doctors in my family and also, being a doctor is a noble profession. I wish to serve others through this profession.
Careers 360 - During COVID we saw how risky the lives of medical professionals and health workers had become, did this affect your spirit?
Soyeb - No, in fact I became even more dedicated to serve the people with all my heart. Doctors have been treated as gods at this time.
Careers 360 - Is this your first attempt? When did you start your preparations for the NEET exam? How did you go about it?
Soyeb - Yes, this is my first attempt. I started my preparations when I was in Class 11.
Careers 360 - How did you prepare for both your board exams and NEET?
Soyeb - My main focus was on NEET, I started preparing for board exams just one month prior to the exam dates.
Careers 360 - The lockdown was announced in March and things changed. How did you prepare for NEET 2020 during COVID-19? How did it affect your preparation? What was the most striking thing during this preparation?
Soyeb - When schools were open I used to go to school from 7 AM to 2 PM, then from 2:30 I had my coachings. I used to get released from the coaching at around 6:30-7 PM in the evening. After that I used to be so exhausted that I could devote 3-4 hours to self-study. So in order to cover up for this I used to study 10-12 hours on holidays.
When the lockdown was imposed nationwide I got more time for self-study. Then I used to give 10-12 hours to my preparation everyday.
Careers 360 - Did you take any coaching for NEET 2020? How was the coaching affected because of the lockdown and how did you keep in touch with your teachers for doubts and regular lessons?
Soyeb - Yes, I took coaching from Allen, Kota. My preparations did not get affected due to lockdown as we had the facility of online classes where teachers solved all our doubts.
Careers 360 - Which subject is your weak one and in which are you strong?
Soyeb - Physics is my strongest subject. I would not consider any subject as weak for me, although I did take a bit more time in understanding Biology.
Careers 360 - What was your exam day strategy? What was the roughest and the easiest section according to you?
Soyeb - I had no particular strategy for NEET exam day. I only had one thing in mind that I have to avoid silly mistakes. I did not find any question hard as such, however, I attempted tricky questions at last.
Careers 360 - Which college is your dream college for studying medicine? What is your aspiration in the field of medicine and which specialization would you be interested in?
Soyeb - My dream college is AIIMS, New Delhi and with the NEET 2020 result declaration, I am sure I will get admission there.
Careers 360 - How did your family support you and motivate you during this stressful lockdown period? How did you de-stress during your preparation?
Soyeb - During lockdown I was in Kota, my mother and sister used to stay with me from the beginning. My father is in my hometown Rourkela.
Careers 360 - What would you suggest to future NEET aspirants in terms of preparation, attitude etc?
Soyeb - I will only say that if they are serious about their goals, are sure they will not deviate from their path and will face all obstacles like we had COVID-19 this year then they will be benefitted. They will be able to achieve their aims.
Questions related to NEET
Showing 95763 out of 95765 Questions