NEET 2020 Topper Interview: Tummala Snikitha (AIR 3)
NEET 2020 Topper Interview: On October 16, 2020, the National Testing Agency (NTA) has released the National Eligibility cum Entrance Test- NEET 2020 result in the online mode. In NEET 2020 session, as many as 7,71,500 candidates have qualified NEET 2020, while 13,66,945 appeared. Securing AIR 3, A young girl, Tummala Snikitha has put her first foot towards starting a career as a doctor. Coming from an educated family, Tummala's parents are Doctors. Asking about her preparations strategies, this NEET exam topper, who has secured AIR 3, said that she didn't derive herself from her goal and kept focusing on the preparations.
Stay up-to date with NEET News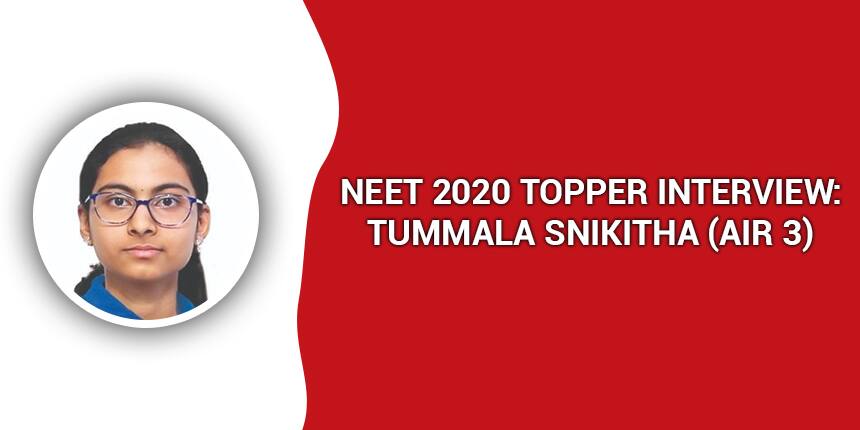 Aspirants seeking for information regarding the Tummala Snikitha, AIR 3, NEET 2020 topper, can go through the article below to know the details about the preparation strategies and tips to prepare for NEET 2021.
Careers360: Congratulations on your NEET result! How are your feelings on this achievement?
Tummala: I was happy and excited when I checked my result. I'm looking forward to my future in medicine.
Careers360: What motivated you to choose medicine as a career? When did you decide to become a doctor?
Tummala: My parents motivated me to the field of medicine. I decided two years back that I want to become a doctor.
Careers360: Is this your first attempt? When did you start your preparations for the NEET exam? How did you go about it?
Tummala. Yes, this is my first attempt. I started preparing for NEET 2020 two years back.
Careers360: The lockdown was announced in March and things changed. How did you prepare for NEET 2020 during COVID-19?
Tummala. The lockdown actually did not affect my preparations. I did not let my focus shift to anywhere else.
Careers360: Did you take any coaching for NEET 2020?
Tummala: Yes, I took coaching from Sri Chaitanya
Careers360: What was your daily routine for NEET before lockdown and after? How much time did you devote to self-study because coaching can only teach you but you have to do the work?
Tummala: It was almost the same, except before lockdown, I used to attend classes in my college and then came back home and study for 8 to 9 hours. And after lockdown, I used to study at home and used to take online classes.
Careers360: Which one is your strong subject(s) and the which one is your weak one?
Tummala: I have a strong hand in all three subjects, Physics, Chemistry and Biology.
Careers360: What was your exam day strategy?
Tummala: In NEET 2020 exam, I first completed my Biology paper, since it carries more number of questions and then Chemistry and Physics.
Careers360: Which college is your dream college for studying medicine? What is your aspiration in the field of medicine and which specialization would you be interested in?
Tummala: I want to get into AIIMS, New Delhi. I'm still thinking about the specialization that I see myself working in the future.
Careers360: How did your family support you and motivate you during this stressful lockdown period? How did you de-stress during your preparation?
Tummala: My parents have been extremely supportive throughout my NEET preparation journey.
Careers360: What would you suggest to future NEET aspirants in terms of preparation, attitude etc?
Tummala: Keep your focus tight and work hard towards your goals.
Questions related to NEET
Showing 110497 out of 110498 Questions