Revision strategy for NEET 2020
Revision strategy for NEET 2020 - National Testing Agency going to conduct the National Eligibility cum Entrance Test (NEET) on July 26, 2020. As it is known to all NEET is a single medical entrance exam and for granting admission to medical undergraduate courses. More than 16.84 lakhs aspirants have been registered for appearing for NEET 2020 for granting admission to around 1,63,150 MBBS/BDS/AYUSH/BVSc&AH seats, which makes it one of the most competitive exams of the nation. The competition of grabbing a medical seat is increasing year by year but with proper NEET preparation strategies, it seems to be an easy task.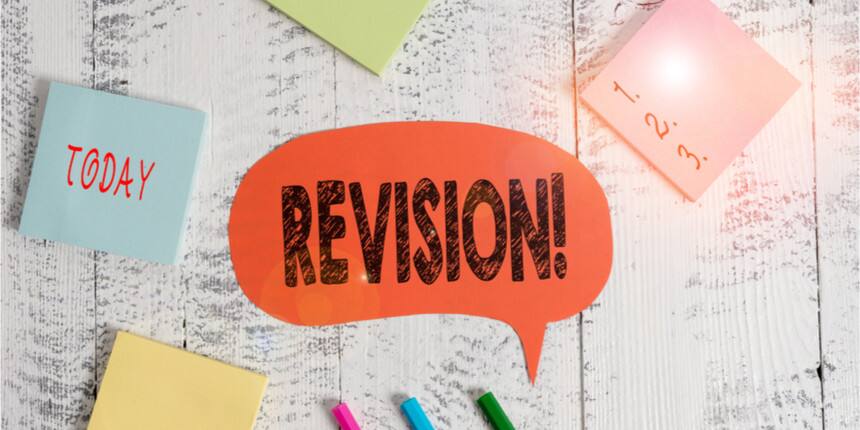 "We were revisionists; what we revised was ourselves." a beautiful quote by Margaret Atwood. Keeping the quote in mind, aspirants should know that NEET revision is the key factor of its preparation. Candidates can easily evaluate their NEET 2020 preparation and work on the portion they need to do and try to overcome from that. Here, revision does not mean to be a revision of only one portion, this means the revision of all portions of NEET syllabus. With much less time left in the conduction of NEET 2020, the thing now matters is how an aspirant strategically revises their concept for the medical entrance test. The time for hard work is not left, this is the time for aspirants how smartly they can prepare for NEET 2020 exam. Every aspirant has their own pattern of revision or preparation for NEET, one should act according to that. However, for convenience, candidates can go through the effective revision strategy for NEET 2020, one can follow and get benefitted.
Identify your productivity
Candidates are advised to identify their productive hour, productive ways of NEET preparation. As it is aforementioned, every aspirant is having different mindsets and every one cannot be the same. Candidates have to act according to their convenience as it increases their productivity and helps aspirants in preparing for NEET 2020. Candidates have to make sure that in that period of NEET 2020 preparation, they are fully focussed and concentrated towards their effective revision for the medical entrance test.
Also Read -
Revise according to a proper routine
After identifying the productive ways, productive time for revision of the concepts of NEET 2020. Candidates should make a daily routine of their NEET 2020 preparation and act accordingly. It must be noted that to study NEET concepts requires a proper discipline and a well managed daily routine. Candidates can follow the below mentioned NEET revision routine 2020.
As per the convenience wake up but do not make it too late to be called afternoon.

A well nutric breakfast is a must.

Study for two hours

Take a small 10 minute break

Have an half hour revision

Have lunch; a power nap would be a good idea too!

Two hours of study again followed by 10 minute short break

Do a little physical exercise, as it increase your circulation all over your body

Eat something, a kind of snacks to refill yourself

A revision of half an hour is required

Have a light dinner

Study for one hour

Listen to some good soothing music and go off to good night sleep.
Break down the revision session into small chain
Concentration plays a major role in preparing for big entrance exams like NEET 2020. On the basis of level of concentration, candidates should break down their revision session into small chains and be advised to take some small breaks between them. As per American Physiologist, taking a break between the NEET 2020 revision hour not only makes aspirants mentally relaxed but also boosts up the concentration strength of aspirants for revision.
Try to revise from own made notes
Aspirants should revise the concepts of NEET 2020 from their own made notes. Preparation of NEET 2020 notes requires aspirants to study the theory of that concept thoroughly. While revising for NEET from their own made notes, candidates can easily memorise the detailed concepts. The own made notes of NEET 2020 are more specific and easily understandable as it is made by them only. Candidates are advised to go through the NEET 2020 revision notes thoroughly and if it is not understandable go through the theory portion regarding that concept.
Focus on the NCERT concept of NEET
While preparing for NEET 2020, revising the syllabus from the NCERT book is very important. Candidates must know the NEET 2020 question papers will be based on the NCERT concept. Though revising from that helps aspirants securing good marks in NEET result. Candidates can focus on the important key notes, diagrams of NCERT as it is easy to understand and very beneficial also.
Practice makes you perfect!
Revising strategy for NEET 2020 also requires aspirants to practice the concept on the regular basis. Practicing questions on the daily basis helps aspirants in managing the time for the NEET 2020 entrance test. Candidates can easily understand the NEET exam pattern, level of the question and many more. For practicing more and more questions of NEET 2020, candidates can opt for the facilities of mock tests, join the test series of medical entrance test, practice from previous years question papers or sample papers.
Evaluate your NEET preparation progress!
Evaluation of aspirants NEET preparation 2020 is very necessary. After revising and attempting the question of NEET, candidates can measure their progress of their preparation. Candidates can easily know about the section on which they have to work on for a better NEET 2020 preparation. With the regular track over the preparation measures of NEET 2020, candidates will be highly benefited out.
Subject wise revision strategy for NEET 2020
Candidates can go through the below mentioned NEET 2020 subject wise revision strategies from below mentioned details.
Revise all diagrams and tables from NCERT books thoroughly.

Examples for the plant kingdoms, animal kingdom, plant morphology, plant anatomy, and animal tissue to be read from NCERT

Practice pedigree analysis to get quick inferences

Learn the different genetic combinations for dihybrid crosses

In genetics, the process of central dogma should be thoroughly revised

Practice NCERT based questions as much as you can.
Continue giving mock tests and solving sample and previous year question papers

Stay healthy, mentally and physically

Get all queries solved within time from an expert

Do not waste time in gadgets or other forms of distraction
Avoid study from multiple sources- A lot of study material will only make an aspirant confused, therefore, just one coaching material and books mentioned above will be enough for the preparation.

Don't set limitations to the theory part: In order to make a steady hand in the study, aspirants must practice as many questions as they can.

Don't slip previous years' questions- Previous years question papers will give a fair idea of what you can expect in the NEET Chemistry question paper.
Frequently Asked Question (FAQs) - Revision strategy for NEET 2020
Questions related to NEET
Showing 83533 out of 83534 Questions