Revision strategy For NEET 2024- The National Testing Agency conducts the National Eligibility cum Entrance Test (NEET) for all eligible candidates. In light of the fact that NEET is the most extensive medical entrance examination for UG courses, aspirants need to check these revision strategies for NEET 2024 to succeed.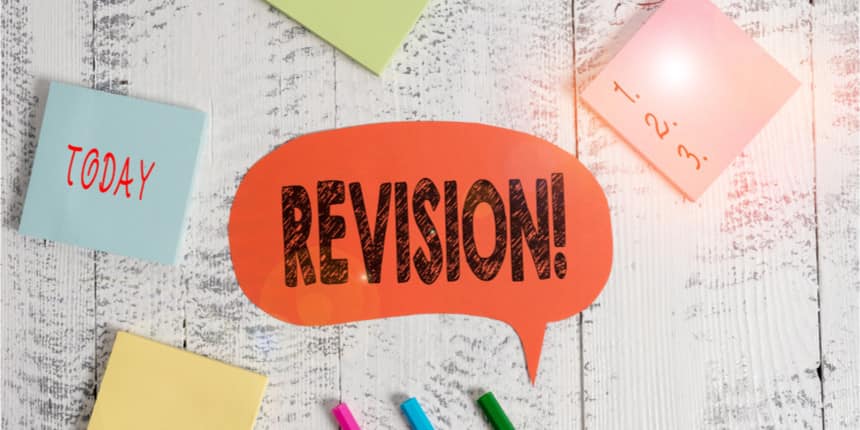 Revision Strategy For NEET 2024 Exam, Preparation Tips & Techniques
As one of the most competitive exams in the country, the NEET exam attracts more than 20 lakh candidates for MBBS/BDS/AYUSH/BVSc & AH seats. While the competition for medical seats is increasing from year to year, cracking NEET 2024 isn't a massive challenge if you follow the preparation strategies for NEET 2024
The best revision strategy for NEET 2024 is a crucial aspect of its preparation for aspirants. Taking an honest look at their NEET preparation will allow them to work on sections that still require work and remove those obstacles. Rather than revising only one part of the NEET 2024 syllabus, revision strategies for NEET 2024 mean revising all the components.
As the NEET exam approaches, the only thing that matters is the strategy an aspirant implements to revise their concept. A candidate's approach to revision and preparation for NEET differs; one must follow that approach. Candidates can, however, check out the effective NEET revision strategy, how to do revision for NEET, last minutes revision for the NEET exam, which could benefit them. Then the time will be ripe for aspirants to practice smartly for NEET 2024, which will be their chance to prove their abilities. Read here to know more about the NEET revision strategy including last month's revision strategy for NEET and others.
Most Scoring Concepts in NEET
Know Most Scoring Concepts in NEET 2024 Based on Previous Year Analysis
Know More
Revision Strategy For NEET 2024 exam
The table below outlines the NEET revision strategy for aspirants to follow during NEET 2024 preparation.
| | |
| --- | --- |
| S.No | NEET 2024 revision tips |
| 1 | Identify your productivity |
| 2 | Revise according to a proper routine |
| 3 | Break down the revision session into a small chain |
| 4 | Try to revise from own made notes |
| 5 | Focus on NCERT concept of NEET |
| 6 | Practice makes you perfect |
| 7 | Evaluate your NEET preparation progress |
Know what makes you productive/ Get a sense of your productivity
NEET preparation 2024 requires candidates to identify their productive hours and productive methods. Taking action according to your convenience will increase your productivity and help you prepare successfully for the NEET 2024 exam and to know how to do revisions for NEET. During the NEET preparation period, candidates should ensure that they are focusing and concentrating on their revision so that they can be effective in the medical entrance test.
Revise according to a proper routine
As soon as productive ways are identified, productive time can be allocated to revising the concepts of the NEET 2024 exam. Candidates must establish a daily schedule for their NEET 2024 preparation and adhere to it religiously. Developing a daily routine and maintaining proper discipline is essential for learning NEET concepts. Following is a list of NEET revision routines for 2024 that candidates can follow in last minutes for revision for the NEET UG exam,
Get up as soon as it's convenient, but make it early enough not to call it an afternoon.

Breakfast must be well nutrient-dense.

Study for two hours

Take a small 10-minute break

Revise for half an hour

Consider having lunch and taking a power nap.

A short break of 10 minutes after two hours of study

Take some physical exercise to increase circulation all over your body.

Have a snack to refuel yourself

Spend a half-hour revising

Eat a light dinner

Study for an hour

Put on some soothing music and get a good night's sleep.
Break down the revision session into a small chain
Concentration is a significant factor in preparing for big entrance exams like NEET 2024. As per the concentration level of the candidate, revision sessions should be broken down into small chains, and small breaks should be taken between them. According to an American Physiologist, taking a break between revision hours reduces stress and boosts concentration strength.
Try to revise from your own notes
It is recommended that aspirants re-study the concepts in NEET 2024 from notes they have made themselves. A thorough understanding of the theory of the NEET 2024 concept is essential in the preparation of NEET 2024 notes. Candidates' own notes make it easy for them to memorize detailed concepts while reviewing for NEET. Because they made the notes themselves, they are more specific and easy to understand. Candidates should review the theory portion of the NEET 2024 revision notes if a concept needs to be understood.
Focus on the NCERT concept of NEET
During the preparation for NEET 2024, it is vital to revise the syllabus from the NCERT book. Candidates need to be aware that NEET 2024 question papers will follow the NCERT concept. It is suitable for aspirants to revise from that in order to achieve good marks in the NEET result. It is very beneficial for candidates if they focus on the important keynotes and diagrams provided by NCERT since they are easy to understand and very helpful.
Perfection comes from practice!
Practice is also part of the revision strategy for NEET 2024, which aspirants must do regularly. The daily practice of questions helps aspirants make the most of their time while preparing for the NEET 2024 entrance exam. Those who prepare for NEET will better understand the NEET exam pattern, the level of questions, and more. Various methods are available to candidates for practising more and more questions of NEET 2024 which can be also included in last month's revision strategy for NEET, including mock tests, test series of medical entrance tests, reading question papers from previous years, or referring to sample papers.
Take an assessment of your NEET 2024 preparation!
Assessment of aspirants' NEET preparation for 2024 is extremely important. Examining and revising questions of NEET 2024 will enable candidates to measure their preparation progress. Candidates can easily discern the sections they should focus on for better preparation for NEET 2024. As candidates regularly track the preparation measures for NEET 2024, they will enjoy plenty of benefits.
Revision strategy for NEET 2024: Subject-wise
Following are the NEET 2024 subject-wise revision strategies that candidates can use
Revisions must be made to all diagrams and tables in NCERT books.

Read the following examples from NCERT for the plant kingdoms, the animal kingdom, plant morphology, plant anatomy, and animal tissues.

To gain quick insight into pedigrees, practice pedigree analysis.

Understand the different combinations of genes in dihybrid crosses

Revisions should be made to central dogma in genetics.

Try to practice as many NCERT-based questions as you can.
Solve samples and previous year's question papers and continue giving mock tests

Maintain good health, both mentally and physically

Get all your questions answered by an expert within a short timeframe

Keep gadgets and other distractions away from your time
A study from only one coaching material or book- An aspirant cannot prepare effectively by studying from multiple sources, so just one coaching material and book mentioned above will suffice.

Make sure you don't limit yourself to the theory part: Aspirants should practice as many questions as possible instead of limiting themselves to the theory part.

Avoid skipping previous years' questions- An overview of previous years' question papers can give you a good idea of what to expect in NEET Chemistry.
How to revise the NEET syllabus?
If you are planning to appear for NEET 2024, one of the most important things you can do is to revise the syllabus thoroughly. The NEET syllabus is vast and covers a wide range of topics from physics, chemistry, and biology. Here are some tips on how to revise the NEET syllabus effectively:
Make a study plan

Focus on important topics:

Take NEET 2024 revision notes

Practice with NEET UG previous year's question papers

Use flashcards and mnemonics

Revise regularly