NEET 2020 Topper Interview: "Focus on solving maximum MCQs" says Guthi Chaitanya Sindhu (AIR 6)
NEET 2020 Topper Interview: The long wait for the NEET 2020 result finally ended with smiles on face of Guthi Chaitanya Sindhu Sindhu who has emerged as NEET 2020 topper and is AIR 6. The young girl from Andhra Pradesh whose aim to take admission at AIIMS Delhi scored 715 marks and is AIR 6. Sheer perseverance and consistency with which she solved the questions after thoroughly preparing for the NEET 2020 exam proved to be a boon for her on the day of the exam. When people were reeling under complete anxiety due to the lockdown that was caused because of COVID 19, Sindhu focused on revision and taking NEET mock tests. Apart from that she did not let herself get demotivated if she did not perform well in the mock tests. At the same time, in order to destress herself she spoke to her parents and teachers who were her pillar of strength. Read the full interview of NEET 2020 topper Sindhu to know all the aspects of her preparation for the NEET exam.
Latest: NEET 2020 result has been declared on October 16. Also Check NEET 2020 Cutoff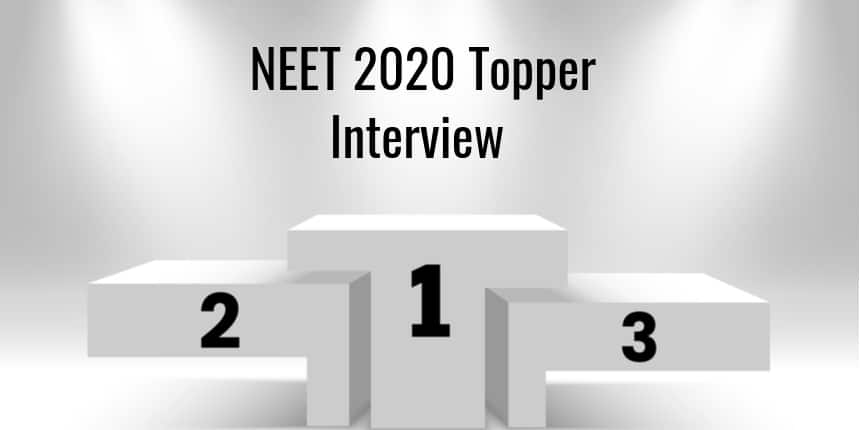 Careers360: Congratulations on your NEET result! What are your feelings on this achievement?
Guthi Chaitanya Sindhu: I am feeling very happy after the announcement of the NEET 2020 result. at the result and am very elated.
Careers360: What motivated you to choose medicine as a career? When did you decide to become a doctor?
Guthi Chaitanya Sindhu: I had always wanted to become either a doctor or a scientist and was always very fond of biology and related science. It was while I was in my intermediate that I had to make a choice between PCB and PCM. It is then that I decided to take PCB and made up my mind to pursue a career in the field of medicine.
Careers360: Is this your first attempt? When did you start your preparations for the NEET exam? How did you go about it?
Guthi Chaitanya Sindhu: This is my first attempt when I appeared for the NEET 2020 exam. It was only in class 11th and 12th that I started preparing for the NEET 2020 exam. Earlier, I was studying at KKR Gautam and it is here they prepare the students for the IITs. It is here that from classes 8th to 10th, one is prepared to qualify for the IITs. It was in class 11 and 12 that I prepared for the NEET 2020 exam.
Careers360: How did you prepare for both your board exams and NEET?
Guthi Chaitanya Sindhu : While I was preparing for the NEET 2020 exam, I studied thoroughly from the NCERT books along with the notes which were provided by the teachers. As fara sa the board exams are concerned, I only studied last month.
Careers360: The lockdown was announced in March and things changed. How did you prepare for NEET 2020 during COVID-19? How did it affect your preparation? What was the most striking thing during this preparation?
Guthi Chaitanya Sindhu : During the lockdown period the classes were conducted in online mode and weekly tests were conducted. I took the tests on a regular basis and analysed my performance. The only sad part of the lockdown is that it delayed my admission to the MBBS. The most striking part of the NEET 2020 preparation was the support that I got from my parents and teachers.
Careers360: Did you take any coaching for NEET 2020? How was the coaching affected because of the lockdown and how did you keep in touch with your teachers for doubts and regular lessons?
Guthi Chaitanya Sindhu: I took coaching for the NEET 2020 exam at Sri Chaitanya. There was not much impact of the lockdown on the NEET coaching since the teachers had completed the syllabus fully and the revision was also done. At the time of the lockdown if there was any doubt then we approached the teachers and they cleared our doubts even over the what's app.
Careers360: What was your daily routine for NEET before lockdown and after? How much time did you devote to self-study because coaching can only teach you but you have to do the work?
Guthi Chaitanya Sindhu : Before the lockdown I was in Vijayawada at the hostel where we had a strict time table to follow from 7:00 a.m to 8:00 p.m in the night. Post lockdown, I did not follow any specific timetable and studied pretty much in a very liberal manner. While I was in college, I did self study over there itself. Since I was in college from morning to night I used to read as many books as possible.
Careers360: Which subject is your weak one and in which are you strong?
Guthi Chaitanya Sindhu : I did not have any weak or strong area as such and I managed to study everything equally. However., I solved a lot of questions in Physics and Chemistry.
Careers360: How was the preparation different from the early days to just a month before NEET exam?
Guthi Chaitanya Sindhu: The lockdown as such did not affect my preparation much as the exam was getting postponed continuously and I had prepared well by the time the lockdown started. In the last one month of NEET preparation , I just revised from the NCERT. During the early days of the preparation, I studied as many relevant books as possible for the NEET exam.
Careers360: What was your exam day strategy? What was the roughest and the easiest section according to you?
Guthi Chaitanya Sindhu: NEET 2020 was quite easy and I solved the Physics questions first as it appeared followed by Biology and Chemistry in the question paper
Careers360: Which college is your dream college for studying medicine? What is your aspiration in the field of medicine and which specialization would you be interested in?
Guthi Chaitanya Sindhu : My dream college is AIIMS New Delhi . I am yet to decide in which field I would like to specialize.
Careers360: How did your family support you and motivate you during this stressful lockdown period? How did you de-stress during your preparation?
Guthi Chaitanya Sindhu : Before lockdown mother used to support me a lot as in if I got less marks, she always stood by me and encouraged me. In order to keep myself motivated, I used to remain happy and talk to my teachers and parents. My teachers were very friendly.
Careers360: What would you suggest to future NEET aspirants in terms of preparation, attitude etc?
Guthi Chaitanya Sindhu : My suggestion to the future aspirants is to first study rom the NCERT books and complete the syllabus for all the subjects. After that for Physics just study from one good book but solve a lot of multiple choice questions. At no point of time one should feel dejected or demotivated if they have not scored well. Take failure as a stepping stone towards success.
Questions related to NEET
Showing 95765 out of 95767 Questions