6 common mistakes to avoid in NEET 2021 Exam Preparation
6 common mistakes to avoid in NEET 2021 preparations - Henry Ford has rightly said, "The only real mistake is the one from which we learn nothing." In the race to crack NEET exam, candidates often neglect the mistakes they are commiting. During NEET preparation, candidates commit the most common mistakes which they don't even realise could affect their NEET 2021 result. Owing to silly mistakes the NEET rank of candidates can differ significantly affecting their chances of MBBS/BDS admission. So, it is important for candidates to recognise mistakes in NEET UG preparation and rectify them before it's too late. The article below discusses the 6 most common mistakes in preparation of NEET 2021. This list of 6 common mistakes to avoid in NEET 2021 preparation are prepared on the basis of talks, interviews, and experiences of NEET aspirants, toppers, and experts.
Stay up-to date with NEET News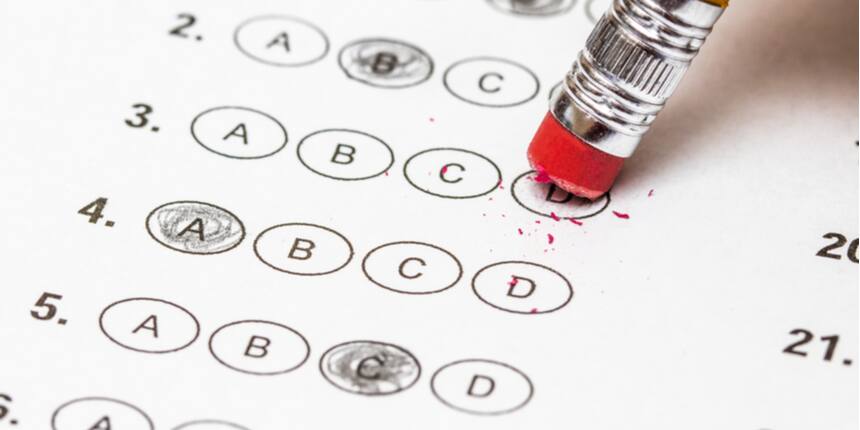 With the help of this article on common mistakes to avoid during NEET exam preparation 2021, candidates can correct their mistakes before it's too late. As the National Testing Agency has released NEET 2021 notification, it is high time candidates buckle up their NEET preparation. The NEET UG 2021 exam date is August 1. This gives candidates less than 5 months for NEET preparation 2021. As many as 15 lakh aspirants register for NEET-UG and compete for a total of 83,075 MBBS, 26,949 BDS, 50,720 AYUSH and 525 BVSc seats. Thus, NEET aspirants cannot afford committing any mistakes in NEET 2021 preparation. Check the article on 6 common mistakes to avoid during NEET preparation below.
1. NCERT as Bhagavad Gita of NEET preparation - Avoid Common mistakes while choosing books for NEET 2021
One of the most common mistakes aspirants make during NEET preparation is not focusing on NCERT books. It has been repeatedly said by NEET toppers every year, experts, and faculty that studying NCERT books line by line is a must for cracking the NEET-UG exam. Previous year NEET topper Guthi Chaitanya Sindhu AIR 6, NEET 2020 topper said, "My suggestion to the future aspirants is to first study from the NCERT books and complete the syllabus for all the subjects." Candidates should not limit the use of NCERTs to just completing the NEET 2021 syllabus, but should also revise the books multiple times to become thoroughly familiar with the concepts.
In the list of best books for NEET , NCERTs are always placed at the top. NCERT books for all three subjects in the NEET syllabus 2021, that is, Physics, Chemistry, and Biology are equally important. NCERTs are the best source of clearing NEET concepts. Aspirants should refer to any other books or study material only after they have finished the syllabus of NEET exam from NCERTs.
2. NEET 2021 concepts - Mistakes made while studying NEET syllabus
Students are often found practicing questions directly or taking mock tests before studying the concepts completely. It must be noted by aspirants that completing the NEET 2021 syllabus but not having a crystal clear understanding of the concepts will do more harm than good. Candidates should thoroughly study all the topics included in the syllabus and understand all NEET concepts. Bhavik Bansal AIR-2 of NEET 2019, who obtained 700 out of 720, said, "When I used to revise the chapter-wise subjects, I used to do it in an intense manner that it builds up my concepts."
While preparing for NEET Physics, students often focus more on solving numerical problems than understanding the concepts. It should be understood that to solve both theoretical and numerical problems asked in NEET 2021 exam, candidates need to have a clarity in the concepts. As aforesaid, the best NEET 2021 books to understand and clear the concepts are the NCERTs.
3. NEET 2021 timetable - Mistakes made while preparing NEET timetable
NEET 2018 AIR -3, Himanshu Sharma said, "I had a clear plan in my mind from the very beginning as to how I will study for the exam." While preparing for any exam, candidates tend to prepare a timetable as the first step towards preparation. However, an impractical timetable can be one of the most common mistakes students commit during NEET preparation. Having a timetable for NEET 2021 preparation is a more complex task than before. With schools and colleges still far from normalcy and the country still under the effect of coronavirus, students have ample of time in their hands to prepare for NEET 2021 exam. However, at the same time, lack of sincerity, focus, and discipline has taken over NEET aspirants. Lack of a study environment is affecting candidates' preparation of NEET 2021.
To make the best use of time at hand, candidates should plan a NEET preparation time table which has realistic goals and frequent small breaks. The method of 45 minutes study and 15 minutes break would work well for students who face difficulty in studying for long hours in one go. NEET 2021 timetable should give equal important to all subjects in the syllabus. Additionally, students must keep slots for practicing NEET 2021 mock tests as well as past year question papers of NEET. After completing the syllabus, candidates should update their timetable and dedicate time to thorough NEET 2021 revision.
4. NEET 2021 difficult topics - Common mistake during NEET difficult topics preparations
There are certain topics in the NEET-UG syllabus which are difficult to understand when compared with others. Candidates often leave difficult NEET topics to be covered later. This is a very common mistake which students make in NEET preparation. The topics students leave carry a certain weightage in the exam and leaving them can cost a good number of marks in the NEET 2021 exam.
Kalpana Kumari, AIR 1 of NEET 2018, said it is important to give time to each section. "I won't say tough but Physics was lengthy so I tried to give more time to this section especially to chapters like Rotation."
Students should go through the NEET 2021 chapter wise weightage to understand the importance of each topic in the medical entrance exam. It is advised to candidates to not leave any topic. However, if candidates are unable to complete the syllabus, they must choose the topics to leave smartly as per their weightage in the NEET 2021 exam.
5. Negative marking - General mistakes to avoid NEET negative marking
It is repeatedly advised to candidates to go through the NEET 2021 exam pattern before starting their preparation for the entrance test. According to the exam pattern of NEET exam, candidates will be awarded four marks for every question they answer correctly. However, for every question that candidates will get wrong, one mark will be deducted. Negative marking in NEET 2021 exam plays a crucial role in the success of candidates in the exam. Due to negative marking, the difficulty level of NEET-UG increases manifold. Thus, to crack NEET 2021 candidates are required to do hard work along with smart work.
One of the best ways to get familiar with the negative marking is practicing NEET 2021 mock tests. Candidates should practice a good number of mock tests of NEET 2021 to understand the nature of questions asked in the exam, marking scheme, and difficulty level of the entrance test. Expert Anand Nagarajan, "Taking a good number of mock tests and model exams based on NEET 2021 will give students the feel and the 'pinch' of negative marking."
While practicing mock tests, candidates should focus on learning how to choose which questions to attempt and which to leave in the NTA NEET exam. In a spree to answer all the questions, candidates often face the brunt of negative marking which adversely affects their NEET-UG percentile.
6. NEET 2021 mock tests - Common mistakes while attempting mock tests
Practicing sample papers, mock tests, and NEET previous year question papers are undoubtedly an important part of preparation. However, candidates often focus only on attempting the NTA NEET mock tests. Analysing the mock test of NEET is an equally important part of the NEET-UG preparation. Bhavik Bansal AIR-2 of NEET 2019, said "For most of the time, I took the mock tests and previous years question papers."
By analysing the performance in NEET 2021 mock tests candidates can judge their level of preparation, identify their strong and weak areas, learn time management in the exam, and also recognise the silly mistakes they make. While practicing mock tests are a must for NEET preparation 2021, candidates should not get demotivated or get over confident on the basis of their scores in the mock test.
These are the six most common mistakes which candidates should avoid during NEET preparation 2021. By working on these mistakes students can bring significant improvements in their NEET preparation and crack the medical entrance exam.
Frequently Asked Question (FAQs) - 6 common mistakes to avoid in NEET 2021 Exam Preparation
Question: When will the NEET 2021 exam be conducted?
Answer:
NEET UG will be conducted on August 1, 2021.
Question: Where can I get NEET sample paper 2021?
Question: Which are the important books for NEET preparation 2021?
Questions related to NEET
Showing 110676 out of 110677 Questions