NCERT Book For NEET - For aspiring medical and dental students preparing for the National Eligibility cum Entrance Test (NEET), NCERT books serve as the best study material. NEET UG demands a systematic approach to cover the vast syllabus effectively. The NCERT textbook for NEET have been considered a gold standard by many successful candidates due to their in-depth coverage and accuracy.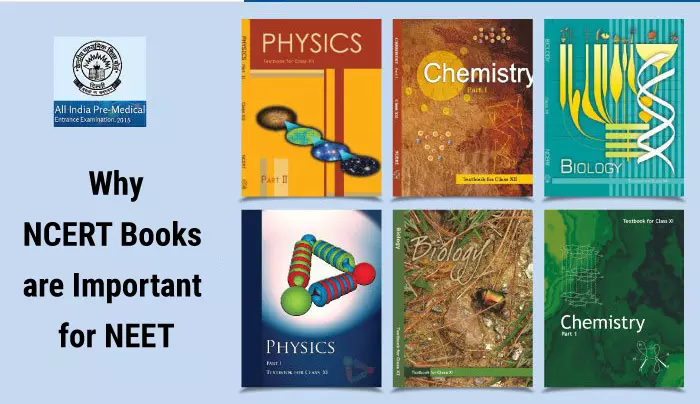 NCERT Books for NEET 2024 - Physics, Chemistry & Biology NCERT Books
NEET aspirants' mind always strikes with the important question, 'Which NCERT book is best for NEET?' or 'Which books are required for NEET', should know why NCERT books are the top choice for medical preparation. By using the NEET NCERT books, they make their strategy plan and keep in mind that NCERT books are the most recommended and useful material. NCERT books NEET 2024 are highly recommended because all questions in the exam are based on NCERT concepts.
Aspirants choose NCERT books for NEET and make effective study timetables to score well in NEET 2024 exam. Candidates must be aware of the importance of NEET NCERT books. They should follow a proper plan, solve as many as the previous year's question papers and ensure that they give mock tests to enhance their knowledge about NEET subjects. Using the NEET syllabus will help them in knowing the 'why NCERT books are important for NEET UG 2024?' to the students.
National Testing Agency (NTA) conducts NEET for admission to undergraduate medical colleges in pen-paper mode. Be it toppers or experts, one suggestion that everybody has on the tip of their tongues is NCERT books. They can get here everything they need to ace the exam. As part of NEET preparation tips, Careers360 brings to you this article on 'Why NCERT books are important for NEET 2024?'
Also Read -
NCERT Books for NEET 2024: PDF Download
For NEET 2024 aspirants, getting the relevant NCERT textbook for NEET are important to start their preparation journey. Fortunately, NCERT books for NEET 2024 are readily available in both online and offline stores. Many educational websites offer free NCERT books for NEET 2024 pdf downloads, making them accessible to students across the nation.
Some of the most sought-after NCERT books for NEET 2024 include:
NCERT Books for NEET 2024 Physics: "Physics Part I" and "Physics Part II" for Class 11, and "Physics Part I" and "Physics Part II" for Class 12.

NCERT Chemistry book for NEET 2024: "Chemistry Part I" and "Chemistry Part II" for Class 11, and "Chemistry Part I" and "Chemistry Part II" for Class 12.

NEET 2024 NCERT Biology: "Biology" for Class 11 and "Biology" for Class 12.
These books provide a strong foundation in Physics, Chemistry, and NCERT books for NEET Biology—the three core subjects essential for excelling in NEET.
How to Choose the Best NCERT Book for NEET? - Medium
Among the various NCERT books available, students often wonder which one is the best for NEET preparation. The answer lies in understanding one's learning style and individual preferences. Some students prefer detailed explanations and diagrams, while others prefer concise and to-the-point content. Based on your learning style, you can select the most suitable NCERT book pdf for your NEET preparation.
NEET NCERT Books in English Medium:
NCERT books in English medium play a major role in students preparing for NEET UG 2024 for English question paper medium. These NCERT books for NEET 2024 continue to be a valuable resource for students, teachers, and educational institutions, contributing to the overall growth and development of the students.
NEET NCERT Books in Hindi Medium:
For students who prefer studying in Hindi, NEET NCERT books are available in Hindi medium as well. These books offer the same content as their English counterparts, providing a comprehensive understanding of the subjects in the Hindi language.
NEET 2024 Success Mantra From Topper - NCERT Books
Bhavik Bansal, AIR 2, calls NCERT to be the Bhagwad Gita for NEET. According to him, it is extremely essential that candidates practice all that is given in the NCERT thoroughly, only then they should move to other books for NEET 2024. The reason behind the high value given to the same is listed below:
Why NCERT Books are important for NEET 2024?
Simple language:
As compared to other books offered as study material in the market for the national level entrance examination, NCERT textbook for NEET is the one with the most simple language. This book also gives very direct and to-the-point solutions to all sorts of problems that an aspirant faces while preparing. Stressing on the importance of NCERT books, all the experts and toppers of the examination advise to prepare thoroughly from this book. There is no particular subject that needs to be studied from these books.
Strong basics and fundamentals:
All the basics and fundamentals of NEET 2024 for Physics, Chemistry, and Biology can be covered through NEET. Nalin Khandelwal, NEET topper, says 'In order to crack NEET-UG, firstly I focused on completing NCERT syllabus. After that, I used to do multiple readings of a single topic and prepared notes for preparation. This used to help me with memorizing a lot of things.' This in itself gives an answer to the question of why NCERT books are important for NEET. Since NEET NCERT books gives proper and strong basics and fundamentals, candidates will be able to understand concepts easily once they have practices from the same.
Diagram-based questions
The Biology books of NCERT are diagram-based which helps candidates in a better understanding of all that is a part of the syllabus. On seeing these diagrams, which are elaborative and informative, candidates are able to retain a lot while giving the examination. It must be noted by candidates that Biology is the most important subject in the examination as it carries 90 questions, which is double of both the other sections. So, to prepare for this subject candidates need to keep the utmost care.
Direct NEET 2024 questions from NCERT Books
While preparing for NEET medical aspirants must keep in mind that wasting their time on questions that are tricky will not be of any substance if they do not solve direct questions first. And to solve direct questions, it is important that they refer to NCERT books. One beneficial thing out of this is that a lot of these questions are directly asked in the examination, one example of this is the numerical-based questions.
Additional Books for NEET Preparation Other Than NCERT:
While NCERT books lay a strong foundation, some students prefer supplementary books to enhance their preparation. Objective books for NEET, specifically designed for exam-oriented practice, are popular among aspirants. These books contain a plethora of practice questions, previous years' question papers, and mock tests to familiarize students with the NEET exam pattern.
Given below is a list of subject-wise other best books for NEET, apart from NCERT. Are NCERT books enough for NEET 2024 preparation can be checked below. Candidates must make a note of these and make sure they make these a part of their study plan.
Chemistry NCERT books for NEET
Physical Chemistry by OP Tandon

ABC of Chemistry for Classes 11 and 12 by Modern

Concise Inorganic Chemistry by JD Lee

Dinesh Chemistry Guide

Practice books by VK Jaiswal (Inorganic), MS Chauhan (Organic) and N Awasthi (Physical)
NCERT Books for NEET Physics
Concepts of Physics by H. C. Verma

Objective Physics By DC Pandey

Fundamentals of Physics by Halliday, Resnick and Walker

Fundamental Physics by Pradeep

Problems in General Physics by IE Irodov
NCERT books for NEET Biology

Biology Vol 1 and Vol 2 by Trueman

Objective Biology by Dinesh

Objective Botany by Ansari

Pradeep Guide on Biology

GR Bathla publications for Biology
Save