Best Books for NEET PG 2024 Preparation - Understanding the concepts of the exam along with practising the problems will lead NEET PG 2024 candidates to a better result. All medical graduates seeking postgraduate medical admissions must check the list of best books for NEET PG 2024 preparation.
A beautiful quote by George R.R. Martin "... a mind needs books as a sword needs a whetstone if it is to keep its edge." Keeping that in mind books play a major role as a friend, a guide, and a tutor for the preparation of NEET PG 2024. Cracking the NEET PG medical entrance exam where all medical graduates compete with each other requires a strong strategy and a plan backed by NEET PG's best books.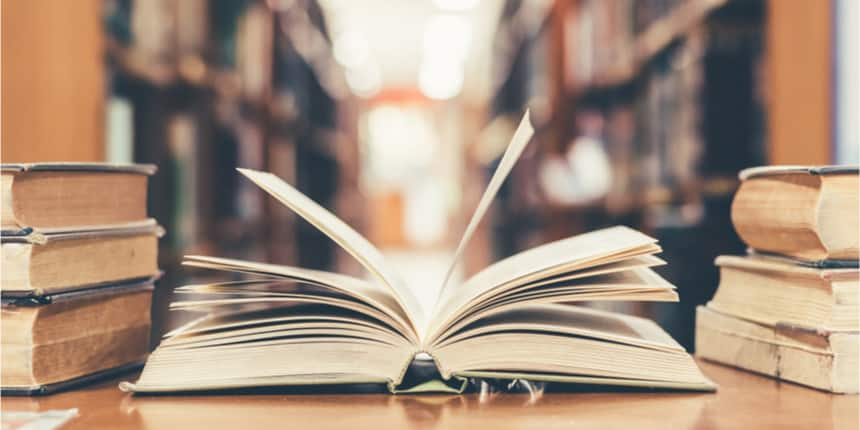 Best Books for NEET PG 2024 - Physics, Chemistry, Biology
Candidates can use the best books for NEET PG preparation 2024 to cement the concepts learned along with a good amount of practice. Books not only create the base for all concepts but all give in-depth knowledge regarding the syllabus of NEET PG.
The National Board of Examinations (NBE) is the competent authority to conduct NEET PG 2024 for admission to around 26,168 Doctor of Medicine (MD), 13,649 Masters of Surgery (MS), and 922 PG Diploma seats offered by 6,102 medical institutes across India. Candidates can go through the article on best books for pg preparation to know about the best books along with how to prepare from those books for cracking the postgraduate medical entrance test.
List of best books for NEET PG preparation
"There is no friend as loyal as a book." quoted Ernest Hemingway. Books seem to be the best NEET PG 2024 preparation tools for aspirants to ace the PG medical exam. To crack the NEET PG 2024 successfully, candidates have to prepare well with the best study material for it. Candidates can go through the below-mentioned list of best NEET PG books, written by some eminent writers.
Subject-wise NEET PG preparation books
| | | |
| --- | --- | --- |
| Subjects | Books name | Author Name |
| Anatomy | Self-assessment and review of Anatomy | Rajesh Kaushal or MCQ book by Dr. Raviraj |
| Pharmacology | Review of Pharmacology | Gobind Rai Garg and Sparsh Gupta, Ranjan Patel |
| Biochemistry | Self-assessment and review of Biochemistry | Rebecca James |
| Forensic Medicine | Self-assessment and review of basic anatomy and forensic medicine | Arvind Arora |
| Pathology | Review of Pathology and Genetics | Sparsh Gupta & Devesh Mishra |
| Microbiology | Review of Microbiology and immunology | Rachna Chaurasia or Apurba Sastry or Ananthanarayan and Paniker's |
| Paediatrics | Review of Pediatrics and neonatology | Taruna Mehra or OP Ghai |
| Medicine | Complete review of medicine for NBE | Deepak Marwah or Mudit Khanna |
| Surgery | Surgery essence | Pritesh Singh SRB |
| PSM | Community medicine (PSM) | Vivek Jain |
| Physiology | Review of Physiology | Dr. Soumen Manna Dr. Krishna Kumar |
| OBS and Gynae | Self assessment and review of obstetrics & Gynecology | Sakshi Arora |
| ENT | ENT for entrance exam | Manisha Sinha and Sachin Budhiraja |
| Ophthalmology | Comprehensive Ophthalmology | AK Khurana Ruchi Rai |
| Orthopedics | Orthopedics quick review | Apurv Mehra |
| Radiology | Review of Radiology | Rajat Jain |
| Dermatology | Review of Dermatology | Saurabh Jindal |
| Anesthesia | PROAFS Anesthesia for NBE | Profs by Vivek Jain |
| Psychiatry | Review of Psychiatry | Praveen Tripathi |
| Image-Based | Final Edge image based | Deepak Marwah |
NEET PG 2024 Best Books - How to prepare with?
While going through the aforementioned books, candidates have an idea that the syllabus of NEET PG 2024 has very vast subjects. So, candidates have to strategize properly and take care not to miss any of the topics for the NEET PG 2024 exam. Candidates can through the below-mentioned preparation strategies can opt for preparing for NEET PG from the best books.
Study from own-made notes
While preparing from the books of NEET PG 2024, candidates should make their own notes. Making the notes on your own is very beneficial for NEET PG 2024 preparation. As, while making the NEET PG notes candidates have to go through the whole chapter from the books. It is easy for aspirants to memorise the concept. Since it is own made notes from the NEET PG books 2024, it is more concise and clear for aspirants. Making the notes also include noting down the important key points, which are beneficial for qualifying for the NEET PG.
Go through the MCQs questions
As per the NEET PG examination pattern 2024, the question paper will consist of 300 MCQs type questions which comprise different topics of the syllabus. Candidates should revise the previous year's MCQ questions of NEET PG for their convenience. Aspirants should not only rely on the questions of MCQs. As to scoring good marks in NEET PG 2024, detailed concept clarity is very important. So, candidates should revise the theory portion of the NEET PG 2024 entrance exam thoroughly.
Revise the concept regularly
Practising and revising the concept regularly from the books of NEET PG 2024 plays a crucial role for aspirants in their preparation. Revising the NEET PG syllabus with the books to maintain the continuity of the aspirants and the continuity of the preparation is very important and highly beneficial also. While NEET PG preparation, candidates can easily know the question structure and how to manage time while attempting the question.
The syllabus is vast so while preparing students must divide time according to subject weightage and learn to focus as per the weightage priority. One or two weeks is sufficient for a vast subject and 3-4 days for short subjects. Candidates with the aforementioned books for NEET PG and proper preparation strategy can qualify the PG medical exam with good marks.
Candidates should know the NEET PG 2024 exam pattern while strategising about the preparation to qualify for the PG medical entrance exam. The important details pertaining to the exam pattern of NEET PG are given in the points below.
Exam mode - NBE will be conducting NEET PG 2024 in computer-based mode.

Language of exam - The exam will be conducted in the English language

Duration of exam - Candidates will have to complete the exam in the allotted 3 hours and 30 minutes.

Types of questions and total marks - NEET PG 2024 exam will consist of objective-type questions and the maximum mark is 1200

Total number of questions - There will be a total of 200 questions in the entrance examination which will be divided into three sections i.e. Part A, Part B & Part C, as per the examination pattern of NEET PG.

Number of questions from each section - The section-wise distribution of questions includes 50 questions from Part A, 100 questions from Part B and 150 questions from Part C.