NEET 2020 Topper Interview: 'Hard Work and Perseverance always pay off' says Loka Sekhar Satvik Sarma (AIR 20)
NEET 2020 Topper Interview - The unresilient determination and constant hard work of Loka Sekhar Satvik Sarma finally bore fruit as he scored 710 NEET score with AIR 20 in the recently announced NEET 2020 results. Coming from a family of teachers and doctors, Satvik was inclined towards becoming a doctor at a young age. Such was the farsightedness and vision of the topper, he started his preparations for the NEET exam from his 8th standard onwards. As the results are finally out, Satvik is looking forward to completing his MBBS from AIIMS Delhi. Careers360 got in an exclusive conversation with the young NEET 2020 topper where we talked about various points like his preparation strategy for the exam, future plans and a lot more. Read our excerpts from the interview below: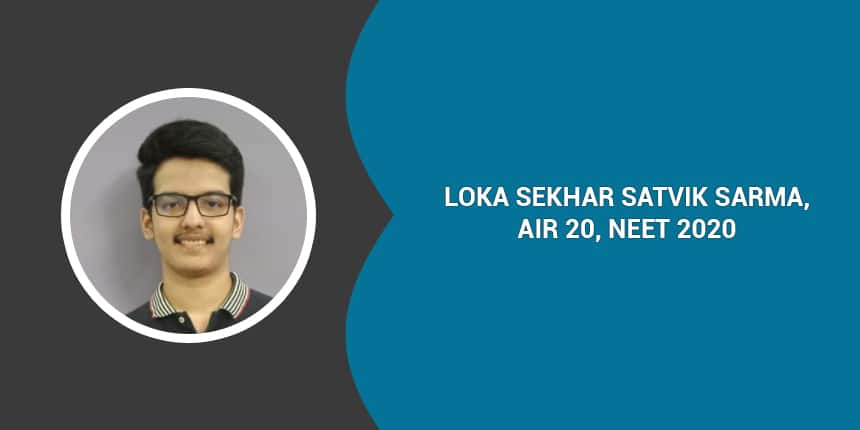 Careers360: Congratulations on your NEET result! What are your feelings on this achievement?
Satvik: I am feeling overwhelmed with the achievement. I practically experienced with the present result that hard work never fails. I scored 710 out of 720 in NEET 2020 UG examination.
Careers360: What motivated you to choose medicine as a career? When did you decide to become a doctor?
Satvik: My father is a faculty of chemistry in Yogi Vemana University, Kadapa. My mother is a professor of Civil Engineering in Annamacharya Institute of Technology and Sciences, Kadapa, Andhra Pradesh. My parents are obviously my first mentors and they showed me a very good path and initial training. In fact, from my mother's side, a handful of relatives are in the medical profession. My maternal uncle is an endocrinologist and my aunty is a gynecologist. This inclination motivated me to choose medicine as a career.
Careers360: Is this your first attempt? When did you start your preparations for the NEET exam? How did you go about it?
Satvik: YES!!! I actually started my preparation from mid level High School i. e from 8th standard. From 9th class onwards I was exposed to a systematic training to tackle the NEET exam.
Careers360: How did you prepare for both your board exams and NEET?
Satvik: In fact it is really challenging. I balanced both preparations for the board exam as well as NEET. I used to listen to the teaching classes more meticulously and it helped me to perform well in board exams. I scored 9.8 out of 10 in X standard and 10 out of 10 in XII standard.
Careers360: The lockdown was announced in March and things changed. How did you prepare for NEET 2020 during COVID-19? How did it affect your preparation? What was the most striking thing during this preparation?
Satvik: Initially it was frightening. However, once the coaching classes started giving online lectures, I overcame the COVID-19 associated difficulties. I used to attend the regular practice exams online at home. The most striking thing during the period of COVID-19 is that I had gone through the entire syllabus once. This fetched me a lot! Overall COVID-19 difficulties turned into a boon.
Careers360: Did you take any coaching for NEET 2020? How the coaching was affected because of the lockdown and how did you keep in touch with your teachers for doubts and regular lessons?
Satvik: YES!!! coaching was an integral part of my regular studies from 9th standard to 12th standard. Teachers were always available to me online. Thanks to the Information Technology. I used to receive calls from my teachers for any difficulties I had in the subject. They were really helpful in clearing my doubts. Their inspiration and support helped me score good marks in NEET.
Careers360: What was your daily routine for NEET before lockdown and after? How much time did you devote to self-study because coaching can only teach you but you have to do the work?
Satvik: I used to have 2 hours study hours in the morning and 4 hours study hours in the evening. I also used to attend 8 hours regular teaching classes before the lockdown period. Overall I exposed myself to NEET preparations for about 12 hours per day.
Careers360: Which subject is your weak one and in which are you strong?
Satvik: My favorite subjects are Physics and Biology. I used to score more in these two subjects. I am slightly weak in Chemistry. However, in NEET I got full marks in Physics and Chemistry.
Careers360: How was the preparation different from the early days to just a month before NEET exam?
Satvik: I devotedly attended my regular and study hours in the beginning. Just one month before the NEET exam, I revised the entire syllabus once in a stress-free manner. I hadalso practised some mind control exercises to keep myself calm and composed.
Careers360: What was your exam day strategy? What was the roughest and the easiest section according to you?
Satvik: Surprisingly, Physics and Chemistry went on well and I was confident that I will score good. However, in biology two questions appeared to be ambiguous to me and I felt it was the toughest section.
Careers360: Which college is your dream college for studying medicine? What is your aspiration in the field of medicine and which specialization would you be interested in?
Satvik: I wish to pursue my MBBS in All India Institute of Medical Sciences, New Delhi. I would like to gain good knowledge in fundamental medicine first, later I would like to focus more on Neurology.
Careers360: How did your family support you and motivate you during this stressful lockdown period? How did you de-stress during your preparation?
Satvik: I am lucky to have well-educated parents. My younger brother who is pursuing 5th standard is my biggest stress-reliever. I used to play for a short time during the breaks in my study sessions. In fact, the lockdown period turned out to be more positive.
Careers360: What would you suggest to future NEET aspirants in terms of preparation, attitude etc?
Satvik: This is a very good question in my point of view. I really experienced that a methodological approach needs to be given for the preparation of NEET from the mid level high school studies onwards. Further, I strongly believe in my father's words that the subject knowledge should not be gained just for the exam sake; it should be gained and experienced with interest for the holistic development of a human being. I did it. I always study any subject with interest, not just for the exam purpose. Accumulative knowledge from the lower class was always there with me in the higher classes also. This attitude has turned out to be a big help for me in cracking NEET 2020 UG with a good score of 710 out of 720.
Questions related to NEET
Showing 102086 out of 102086 Questions